If you're not following @goaliecoaches on Snapchat, you should. Today we have Connor Beaupre, Emergency Backup Goalie for the Minnesota Wild taking you through a day in the life of an NHL EBUG. 
On top of that, Connor was nice enough to answer a few questions about the experience. For most (even the best of the best), becoming an NHL goalie is outside the realm of possibility. It may not be the end of the road, however.
NHL EBUGs (emergency backup goalies) watch the game from high above the rink, ready to suit up (for either team) should a starting goalie go down. They're just one injury away from playing in an NHL game.
No Devan Dubnyk at #mnwild practice, emergency goaltender Connor Beaupre filling in. pic.twitter.com/5cWprWlkKE

— Minnesota Wild (@mnwild) December 13, 2017
EBUG or Emergency Back Up Goalie
The NHL EBUG is an interesting twist on a professional hockey game in the National Hockey League.
Scott Foster made the EBUG great again when he came in for Chicago last season.
Most recently, David Ayres, zamboni driver for the Toronto Maple Leafs and resident emergency back up goalie, made headlines when he came in for Petr Mrazek and the Hurricanes in the 2nd period of an NHL game. The rest, as they say, is history, Ayres went on to win the game and end up as one of the 3 stars.
David Ayres EBUG Highlights
A Day in the life of an NHL EBUG (Emergency Back Up Goalie)
Connor, Tell me a little bit about yourself. 
I turn 24 on February 8th (Day of the snap takeover, that's today, if you're reading the article), I was originally born in Annapolis, Maryland but moved to Edina, Minnesota when I was 4.
Graduated from Edina High School in 2012 and lost to Benilde in the quarterfinals of the Tourney. I went to University of Denver for 2 years and moved back to the University of Minnesota to complete my degree. Last year I was goalie coach at Minnehaha Academy (MSHSL Class A) where I coached Justin Evenson (Brockville Braves) and this year I'm the goalie coach at the Academy of Holy Angels (MSHSL Class AA) as well as a part time coach at Goalcrease in Edina.
This is my second season being an EBUG for the Wild at Xcel Energy Center. I did about 15 games last season and this season I'm slated to do about 20.
My dad, Don Beaupre, played 17 years in the NHL, drafted 37th overall by the Minnesota North Stars in 1980, where he made the team at 19, made the All Star team, and went to the cup finals as a rookie. He played there for 8 seasons, played for the Capitals for 7 seasons where he made his second All Star appearance, and then split his last three years between Ottawa and Toronto and retired in 1997.
You're an EBUG for the Minnesota Wild, for those that are not aware, what is an EBUG?
EBUGs or Emergency Backup Goalies are provided by the home team at every NHL game.
The rules behind the position have changed a lot in the past few years, but the main idea is that there needs to be someone available at each game that's registered with the league to suit up as a fill in for BOTH teams in the game.
So, even if the visitors goalie goes down you have to be available for them as well. Each team has a differing amount of goalies who they have scheduled to do games or at each game, for the Wild we have two main guys including myself and two other guys who also are at the rink for games periodically.
There are some lesser known rules when it comes to having Amateur goalies being available versus Professionals as well as not being able to suit up anyone who works for the team, but basically they require just one EBUG to be available.
Obviously, there is a real chance you could play in an NHL game, how do you make sure you're staying in game shape?
Currently I skate in a few men's leagues, one with some former teammates from Denver as well as some friends who played at a few other various D1 schools as well as another league with some friends from college (Roll Hounds) which are my main ice times.
With coaching during the season I'm at the rink everyday so it makes it tough to commit to many other ice times, but I think being on the ice and coaching keeps you pretty mentally sharp as well as jumping in drills with the skaters to keep the legs moving.
There really is no way to be properly prepared for an NHL game besides actually being on an NHL team and practicing everyday, but I think consistently playing a high level of hockey and being around the game gives you the best chance.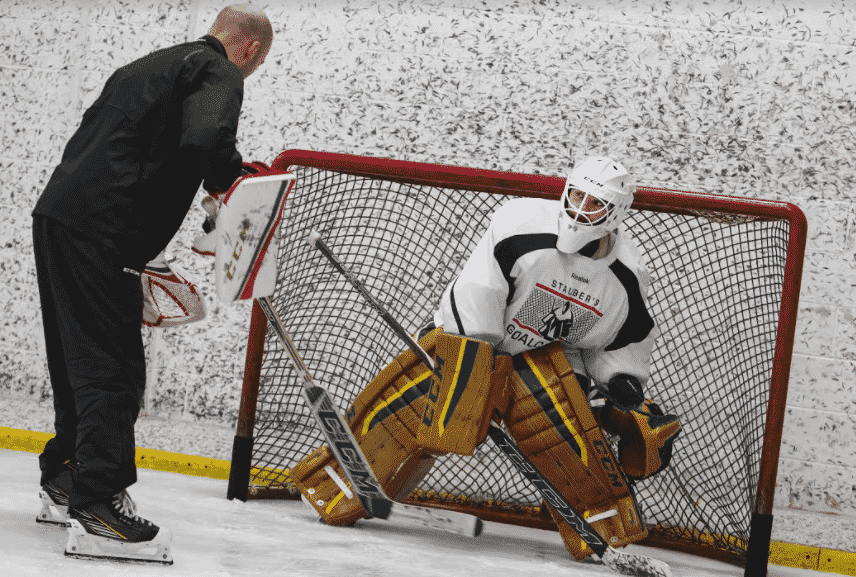 Give us a rundown of the game day experience, what's that like?
Game day's for me usually start around 4 when I start loading my gear into my car as well as shower and put my suit on.
Then I jump in the car and drive down to St. Paul, which with the traffic at that time normally takes me about 30-45 minutes. I'm at the rink at around 
5:45
 in order to be available for warmups if one goalie is running late or has gotten sick right before the game.
I get to park downstairs below the rink where the rest of the players park which is pretty cool, but also makes sure my gear is accessible if I need to suit up.
When I walk into the building I get a media pass which gives me access to pretty much every part of the rink, but my seat is reserved up in the press box where the other healthy scratches usually sit.
I usually watch the game from upstairs and 99% of the time that's all that happens.
After the game I head back downstairs and jump into my car in the garage and head home. The staff at Xcel Energy Center is really incredible, from the guys in the garage to security to the people who work the elevators, everyone is really friendly and had my name down by the second game I worked.
Many of them either worked for the North Stars back in the day or were big fans so they remember when my dad played as well, so there are lots of cool connections with many of them.
Ok. Dubnyk goes down (hopefully not!) and you're called to suit up. What does the process look like from here?
Earlier this season Dubnyk did go down when I was the EBUG for the night so I did get to go through the beginning of the process.
Once he went down I had to head downstairs to grab my gear and head to the locker room and basically throw my gear as quick as possible to be ready.
I got my gear on in the equipment managers room, which at Xcel is connected to the Wild locker room, because they currently had a player in every stall.
From that point I kept the lower half of my gear on and waited to see if Stalock would make it through the game, if not I'd finish getting dressed, sign my contract, and jump in the goal.
Note: Connor would have signed an amateur tryout if he had gotten in the game. According to Michael Russo of The Athletic, this is "not a pro tryout, which would have come with a $500 stipend and a game-used jersey."
I was told that I couldn't go directly to the bench because I still needed to be available for the visiting team (Calgary that night) in case both of their goalies got hurt, I was the only available EBUG that night.
So I spent my night watching the game from the players lounge with the scratches and IR (Parise, Ennis, Reilly, and Spurgeon were the crew that night) as well as Dubnyk after he was finished with the doctors.
After the game (Shootout victory) I was in the locker room with my team, took my gear off, and the talked to the media before I headed home. I think the craziest part of the whole experience was doing the post game interview.. you've got two cameras on you and 8-10 reporters with records in your face all trying to ask you questions at the same time…
It looks a lot easier on TV so I give credit to those guys who can deliver some substance answers every night.
You're dressing, and this is something I hope our younger readers will get value from, how do you calm your nerves and focus on the task ahead?
One of the questions I got most after suiting up was "how nervous were you?" and really the best response is I wasn't 99% of the time.
I explain it in my post-game interview a little bit, but after being around the rink, the guys, and the coaches enough you feel pretty comfortable with it all. I've practiced with the team a decent number of times before last year and this year so it gets you a feel for the caliber of the shots.
I think above all else it's important to remember that the expectations wouldn't be high for anyone coming out of the stands with no warm up or NHL game experience, so all you can go out there and try your best to help your team win the game. I think that's super important to remember at all levels, your goal is to give your team the best chance to win the game.
I think I'd be happy with an 6-5 NHL victory even if I let in 5….
On his Dad, Don, offering any words of wisdom: "No, not really. He just said, well, you better hope Al doesn't go down, or else you've got to get in there," Connor said. "He was just giving me a little crap."
Do you ever fill in at practice with the Wild?
I've filled in for a few practices last season as well as this season.
Beaupre, taking shots from Spurgeon at the beginning of the above video.
Mainly I'm there for optional skates or if one or two guys are getting on the ice for conditioning or a development skate. Usually it'll be me and the backup goalie (Kuemper last year and Stalock this year) but I've gone to practice and spotted Dubnyk and just been available as a third goalie.
People usually ask how the shots are in practice, and obviously they're harder than what I usually see, but the biggest difference is how accurate they are.
You have to be 100% in on every shot or else they'll blow it by you.
For me the hardest part about practice is the endurance factor, which isn't necessarily from being not in good enough shape to handle it, but mainly from not being in a real practice for 3 years.
In a regular game you see around 30 shots in about an hour, but in an NHL practice you could see up to 200-300 shots from some of the best hockey players in the world in about 45 minutes to an hour, and all I do now is play games.
In some of the lighter game day skates or conditioning skate it's normally not too bad, but on an off day practice, guys are looking to get as many reps as possible and grind it out, and seeing that much rubber is pretty brutal.
I'm sure you get this a lot, how did you get the gig?
I got the EBUG job kind of out of the blue last year when I got a call from Minnesota's goalie coach Bob Mason asking if I was available for the game that night.
Their usual guy had something come up last minute and couldn't be there and they needed someone to fill in. Not sure whose idea it was originally, but Assistant Coaches Darby Hendrickson, at the time Scott Stevens, and Goalie Coach Bob Mason, all had played with my dad in the NHL at some point or another in his career and were aware I played goal as well as jumping in net numerous times during practices before the Wild/North Stars Alumni team before their outdoor game in 2016 against the Chicago Blackhawks Alumni.
So basically it was just a right place right time/knowing people kind of thing. I know some teams have tryouts to find their guy, but in a place like Minnesota there are plenty of qualified goaltenders, so I got lucky I got in early!
Here's a fan FAQ, if you go in for the other team, wouldn't you just let the Wild win? 
On the surface it seems like a valid question but if you're an athlete or competitor you know there isn't a chance you'd go easy on the home team. This could be your one shot to play in an NHL game so you'd rather be remembered as the guy who went in there and made a few saves than the guy who let in some softies. Maybe it's just a pride thing for me but I'd love to shut the Wild out, it'd be some nice bragging rights for the next practice I'm in.
And another, how are the guys on team? Are they nice or do they not really care that you're there?
The guys on the team are all really great when I'm around.
It's an interesting dynamic because in all reality I'm two injuries away from being their teammate in a game, so most of the time it feels like that's the case around them. When I'm in practice they definitely don't take it easy on me, but I really hope they wouldn't.
I'm there to help them practice and it doesn't do them any good to go easy or let me make saves. As for specific guys on the team, Zach Parise's dad, coached mine for the North Stars so I'd met him a few times before.
Marcus Foligno's dad played juniors for the Sudbury Wolves with mine so I have that connection there.
Alex Stalock was actually coached by our head coach at Holy Angels when he was playing youth hockey at South St. Paul, so we had that connection when we first met.
As for guys on the team I've met, Darcy Kuemper and I were normally goalie partners in practice last year, so him and I chatted quite a bit on the ice and in the locker room as well as Dubnyk after a practice spotting him and during the game I suited up.
Thank you, Connor!
We hope you enjoyed this piece from Connor Beaupre. If you've got further questions, shoot him a message on Twitter or Instagram.
Connor is on Instagram @youngbeaups and Twitter @youngbeaups.
 For more on what it's like being an NHL EBUG, check out Connor's piece on The Athletic.
And if you're not already subscribed, check out our goalie drills on YouTube.