Goalie pants are one of those pieces of equipment that really aren't that exciting, but at the same time, they shouldn't be overlooked. If the pants are too bulky it's difficult to move in them. If the pants have little protection, you will find yourself flinching at shots.  If the pants break down in a single season, well you'll find yourself back looking for new ones in a couple months.
Like your skates, a hockey goalies pants, "breezers, as some call them, are critical for moving quickly about the crease. When it comes to picking out the goalie pants that will get you from point A to B the fastest, you should consider two things. First, the protection. You need to invest in your pants. Sorry, playing goalie is expensive. Second, buy a pair of pants that focuses on mobility.
There are literally hundreds of different sizes, brands, and types of goalie pants on the market. For these reasons alone, we have created a list of the best goalie pants for hockey on the market today. When it comes to reviewing gear, we cover stuff that pros would use. If you're looking for cheap goalie pants, this is not the article for you. We cover four sets of pants, because we believe that these are the only four worth buying when it comes to peak performance and protection. 
Simply put, if you actually want the best goalie pants, they're on this list.
#1 Goalie Pants This Year
Here are the 4 best goalie pants on the market today.
CCM Axis Pro 

Warrior Ritual X2 Pro

Vaughn SLR2 Carbon 
Best Goalie Pants Overview
When it comes to pants, you've got to have a combination of excellent movement capability and protection. With certain things, like chest protectors, you can sacrifice a bit of movability. Goalie pants, breezers as they used to be called, are at the core of everything you do between the pipes. If your pants are tough to move in, you're going to be slower and less efficient. If they do not have the protection you need, you'll flinch on shots and play below your capable level.
With that said, when it comes to buying goalie pants, buy the best pants for goalies that you can afford. There are plenty of older models, like the CCM EFlex pants, or the CCM Premier Pro that are still actively worn by some of the games top goalies that will do every bit as good a job as some of the other pants on this list.
CCM Axis Goalie Pants
#1 Goalie Pants This Year
So, what really are the best goalie pants this year?
Without question, the CCM Axis pants are the best goalie pants on the market. Featuring a newly designed waist section, CCM accomplishes both mobility and superior protection in one fell swoop. The CCM Axis pants do come in as one of the more expensive pants on the list, but for the mobility and the protection, they're worth every penny.
What goalie pants do NHL goalies wear?
According to NHL.com, the CCM Axis Pro and CCM Premier Pro pants are some of the most popular goalie pants worn at the NHL level.
The CCM Axis pants are a similar set of pants to their original Premier lineup, but in this case they added new and better technology to them.  The CCM Axis are the newest model of pants offered by CCM. 
The design on the pants has HD and LD foams put in areas of the hips that create a tighter fit, this most likely this will be popular with goalies that like the no tuck chest protector.  Like other pants on this list, these pants feature an interior belt and tapered off waist protection, so it's easy to move around without pads cutting into your stomach.  The protection on these pants are great, as it should be with top of the line gear. 
The newly redesigned CCM Axis pants are a huge step for the company as a whole, because they're releasing just one model of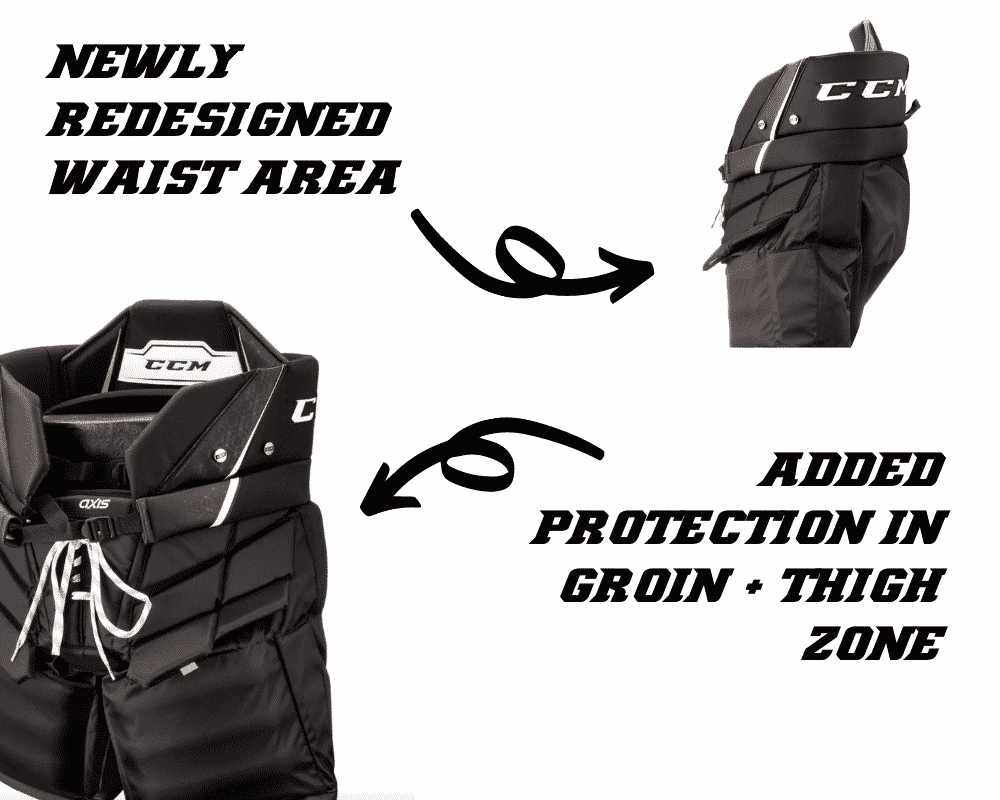 All in all there are a lot of factors going into what's the gear to have and what's not.  All goalies are different and no two goalies are going to want the exact same thing.  In saying that I do however believe if you choose any four of these pants, the set will provide you with what all goalies want and need out of their gear, quality protection, easy mobility and lightweight material. 
One of the main reasons we like the CCM Axis Pro goalie pants as the top goalie pants on the market is due to the fact that they were built for both goalies who tuck, and goalies who don't tuck their chest protectors. 
Wait, what does a chest protector tuck mean for goalies?
Well, that's probably a separate article in and of itself, but in short, some goalies use the skate laces of their pants to loop through a little strap on their chest protector which allows them to tuck the chest protector into their pants.
Unfortunately, some pants do not work the best for a "chesty tuck" as goalies like to call it. 
The CCM Axis pants were designed with strategic cuts in the front of the pant specifically for use when you like to tuck your chest protector.
With all that being said, do whatever feels best for you.
PS. If you're not looking to pay $300 for pants, get the Extreme Flex II Shield Pro pants. They're very similar but last a slightly older model. Either that or the CCM Premier Pro pants.
Warrior Ritual X2 Pro 
Warrior makes one of the most incredible lineups of gear that dominate in the three areas of purchasing. First, protection. Second, mobility. Third, price. For the price, Warrior gear is really, really hard to rate as "second best", because it's not. It's good gear, at a great price. We covered the fact that Warrior isn't in the NHL for goalie gear, and it's for good reason. But, that's beside the point here.
First on the list, the Warrior Ritual X2 Pro goalie pants.  Warrior might be one the the most technologically advanced goalie brands out there, but for some reason they rarely get the hype that the other brands like CCM and Bauer get. This is largely because of their lack of presence at the NHL level, but many folks simply do not realize how high performance this stuff actually is.
Warrior consistently puts out very advanced gear yearly and these pants fall into that category. The pants feature Warrior's FlexPlate technology for padding and they have added what they are calling HyperComp material.  It's designed specifically to provide better protection from pucks with less weight added.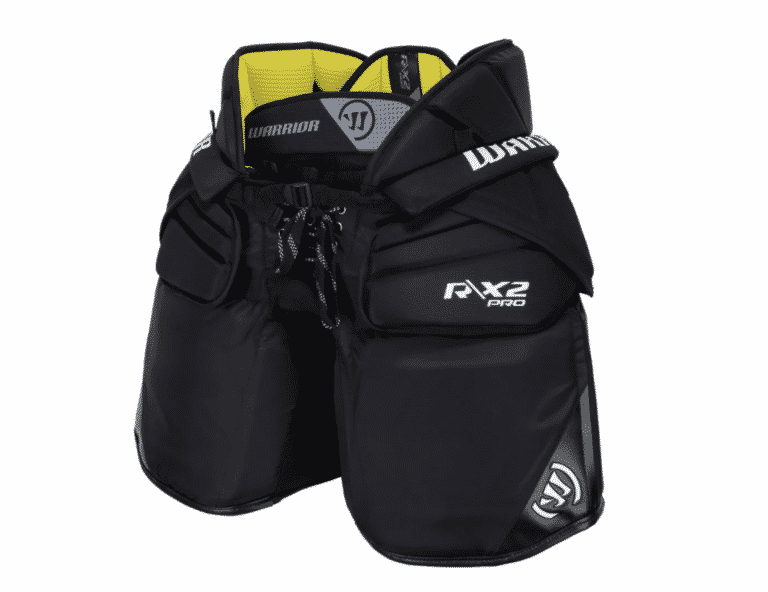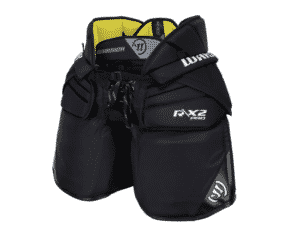 These pants are also very mobile and since they brought back their AxyCut system, the transition from standing to butterfly and back are smooth.  That is because the AxyCut system removes any interference that might have gotten in the way previously.  
The Warrior Ritual X2 Pro pants also feature an internal belt system that allows for quick, easy adjustments for comfort on the inside. The external shell will fit looser and if you aren't a fan of that, and the internal belt is removable.
I put these pants at number one overall since Warrior has always been an underrated goalie gear company and I love the technology they've put into these.  
Warrior, if you're reading this.. the design of your pants is sub par. Performance, the stuff that actually matters, isn't. Buy them if you care about high performance, quality, and price.
Related: Best Goalie Masks For Protection
Bauer Pro Goalie Pants
The Bauer Pro pants are brand new for this year.
Choosing a second place for this list was difficult for me but I decided to go with Bauer's Pro pants.  Bauer throughout the years has put a lot of work into their goalie lineup and the Bauer Pro pants are a result of that.  These pants are loaded with protection but don't lack in the mobility department.  The thighs of the pants have what is called Curv Composite protection in them which depletes any chance of a stinger. 
The area of the hips has dynamic flex technology that creates mobility that goalies need in today's day and age, without sacrificing protection. When it comes to mobility between the pipes, the Bauer Pro pants are the clear front runner. 
The spine of these pants are aerolite and flexible and there is also a loop on the inside thigh of the pants which are there to connect knee guards to the pants.  Lastly the belt system on the Bauer Pro pants is a hybrid system that allows for quick adjustments and extra space around the waist to tuck a chest protector in.  I put these pants at number two overall simply because they're a clean set with awesome mobility and protection.  
One of the things that Bauer does better than any other company when it comes to pants? Making a thigh board that conforms to the contour of the thigh, rather than just putting a clunky thigh board in the pant. Bauer is committed to speed and movement. If you're looking for a pure performance goalie pant, the Bauer Pro or Bauer Elite are two of the best options on the market.
Editors note: in our opinion, this list stops at either Warrior or the Bauer pants. If you're the type that just cannot stand to buy either brand, you've got two options left. Vaughn, or CCM. Brian's, in our opinion, invests more in the quality of their actual pads and chest protection and not their pants. With that being said, go Vaughn for protection, CCM for speed.
Related: Best Goalie Pads
Vaughn SLR2 Pro Carbon 
Vaughn SLR2 Pro Carbon Pants
The carbon in the SLR2 pro pants adds a lot of protection to the leg area. These pants are also quite comfortable.
Check Price on Goalie Monkey
We appreciate your support! At no extra cost to you, we may earn a small commission if you purchase a product through GoalieCoaches.com.
Ok, now I had a very difficult time choosing between third and fourth place, in the end, I chose the Vaughn SLR2 Pro Carbon pants as third. They offer more protection than the CCM Axis pants. 
Vaughn in the past has always created a high level of goalie gear.  I've loved the protection on Vaughn's chest protectors in recent years, and one can expect the same protection from their pants. 
In 2019 Vauhgn released their SLR2 Pro Carbon and the SLR2 Pro goalie pants both featuring the same components, although in the Pro Carbons, Vaughn, as the name says, put carbon strips in the high density padding to create a pair of goalie pants that absorb the shock of the puck better than a typical set of pants.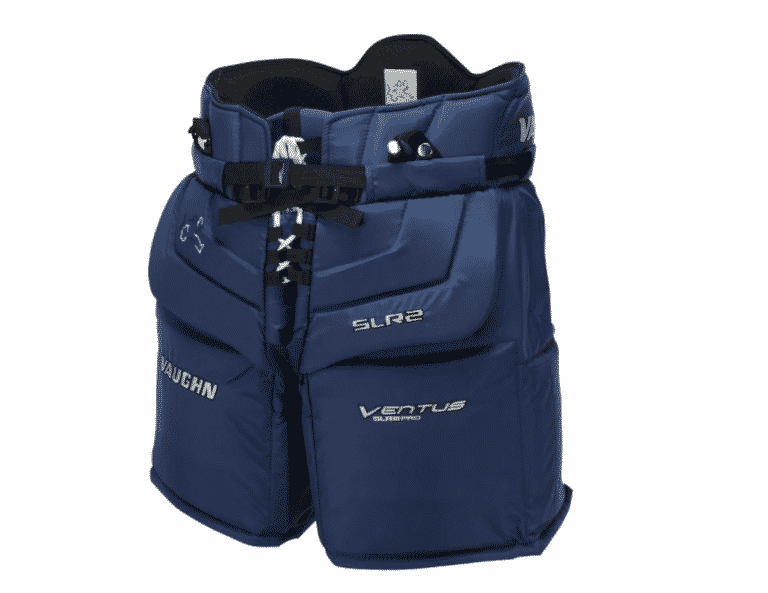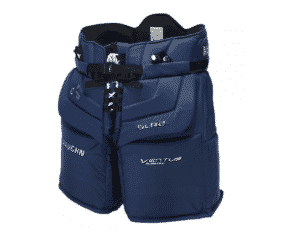 The Carbons are built with slightly higher quality than the regular Pros, but otherwise both pants are taller in the front to protect the hips and abdomen.  These pants also feature a loose and wide design around the waist and hips, awesome for goalies that are looking to tuck their chest protector in with suspenders.  The inside of the pants are created with vented mesh which promotes ventilation and fast drying times.  Overall I put these pants in third because I like the Carbon implemented into the gear. 
As a short goalie I can say that the taller front might bother me some since I favor pants with a lot of mobility when I crouch and move around, but I don't think these pants would have a terrible issue with that.  
Related: Best Goalie Skates
How to choose your goalie pants
Obviously one of the most important aspects of choosing a new pair of goalie pants comes down to your budget.  How much can you pay for some pants? If you can afford a nice pair, I'd highly recommend it.  Your confidence and ability to play goalie will be much better compared to a cheap pair of pants.
Mainly because you won't worry about getting hurt while playing.  If you think about it, you're more likely to flinch if you know that the shot is going to hurt. And if you flinch, you're likely to expose an area of your body that is exposed to the puck.  Compared to when you hold your feet and watch the puck in, it's much cleaner. But then again if you can't afford high end pants, then the best thing you can is just get a pair of pants that will get you on the ice.
Comfort
Comfort is an important aspect to consider when getting new goalie pants.  If your pants are cutting into your legs or hips, it's going to be difficult to remove that from your mind. Whereas if you are playing in comfortable pants, you won't ever come across that issue.  It will never cross your mind because it's not a thing.
Comfort also plays a huge impact on movement. When you're comfortable on the ice, pucks are easier to stop. That is something I live by as a goalie.
Movement
Movement/ mobility go hand in hand with comfort.  But not all the time. Mobility is huge in the goalie pant industry because if you can't move, well you're basically a sitting duck.  You aren't going to be able to get from side to side in the crease, reducing your ability to get in front of the puck. Yeah you might make a couple saves just by sitting there in a tight pair of pants, but you can definitely make your job much easier with a higher success rate with a mobile pair of goalie pants.
Durability
When you buy pants from a trusted goalie brand, you won't have to worry about durability.  In my experience, all the pants on this have had great durability. You can get a cheap pair of pants and have them last a year, or get a high quality pair of pants and have them last three. And in those three years get a much better experience out of your pants then the cheap ones.
When goalie equipment prices are so incredibly high, you want to make your dollar worth it.
How are goalie pants different from regular hockey pants?
The pants themselves are not different in their construction, except for one simple thing. Standard hockey pants are considerably less protective than goalie pants.
Can youth goalies use regular hockey pants?
Youth goalies can safely use regular hockey pants, to a certain age. With that being said, using pants built specifically for goalies is always a good idea, simply because they're more protective.
How to Size Goalie Pants
The goalie pants sizing guide we've built covers the sizes of goalie pants from every major goalie pad manufacturer currently in business. If you have any questions on the sizing guide we've built, please do not hesitate to contact us.
Goalie Pants Size Chart
| Model | Size | Waist (Inches) | Waist (Centimeters) |
| --- | --- | --- | --- |
| Senior | S | 30 - 34 | 76 - 86 |
| Senior | M | 32 - 36 | 81 - 91 |
| Senior | L | 34 - 38 | 86 - 96 |
| Senior | XL | 36 - 40 | 91 - 101 |
| Senior | XXL | 38 -42 | 96 - 106 |
| Intermediate | S | 26 - 28 | 66 - 71 |
| Intermediate | M | 28 - 30 | 71 - 76 |
| Intermediate | L | 30 - 32 | 76 - 81 |
| Junior | S | 24 - 26 | 61 - 66 |
| Junior | M | 26 - 28 | 66 - 71 |
| Junior | L | 28 - 30 | 71 - 76 |
| Youth | S/M | 20 - 22 | 51 - 56 |
| Youth | L/XL | 22 - 24 | 56 - 61 |
Related: Best Goalie Sticks
Conclusion: Top Goalie Pants
That will wrap up this post about the best goalie pants for the money.
All in all, I believe that it is worth it to pay up for a nice pair of goalie pants (formerly known as breezers).  But that is just me.
Hopefully, this article helped you out!  Good luck this season!