In this article, we're going to take a closer look at how to choose the best youth goalie sticks for your young goalie.
Youth goalie equipment is one of the hardest things for new goalie parents to choose, so our goal with these guides is to make the process as painless and simple as possible. We'll cover things like where to save money and where to invest more (spend more on a helmet than on a stick) and so much more.
Youth goalie sticks, also commonly referred to as "Junior Goalie Sticks", are actually sized as Junior or Intermediate on both Goalie Monkey and Pure Hockey, the two places we send our goalies to buy their gear.
We've also included a handy youth goalie stick sizing chart near the bottom of this guide.
These are the best youth goalie sticks on the market.
Sher-Wood 530
TRUE A4.5 HT
Warrior Swagger Pro LTE2
Bauer Vapor X2.9
TRUE AX9
Youth Goalie Stick Sizing Chart
Use the Goalie Coaches guide for sizing youth goalie sticks to help you pick the correct length for your goalies new stick.
| | | | |
| --- | --- | --- | --- |
| Size of Goalie Stick | Paddle Length | Goalie Height | Goalie Age |
| Youth | 18″ | 3.5′ | |
| Youth | 19″ | 3.5′ to 3'8″ | |
| Youth | 20″ | Up to 4'2″ | |
| Junior | 21″ | 4′ to 4'4″ | |
| Junior | 22″ | 4'4″' to 4'6″ | |
| Junior | 23″ | 4'6″ to 4'9″ | |
| Intermediate | 23″-23.5″ | 4'6″ to 5'3″ | |
| Intermediate | 24″-24.5″ | 5'3″ to 5'4″ | |
Youth goalie sticks typically come in 20″ size. Junior goalie sticks typically start at 21″ and intermediate goalie sticks is where you'll start to get more options.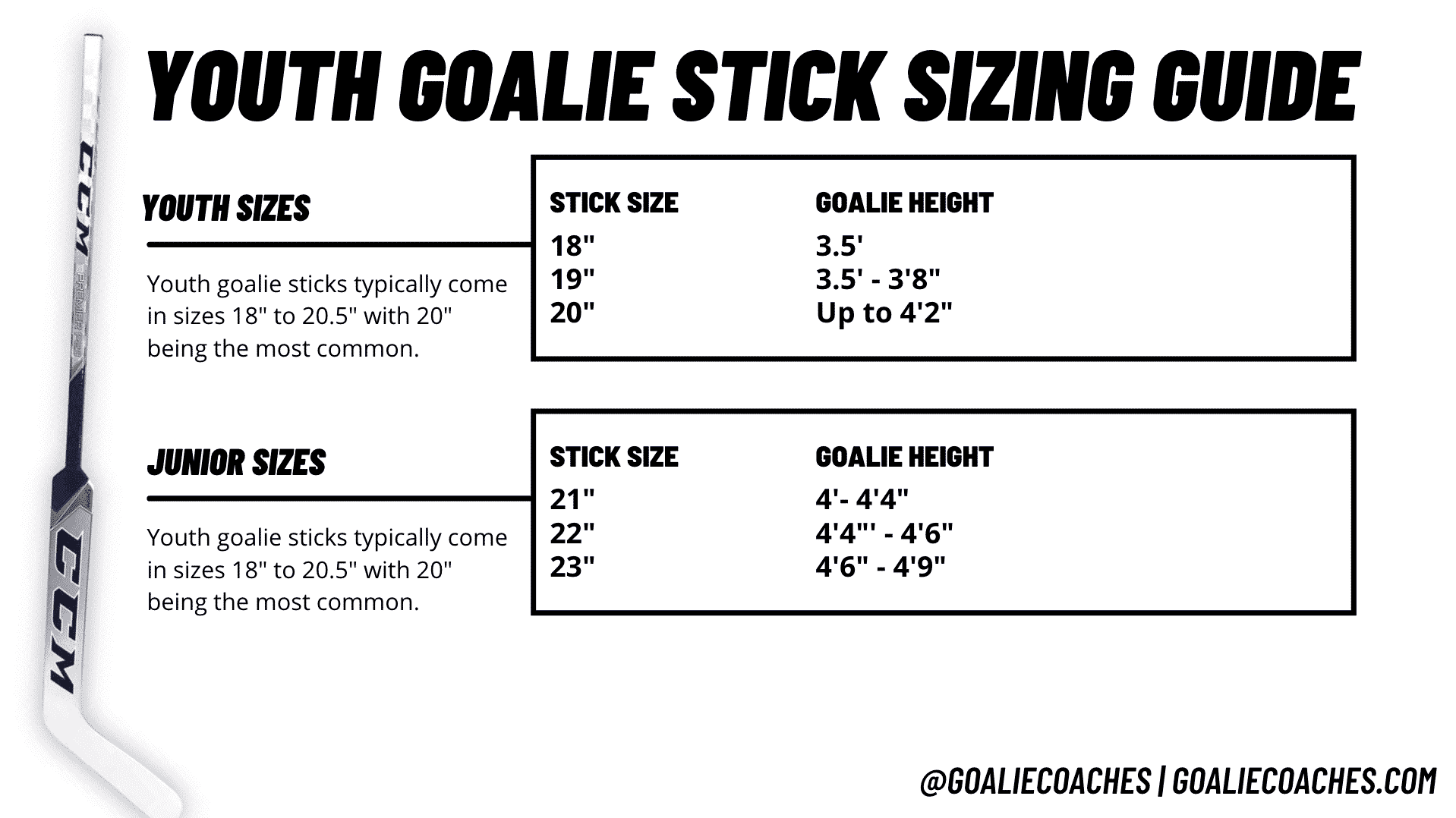 CHOOSING THE BEST YOUTH GOALIE STICK FOR YOUR KID
Let me start off by saying this. Devan Dubnyk, a 6 foot 6″+ NHL goalie, uses a 25″ stick. Your kid does not need a 25″ stick, until they're old enough to buy their own. The biggest mistake goalie parents make is buying sticks that are too big for their kid.
Here's the deal, goalie parent. Join that Facebook group we linked up, first.
Second, there is a ton of fluff out there. There are people who will try to get you to spend your money on, for lack of a better phrase, stuff you simply do not need.
Please re-read that.
You do not need to spend top dollar on your kids goalie stick. Especially if they're a youth goalie. They haven't learned how to shoot quite yet and that's totally fine. Get them a stick that helps them enjoy the game and learn to love playing goal. If you're here, buckle up. You're in for the ride of your life. Oh, if you're curious what the high end goalie sticks cost and perform like, go read the article we've linked up above.
Sher-Wood 530
Manufacturer Specs:
*The youth stick comes in one length, 18"
*The product is made of Aspen, Birch, and Ash laminates
*It is a two-piece designed stick
Highlights:
*A sophisticated looking stick
*Superior durability because of the double birch lamination on the shaft
*Classic wood feel due to the ash paddle and blade
Who It's For:
This stick is best made for any beginner goaltender who likes the look and feel of a wood stick. Also, this stick doesn't break the bank, coming in at $44.99.
Related: Best Youth Goalie Pads 2020
TRUE A4.5 HT
Manufacturer Specs:
*It is a Junior goalie stick, the sizes it comes in at is 21"
*This stick has 20% more impact strength in the shaft and 50% more impact strength on the paddle
*The stick is made of different alloys and plastics because it is a composite stick
Highlights:
*The improved BRT+ technology is used through the paddle, along the edge of the blade and through the heel, allowing for a thinner, stronger paddle.
*The viscoelastic layer in the blade and paddle provides more absorption of the puck on impact, mimicking the rebound control of a foam core stick
*TRUE's carefully calculated Swing Weight removed material from the lower paddle area, shifting the balance point of the stick towards the handle to create a lighter-feeling stick 
Who It's For:
The TRUE A4.5 HT stick is a mid-range goalie stick best suitable for a goalie who likes wood/foam core sticks but wants something that is much lighter. This stick costs $69.98.
Warrior Swagger Pro LTE2
Manufacturer Specs:
*This stick comes in a 21" size
*The stick has a blade and paddle made of polyurethane foam core
*The shaft is a mix of Birch and Aspen wood with a glass laminate 
Highlights:
*It has a clean natural look to provide a great visual look and even reduce weight
*There are ABS inserts in both the heel and blade in order to keep the structure and deflect pucks into the corners easier
*The blade and paddle both are lightweight and very thin
Who It's For:
The Warrior Swagger Pro LTE2 is a goalie stick for elite youth goaltenders who appreciate a well-crafted and durable foam core stick. This is Warrior's premier Junior/Youth Stick and is now priced at $89.98.
Related: Best Youth Goalie Masks For Protection
Bauer Vapor X2.9
Manufacturer Specs:
*This stick comes in sizes of 21" and 22"
*The blade is composed of an internal Aero Foam core and an Innegra reinforced outer
*The paddle is made up of a carbon composite construction for a lighter stick
Highlights:
*The stick has a GripTac section on the shoulder of the paddle which allows for better grip of the stick while still being able to move your hand up and down the shaft
*This stick is similar to the previous model but incorporates some new technology used in the Vapor 2X stick
*The Aero Foam core in the blade will give off harder rebounds to effectively redirect the pucks safely into corners
Who It's For:
The Vapor X2.9 is a stick best designed for intermediate young goalies who want a very durable and lightweight stick for a reasonable price. Bauers Vapor X.29 Junior goalie stick is now listed for $129.99.
TRUE AX9
Manufacturer Specs:
*The True AX9 Junior stick is available at a 21" paddle size
*BRT+ technology is distributed throughout the paddle, blade, and heel; this provides improved balance while increasing the durability of the stick
*This stick is a fully composite stick, so it does not feature any foam core, only the alloys and plastics it is made up of
Highlights:
*Because of material redistribution in the shaft, paddle, and blade, the balance point of the AX9 is shifted closer to the goalie's hand, this decreases weight compared to the previous model
*The new grip area near the top of the paddle is large enough for any goalie's grip to be comfortable using this stick
*FiberShield Technology disperses tiny nanoparticles throughout the shaft, paddle, and blade which gives the stick improved balance and increased durability in the stick
Who It's For:
The TRUE AX9 is tailored towards elite goalies who want faster load times and quicker passes. This stick is currently sold for $129.99.
Related: How To Dress A Youth Goalie
Keep These Things In Mind When Figuring Out How To Choose A Youth Goalie Stick
I love working with new goalie parents, because just like their kids, they're not biased in any one way. That means, they're more likely to take the advice we suggest. Parents, I cannot reiterate this enough. Your kid likely cannot yet raise the puck, so there is no way you need to buy them a top of the line stick.
Now, sticks have changed significantly in the past decade, which means that even the lower end sticks are still light years better than the twigs you played with back in the day. And that's not a knock on parents who do decide to buy their kid the nicest gear. If that's you, go for it! We're just happy you're enabling your kid to play the best position in all of sports.
What's the right size goalie stick for youth goalies?
Many NHL goalies use a 24″ sized stick. The biggest mistake new parents make is buying their kid a stick that is way too long. Typically, goalie sticks for youth goalies are sized at 20″. If you have a first time goalie under the age of 8, we almost always recommend a 20″ youth stick.
What's the difference between youth goalie sticks and junior goalie sticks?
Nothing, other than size. Youth goalie sticks typically come in one size, 20″, while Junior goalie sticks start at 21″. If you've got a goalie who has outgrown his youth stick, size up to a Junior 21″ stick that they can use for the next 1-2 years.