Chest protectors fall into two categories. Those that are built for higher level goalies, and those that are not. This article is a part of our youth goalie equipment series. If you landed here by accident, and you're looking for the best chest protectors for goalies in higher levels of play, check out the link.
In this series, we're covering a question we get all the time over in our Goalie Parents Facebook Group.
"What's the best chest protector for youth goalies?" 
The best youth goalie chest protector on the market currently is the Warrior X3.
These are the most popular youth goalie chest protectors on the market right now.
Warrior X3 (Youth, Junior or Intermediate Model)
Vaughn Velocity V9 (Junior or Intermediate Model)
Bauer GSX Chest (Youth or Junior Model)
Here are the Best Youth Goalie Chest Protectors on the market
When it comes to youth goalie chest protectors, you really just want a mobile unit. Something that allows your young goalie to move well between the pipes. As your goalie moves up through the ranks, starts to face harder shots, and needs a beefy unit, they can go with one. For now, just get something that's built specifically for a youth goalie. If you've got a goalie who's 9-12 years old, they could use an intermediate chest protector, rather than a junior unit.
Warrior X3 (Youth, Junior or Intermediate Model)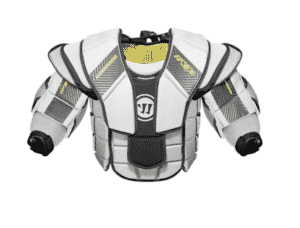 As far as chest protectors for youth goalies, this one checks all the boxes. It's easy to put on, there aren't a whole lot of extra bells and whistles, and it's easy to move in. Manufacturers understand that for younger goalies, facing shots that aren't very hard (yet) and don't always leave the ice, something that simply offers complete protection will do the trick. No extra padding in unnecessary areas that would only make it harder to use.
Personally, I'm a big fan of Warrior's goalie line. Instead of focusing their budget on getting their gear into the NHL, they've honed in on youth goalies, the ones actually buying their gear. Obviously, the goal is to get a really good goalie into Warrior and a young age and work his or her way into the professional ranks, at which point the company will likely pursue a pro endorsement.
The gear is very protective, and it does exactly as it should.
You can buy the Warrior X3 at Goalie Monkey or Pure Goalie.
Vaughn Velocity V9 (Junior or Intermediate Model)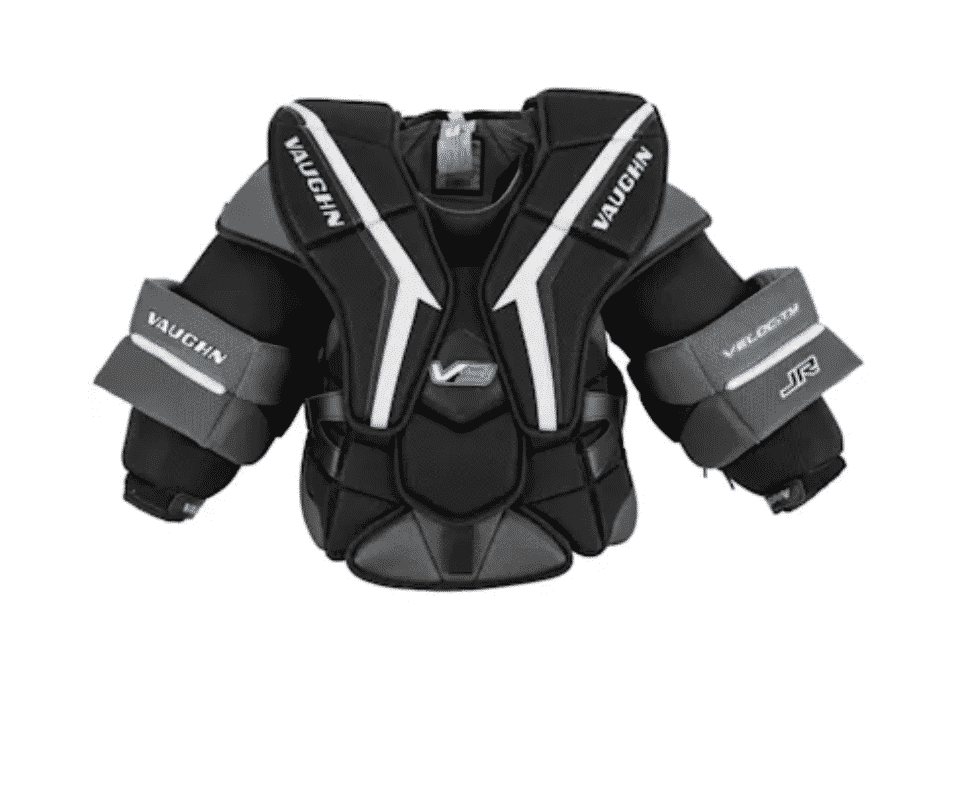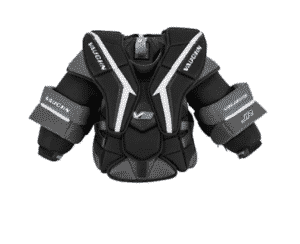 Honestly, I was pretty torn ranking this as our 2nd best youth chest protector for goalies.
Vaughn makes one of the best chest protectors on the market, hands down. And this model would work up to a high level for a smaller goalie. The reason we decided to go with the Warrior X3, especially for our youth goalie series, is that it's overpriced for this level.
It's overpriced because it's a great unit. Vaughn basically took their pro chest protector and shrunk it. If you've got a goalie who is toeing the line between being a "younger goalie" and one that's ready to move up to the next level, and can afford to grow into their unit for a few years, get a Vaughn. You won't regret it.
The thing about Vaughn, it'll last forever. Your kid could use this tank for a couple years and pass it along to the next one in line and they'd be just fine. When it comes to top of the line chest and arm units, Vaughn remains king.
Buy at Goalie Monkey or Pure Goalie.
Bauer GSX (Youth or Junior Model)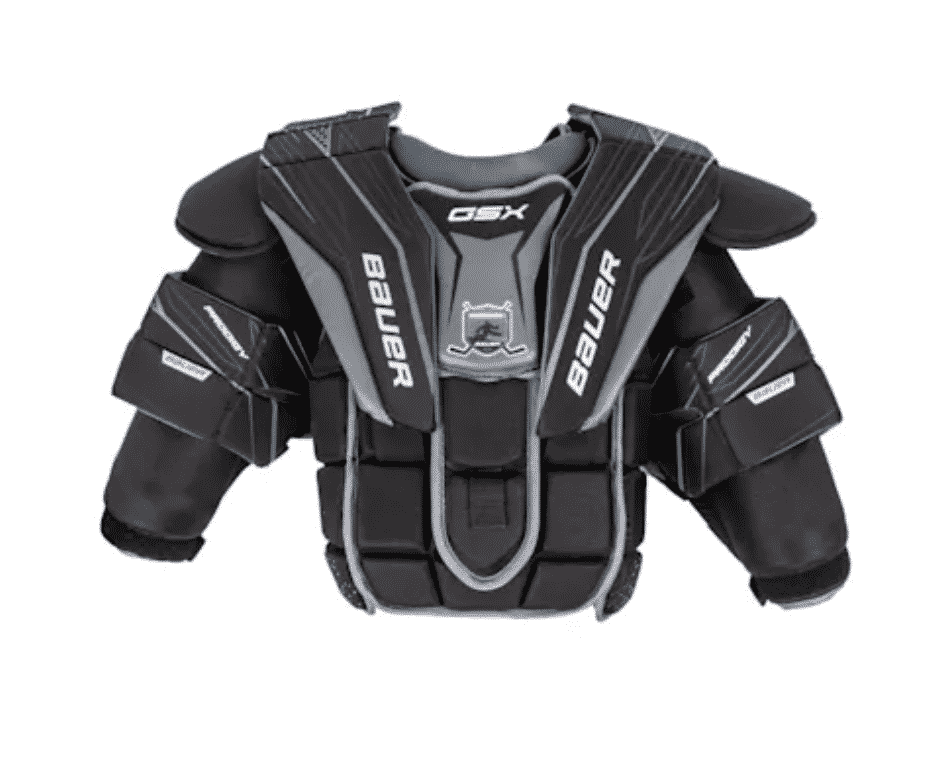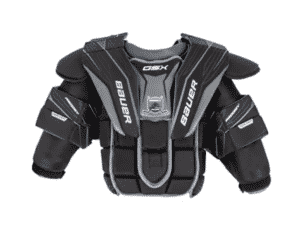 You'll notice I don't highlight this as an option for Intermediate models. That's due to the fact that there are better options for those interested in an Intermediate Chest Protector. I really think that when you're considering Intermediate Gear, you should consider a pro style chest protector. Something from Warrior or Vaughn.
That said, for the youth and beginner goalies, the GSX line from Bauer is actually some of the best youth goalie equipment you can buy.
The gear is affordable, with the difference in price between a Junior and a Youth just $100 (at the time I wrote this), it's affordable and does more than it's fair share of protection. I love the GSX lineup. It's built for youth and beginner goalies, with the goal being "cheaper". Cheaper doesn't always mean lesser quality. This is a high quality chest protector, especially being for a youth goaltender.
Buy Bauer GSX models at Goalie Monkey or Pure Goalie.