While youth goalies can get away with wearing standard hockey skates for their first year or so, at some point, it's a good idea to invest in a pair of goalie skates. If you've got a kid goalie you're searching for skates for, you're in luck. Goalie skates for kids are some of the cheaper goalie skates there are.
There are a number of reasons why youth goalies should wear goalie-specific skates. 
Increased protection from pucks
Easier to balance
Built to increase the "attack angle" of the goalie
Helps a goalie in their stance
The question of which youth goalie skates to buy is one of the single most frequently asked questions in our Goalie Parents Facebook Group. If you're a goalie parent reading this, consider checking this group out. We've got 18,000 other goalie parents in one place, helping each other out.
These Are The Highest Quality Youth Goalie Skates On The Market
Bauer GSX Youth / Junior Goalie Skates
True TF9 Youth / Junior Goalie Skates
Bauer Elite Youth / Junior Goalie Skates
CCM SuperTacks Youth / Junior Goalie Skates
We get a lot of questions regarding the differences between youth goalie skates themselves, and Junior vs Intermediate youth goalie skates. In reality, most intermediate and junior skates should work for youth goalies. Most importantly is the fit of the skate itself, so if you're unable to find the right size in the "Youth" category, look for a Junior or Intermediate skate for your young netminder.
By far the biggest benefit to buying a Youth goalie skate over a Junior or Intermediate sized skate is the difference in price. If you can find a "true" youth goalie skate, by all means, buy it. You'll save a few bucks on the purchase price of the goalie skate. All things considered, with the majority of Junior and Youth goalie skates coming in at under $250, you're already at the bottom of the barrel in terms of pricing.
If $250 for a pair of kids' goalie skates scares you, wait till they're in High School. The top-end pro level goalie skates can cost upwards of $1,000 or more.
Bauer GSX Youth / Junior Goalie Skates
The Bauer GSX line of goalie equipment is a beginner line. The Bauer GSX Youth Goalie skates are no exception. These are an entry-level pair of kid goalie skates that will get your beginning goalie started and comfortable wearing goalie skates themselves.
True TF9 Youth / Junior Goalie Skates
It always pains me a bit to list a product that I know is on the more expensive end of the spectrum, especially when it comes to those buying equipment for first-time goalies who may not continue with the position.
With the True TF9 Junior goalie skates, I would only tend to recommend these to the youth goaltender who is definitely serious about the position. If the Bauer GSX skates are the first pair you buy, next season, consider the True TF9 goalie skates.
We list these as one of our top options purely due to the quality of the skates themselves. In reality, much of the goalie gear built for youth goalies is manufactured in such a way that it's lower quality as compared to it's Pro-level counterparts.
Youth goalie equipment is lower quality than even the majority of Intermediate goalie gear, simply because the level of play is lower.
Bauer Elite Youth / Junior Goalie Skates
The Bauer Elite goalie skates for youth and younger goalies are one of the top options there is for kids between the pipes. These are going to be a higher quality skate than the Bauer GSX Junior goalie skates, but it comes with an increased price tag.
If you've got a young goalie on your hands who is clearly serious about the position and you're not afraid to invest in a higher quality skate, these are a strong option to consider.
I would recommend the Bauer Elite Junior goalie skates to a more advanced, younger netminder that likes the fit and feel of Bauer goalie skates themselves.
In our experience with Bauer goalie skates, they've been susceptible to damage, but that's from testing at a near-professional level of play. For a younger goalie, the Bauer Elite series is as high quality and high performance as it comes.
CCM SuperTacks Youth / Junior Goalie Skates
Of goalie skate manufacturers, there are really only three names to consider.
At the professional level, True is the most popular. For younger goalies familiar with CCM skates, the CCM SuperTacks or CCM JetSpeed youth goalie skates are the options you're looking for.
CCM skates tend to fit a wider foot a bit better than a Bauer skate does, which is one of the main reasons to buy CCM over Bauer. With that being said, in our experience, Bauer and True have outperformed CCM at the entry-level.
Youth vs Junior Goalie Skates
The main difference between youth and junior-sized goalie skates is purely a classification used by manufacturers. The majority of goalie skates made for kids are actually Junior sized goalie skates. In fact, it can be hard to find an actual youth-sized goalie skate itself.
If your kid fits into a Junior sized goalie skate, go with the Junior size. Actual youth goalie skates can be tough to find as they're highly limited in availability. The majority of manufacturers produce high volumes of Senior Goalie Skates, Intermediate Goalie Skates, and Junior Goalie Skates.
When Should I Buy Goalie Skates for My Kid Goalie?
We recommend starting all goalies in standard player skates, at least for the first few skates. If your son or daughter has expressed interest in playing goalie, let them experience the position in their regular skates first. Many kids decide that they don't actually love playing goalie as much as they originally thought!
However, if you've got a kid who cannot stop talking about playing goalie and loves the position, it's always a good time to switch them into goalie skates. Personally, I didn't wear goalie skates for the first number of years.
The photo below shows the stark contrast between goalie skate blades, compared to traditional hockey skate blades.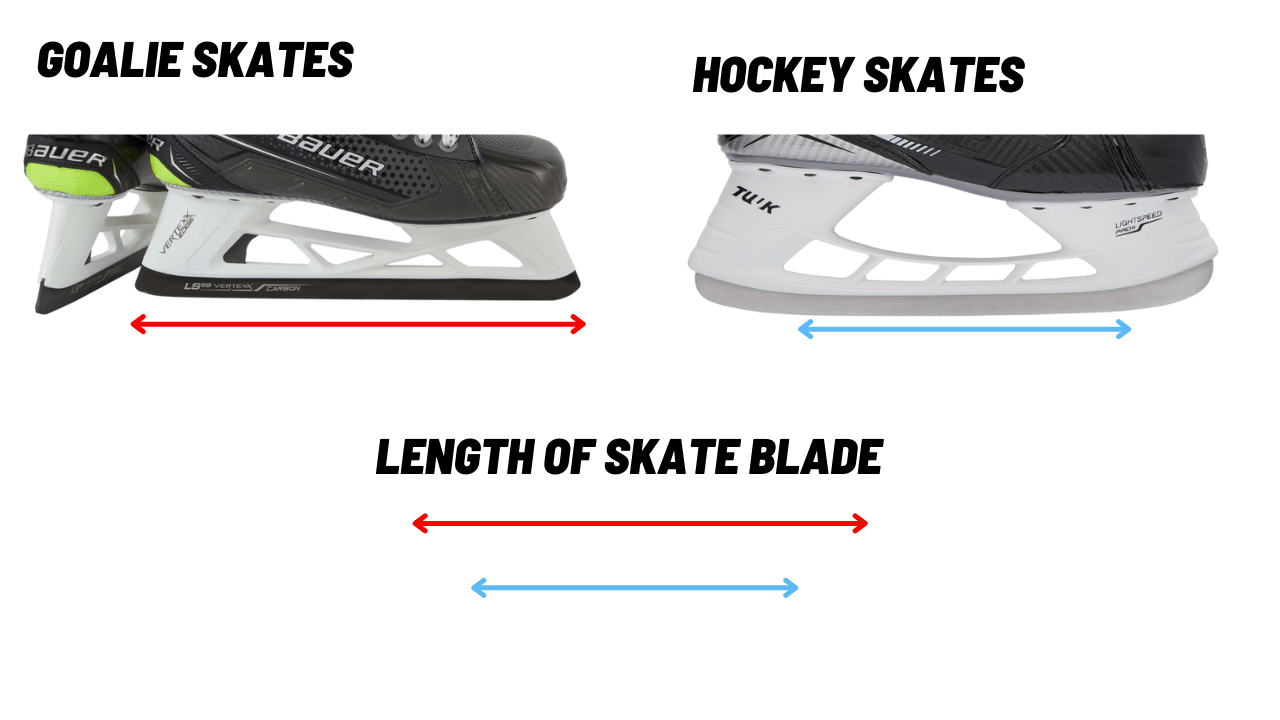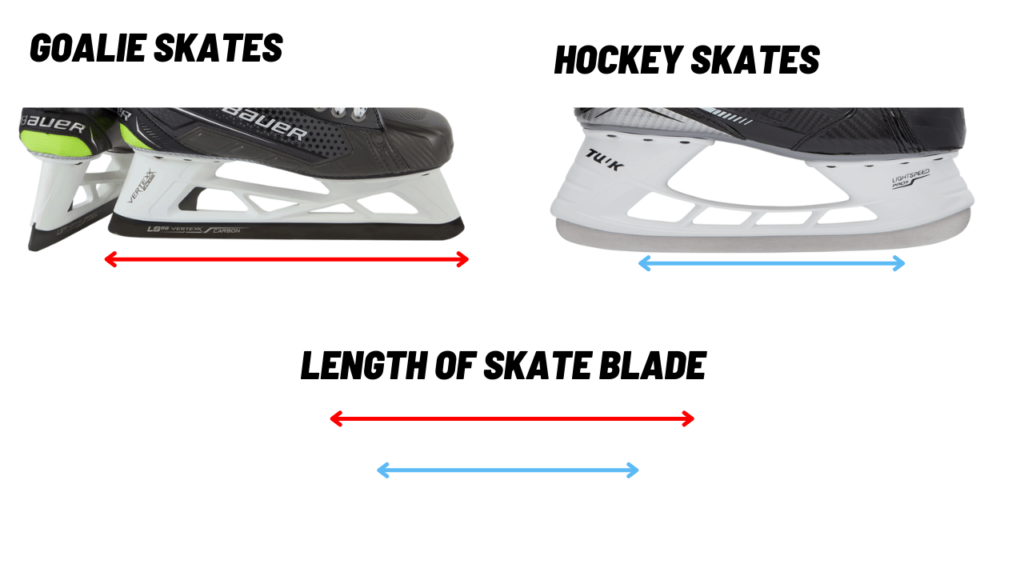 Can A Player Wear Junior Goalie Skates?
While young goalies can wear player skates, it's not recommended that players wear goalie skates. This is because of the longer, flatter blade on the skate which prevents the much-needed agility found in the standard player skate blade.
How Long Will It Take For My Kid To Get Used To Their Goalie Skates?
The adjustment period for your son or daughter getting used to their goalie skates is generally fairly quick. If your kid tells you that they do not like their new goalie skates after the first time or a couple of times using them, don't worry! In just a few skates most goalies prefer goalie-specific skates and will never go back. There is no goalie in the NHL currently who does not wear goalie-specific skates, a testament to their quality and efficiency.