The past two years featured more goalie pads news than any in the past decade. From Lefevre breaking ties with CCM to Bauer and Warrior again breaking the goalie pad market, if you're between the pipes there has never been a better time to buy new goalie pads. There are quite a few new lines of goalie pads being released in 2023, we're currently on ice testing and updating this article as we get results from tests in.
What are the best goalie pads 2023? This is a pretty subjective question, depending on who you ask. For some, the answer may be Bauer. For others, the answer may be Vaughn. Or, you could meet in the middle. We should point out before we start though, these are not the best goalies pads for beginners. In this article we're covering the top of the line, best of the best goalie leg pads, period.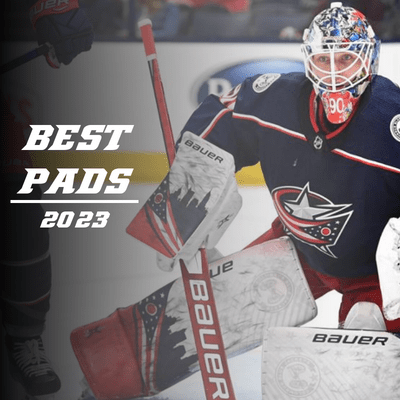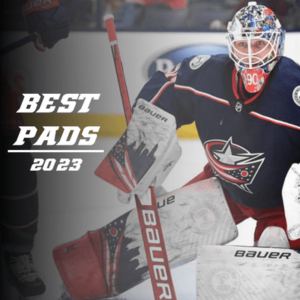 This isn't your grandmas guide to finding the right goalie leg pads. We've trained hundreds of elite goalies here at Goalie Coaches. We work closely with goalies who play in the NHL and require the best of the best.
To be crystal clear, these are the same pro level goalie pads your favorite NHL goalie is wearing.
Before we jump into our list, it's important to note that for every set of goalie pads out there, there are lower end models of the same line.
While many ultimately decide simply based on the brand of gear they've always used, the best goalie pads are the ones that work well for you.
Keep that in mind as you go through your gear search.
Highest Rated Goalie Pads 2023
For your money, the best goalie pads on the market today are the True Lefevre L12.2 pads.  
Goalie leg pads have changed quite a bit over the years. In the past, leg pad manufacturers simply focused on making the lightest weight pads. Today, light weight matters, but so does important things like rebound control and strapping.
It's also important to keep in mind certain key factors such as durability. The most durable goalie pads are not always the highest performing. This is due to the fact that performance is often associated with weight, and the best-performing goalie pads do not necessarily use the heaviest or most durable material. In some cases, you can get the best of both worlds however.
The rating system we use while testing these pads, to decide which pads truly are the best, highest performing, and versatile for a wide variety of goalies.
To further explain our goalie pad rating system, we've broken it down below. Please note that these numbers, especially "Durability" are subject to change throughout the year. If one of our goalies is testing a pad line and notices issues with the overall durability, we will immediately update and annotate that here. Our goal is to provide the most comprehensive goalie pad rating system on the market, to help you choose which pads are right for your budget.
Durability: How well built are these pads? Will they last for multiple years? When we measure a pads durability we examine not only their performance
Sliding Ability: Compared to other pads, how well do these pads slide? Do they build up with snow? Are they slow out of the box? Sliding ability is a critical component of the overall performance of your goalie pads.
Custom Options: As most goalies know, the ability to customize your pads is critical, not only from a design standpoint but a
Price: How do the pads compare price-wise to the previous iteration of the pads and to competing pads on the market?
Rebound Control: Arguably the most important component that contributes to overall performance, rebound control is critical to goalie pads. How does it compare to other pads, how does it compare to what the manufacturer has done previously?
Weight: Weight-wise, how do the pads compare to other models, and what competing manufacturers are doing?
Versatility: Are these pads versatile for multiple styles of goalies? We're measuring how the pads would perform to a broad spectrum of goalies, not just a specific type.
Strapping System: Strapping systems are critical to a pads performance. By far the easiest part for manufacturers to score a 10 on, strapping systems must be both comfortable and customizable.
Total Score: Out of all possible categories, we'll pick a final score for each pad. Our goal with our grading system is to remove any opinion from the grading process.
True Lefevre L12.2 (Best Overall)
The True L12.2 are the consensus number one overall goalie pads for 2023.  
As many of you know, True recently bought out Lefevre in the past year.  This was a massive change in the goalie industry and we saw many NHL goalies switch over to True.  The latest version of the leg pad that the goalie company has released is the L12.2.  Which are an updated version of the L12.1 pads.  NHL goalies like Sergei Bobrovsky and Jusse Saros are currently wearing the L12.2s from True Temper.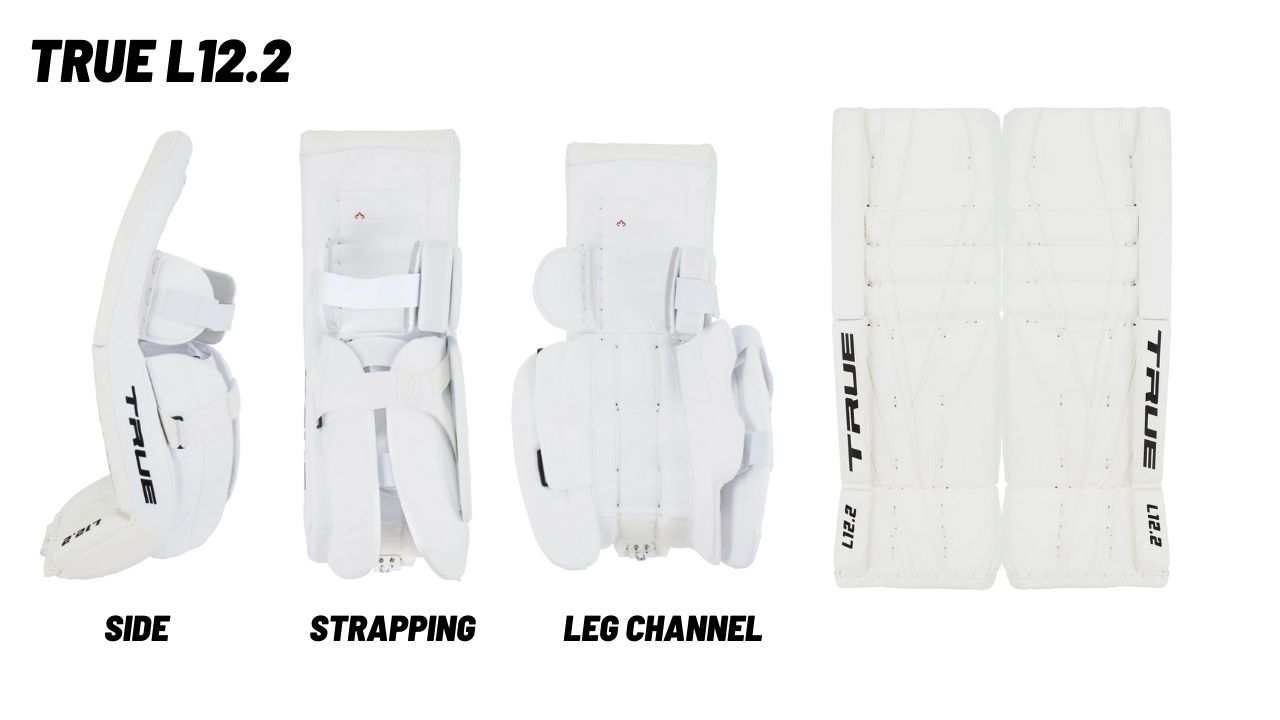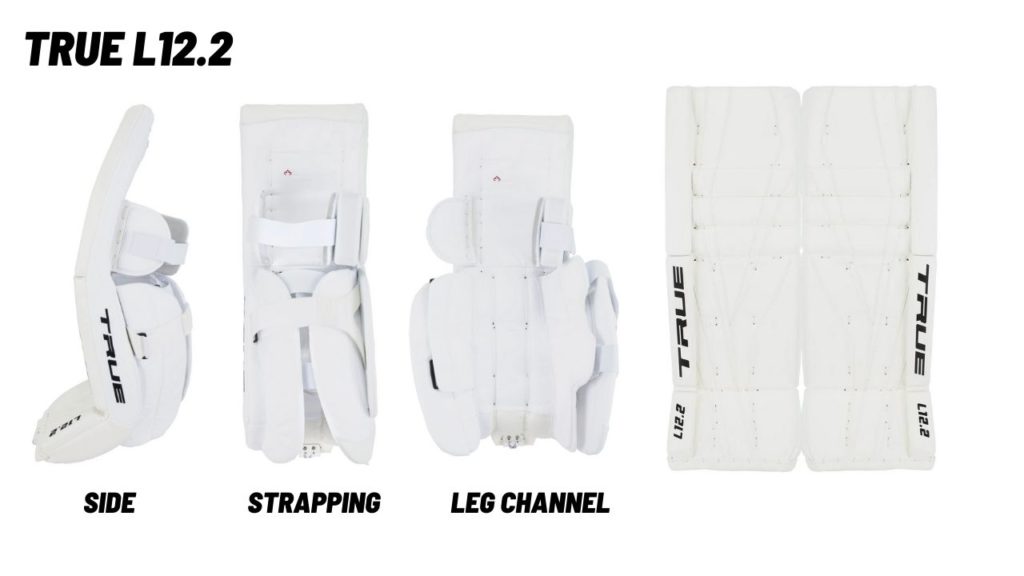 Positives
The L12.2 are a softer pair of pads that are designed to be responsive and quick.  They're a bit more flexible and softer than the True L20.1 pads, which are designed to pop rebounds off into the corner very fast.  The L12.2 is similar to the CCM Extreme Flex 5 pads in a way that rebounds are going to be more controlled and are more likely to cause pucks to drop dead.  On top of that, these goalie pads are more agile and flexible than the former.  
What really takes these goalie pads to the next level is its patent-pending Fast Rotation System.  What it does is helps keep your calf connected to your pad while also allowing you to drop into the butterfly faster.  Playing goalie is a game of milliseconds and any extra time that you can pick up when trying to stop a puck is the difference between getting scored on and making the save.
On the inside of the L12.2 leg pad, you'll find what True is calling "Fast Glide".  It's like every other goalie brand's version of material that helps increase sliding speed in the butterfly, while also reducing drag/ friction.  It's a pretty cool concept, but as far as goalie pads go – this isn't what puts these pads at the number one position.  Definitely a ranking factor though.
These pads also have a really good seal to the ice.  In today's age of playing goalie, this is a must feature in a pair of pads.  We've all been there when a puck just barely slipped under the pad and in.  A pair of goalie pads with a great seal will effectively close that gap and help you stop more pucks.  
Lastly, what puts these goalie pads at the top of the pack is the quality of True Lefevre pads.  Just under half of the NHL is wearing a set of True's, which goes to show the quality and performance that these pads have to offer.  
Negatives
That being said, a review of a pair of goalie pads wouldn't be a review without some negatives.  You'll find that these pads are a bit heavier than pads such as the Bauer Hyperlite. In return however, you will likely get a more durable set of pads.  
Price-wise these pads aren't cheap.  You'll definitely be putting a large investment into them to enjoy their features.  Many people would argue that the price makes it not worth it.  But I would tend to disagree.  These goalie pads will last you many years and if for some reason you decide to move on (outgrow them, change teams, etc…) these pads will hold a lot of their value when it comes time to sell.  
Overall
Overall, it's hard to say that the True L12.2 goalie pads aren't the best overall goalie pads on the market right now.  There are lighter, more innovative pads out there, but these come with everything. Quality, performance, and innovation to help you perform.  
Bauer Supreme Mach
One of the highest rated goalie pads for 2023 are the Bauer Supreme Mach pads.  In typical Bauer fashion, these pads are optimized for the highest level of performance.  
First off, they''re very light.  The reason Bauer is able to produce such a let light set of goalie pads is because they use what they are calling "SL1D3R skin technology".  The main jist of it is that it's a one piece skin around the pad.  And the graphics are printed on the skin, rather than sewn in like many other goalie gear companies do.  
The Supreme Mach goalie pads feature a single internal break, which is a bit stiffer than other elite pads on the market.  I personally am a fan of a slightly stiffer set of pads, but not every goalie is.  
Some benefits of the stiff pad is the seal on the ice, along with rebound control.  Pucks pop off the pad and into the corner/ well out of the crease with these on.  Getting a nice seal on the ice is advantageous because you're less likely to let pucks slip underneath, which is certainly a thing if you've played goalie long enough.  The stiff pad is also helpful when creating a seal on the post in the RVH or VH.  
A less exiciting aspect of these hockey goalie pads is the Tune-Fit+ strapping system.  They're fully adjustable which give you the freedom to customize the fit and feel while wearing.  You're going to get this sort of gear technology on most high end goalie pads these days. 
A possible downfall of these pads is durability concerns.  Bauer has drastically increased the durability of their goalie pads over the past three years so this isn't as big of a concern it might have once been, but I think it's something that should be addressed.  With the single skin wrapped around the pad, it might result in a rip or tear that you might not see in a set of CCM or True pads.  
Another disadvantage is going to be the price.  You'll have to fork over a pretty penny for these pads.  You're going to come across this a lot with new pads these days however. 
Overall, the Bauer Supreme Mach goalie pads are designed for the goalie that wants to get the highest level of performance out of their pads.  You'll pay for it, but they're lightweight, comfortable, stable and feature great rebound control. 
Brian's GNETIK V
Welcome to the party, Brian's. The GNETIK V goalie pads from Brian's are far and away one of the most durable, most customizable, goalie pads on the market this season. They're designed to be a  hybrid set of pads so they feature a bit of flexibility while still offering many of the features that you would find in a stiff pad, like the Bauer Hyperlites.
Positives 
Let's start out with the coolest and most obvious upside of these pads – the customizability.  Pretty much any feature within reason that you'd like these pads to feature – you can have.
How we rated the Brian's GNETIK V pads.
| | |
| --- | --- |
| Product | Brian's GNETIK V |
| Durability | 9/10 |
| Sliding Ability | 9/10 |
| Custom Options | 10/10 |
| Price | 7/10 |
| Rebound Control | 9/10 |
| Weight | 9/10 |
| Versatility | 10/10 |
| Strapping System | 10/10 |
| Total Score | 73/80 |
CCM Extreme Flex 5 (Best Agility)
The new CCM E-Flex 5 pads are a continuation of the Extreme Flex lineup.  The original E-Flex pads came out many years ago and CCM (like many goalie brands) have been alternating between lineups when they release a new pad.  Last year's model was the first edition of the Axis, previously the Premier.  
The first big takeaway of the Eflex 5 pads is that they're designed to keep rebounds in tight.  This is unlike a lot of goalie pads in 2023 that generally encourage sending rebounds far away, quickly.  
What this allows you as a goalie to do is control your rebound easily and effectively.  You'll be able to cover up a loose puck faster, knowing where the puck is going to go.  Fundamentally putting the puck where you want it to go is the best way a goalie can control a hockey game.  
And as a goalie, if you are able to control the hockey game, you're more likely to get a win for your team.  Bottom line, these pads help you control your rebounds which sets off a positive chain reaction.  
The knee area has been improved as well.  You'll feel better stability in the butterfly and effectively close the seal to ice a bit more.  This is especially nice in the VH and RVH.  
The CCM E-Flex 5 pads also feature a single break.  This is designed so you can close your five-hole faster as you drop into the butterfly.  
Lastly, these are a comfortable pair of goalie pads to wear.   They're easy to strap on with only a couple straps and the mobility is dynamic.  
Really the only reason to avoid these pads would be personal preference.  Some goalies are more apt to getting a stiff pair of pads that send rebounds flying out to the blue line.  That's ok.  Go with a pair of True L20.1 or Bauer Vapor Hyperlites.  Each goalie has his or her own taste and that's what makes the game special.  
Overall these pads from CCM are designed for those of you that want an agile and flexible pair of pads.  
Bauer Vapor Hyperlite
Building off a similar feel to the Vapor 2X Pros, the Hyperlites are a somewhat stiff pair of pads that are well known for being lightweight.  This is how Bauer has really made a name for themselves in the goalie industry, by creating responsive, lightweight equipment.  
Positives
But that generally comes at the cost of quality.  When it comes down to it, there are tradeoffs to make.  You might sacrifice a little bit of quality if you get these pads, but there really isn't a lighter and more responsive pair of goalie pads on the market.  You could argue that the UltraSonics are on a similar level, which you would be correct.  But besides those two, nothing comes close.  
One big difference between the old 2X Pro pads and the updated Hyperlites is that these have a softer knee area.  So you get a little bit more of a bend/ flex, which you didn't see much of in the previous Vapor pad.  The effective rebound control of the Hyperlites is still shown in these goalie pads, however.  
Another change that Bauer has implemented is a new and improved knee block.  The UltraSonics featured a one-piece knee block – something we hadn't seen before in previous pads.  This was super effective in energy transfer and ultimately created better stability in the butterfly.  The knee block in the Hyperlites are better to where the weight has been decreased by 30%.  In all, you get a lighter pad and an even more stable base.  
Lastly, the Vapor Hyperlites feature a new COR Tech Skin Plus.  When the original 1S pads came out many years ago, they featured COR TECH Skin.  Bauer has improved it over the years, but this appears to be the biggest upgrade yet.  This is big news because it will hopefully give extra lifetime to these goalie pads. 
Negatives
There are some reasons why you might not want to buy these pads.  For one, Bauer, despite improving the quality of their pads over the years, still has a reputation for creating pads that don't last very long.  Now, I will argue that the quality has definitely improved over the years, it still is a concern.  
There are tradeoffs in goalie equipment.  Do you want faster, quicker, lighter?  Or heavier, sturdier, but will last longer?  Of course, this rule doesn't apply to every piece of equipment, but it is something to keep in mind.
Two, the pads are a bit stiffer than other options out there, such as the CCM E-Flex 5 pads.  Some goalies (myself included) prefer stiff pads because I like the pop of the rebound.  But that isn't everyone's favorite style, which might be a softer pad.  If that's you, go with another pad on the list.  
And lastly, the price is pretty absurd.  But if you are buying elite tier goalie pads, you know the price is never cheap.  But that's what elevates one pad from the next.  
Overall, I really do like the Bauer Vapor Hyperlite pads as the best goalie pads as far as performance goes on the market.  
Vaughn Ventus SLR3 Pro
The next set of pads on our list for 2023; the Ventus SLR3 Pro goalie pads.
These look fairly similar to previous Ventus pads that Vaughn has released in the past.  They're a stiff pad without a break at the knee, and feature a pro core internal structure.
Positives
The pad features a stiff front face which is going to be really nice for clearing rebounds out of the crease and responsiveness.  As you may have noticed, I'm a fan of stiff pads myself as I think they get a better seal on the ice and up against the post in the RVH.  Now, this is very subjective because other goalies prefer the flexibility of a pad like the CCM E-Flex 5s.
One thing that you'll find in these pads is that they are very stable.  In the old days when goalies were playing, their pads would fold under themselves.  This is very unlikely to happen in this day and age with the Ventus SLR3 pads.  For reference, watch Darcy Kuemper of the Avalanche.  He rocks the SLR3 in style.  But you'll notice how the face of the pad consistently is sturdy and outward-facing.  This may seem like "oh cool", but if you're into a sturdy and stable pad, these will provide that.
Typically when we think of goalie pads that offer great five-hole coverage, we think of a pad with a triple break in the knee or an otherwise flexible pad.  What's great about the SLR3 pads is that you can get quality coverage between the wickets.  The pad has a pre-shaped curve that is designed to effectively cover the five-hole.  This is an underrated feature in a new set of pillows.
What really had established Vaughn's presence in the hockey world is their ability to make a durable pad.  If you notice, one of the most popular resell pads on the market are Vaughn's – simply because they last for so long.
Negatives
The first and most obvious negative is the price.  But, just like every other goalie pad that is going to be the best in the world, it's going to cost some cash.  It comes with the position.
The other aspect of these pads is I'd love to see more innovation.  Something different out of Vaughn. And that's not entirely a diss – as the old saying goes "If it's not broken, don't fix it".  And there is quite a bit of validity to that statement in this situation.  You know what you're getting with Vaughn.  A durable and reliable set of pads.  They'll also be comfortable, but nonetheless, it feels like a lot of the same.
Overall
Overall I do think that these goalie pads deserve to be in the top five of this list.  They're well built, comfortable, and are going to last a long time.
Warrior Ritual G5 Pro (Most Innovative)
The Warrior Ritual G5 Pro+ goalie pads are the next best and most innovative goalie pads you can get.  For many years I've been very impressed with the quality of gear that Warrior has been releasing to the public, especially with their goalie sticks, but these pads are on a whole new level.
Positives
While Warrior leg pads aren't currently used in the NHL, they are absolutely a pro level goalie pad. Warrior has created a reputation of pushing the envelope, and the G5 series is no different.
The Warrior Ritual G5 Pro+ goalie pads are very technologically advanced.  They feature what is called CoverEdge+ technology that cuts off the angle to the shooter better than other pads.  Essentially taking up more space in the net, without doing any additional work.  These are also very comfortable to wear and super mobile.  I'm personally a huge fan of these pads and think that they're highly underrated.
Negatives
As a fan of stiff internal board goalie pads, these don't really fit that bill.  They're decently stiff, but not quite like the L20.1 pads or the Bauer UltraSonics.  This does make these pads almost perfect for those of you that prefer somewhat stiff yet not straight pieces of lumber.
Warrior Ritual G5 Pro Overview
If you haven't worn Warrior goalie pads before, you might be skeptical.  "But Tyler, no NHL goalie wears Warrrior!"  Yeah yeah, I hear you.  I'm actually super disappointed that there isn't an NHL goalie wearing the brand, simply because I think they could be waaay more attention then they have right now.  These pads are super advanced, but highly underrated.
For one, the G5 Pro's are super lightweight.  As I said with the Lefevre goalie pads above, elite pads HAVE to be lightweight in this day and age.  These ones are exactly that, very lightweight.
Two, these pads are super comfortable, easy to wear and easy to move around in.  The leg channel features what is called "ActiveDrop" and it's very similar to the Fast Rotation System in the L20.1 pads.  It creates a clean drop into the butterfly from the upright position.  Taking up more space in the butterfly area, while also allowing you to hold your edges longer.
Three, Warrior pads are actually quite durable.  Whether it's the material they use, the design of the pads, or a combination of both – I'm not sure, but these goalie pads are built to last.  But then again, nobody sees this aspect of Warrior because not a lot of people are wearing them, unfortunately.
Four, Warrior has brought back the Airslide technology that they introduced in their GT2 Pro lineup of pads.  Airslide is where Warrior implemented grooves on the sliding surface of the pads to increase the slip.  There's less sliding surface on the pad actually touching the ice, which decreases the amount of friction as well.  It's an interesting yet very unique concept that works, especially for late in the game when the ice is torn up in the crease.
And the last feature on these pads that I want to talk about is the CoverEdge+.  This is something that we have not seen from any goalie brand to date, unless my knowledge is missing me somewhere.  But what this does for you is adds a tilt to the tops of the pads, cutting off the angle to net better.
Think of it like you are skating out to challenge the shooter.  The angle of your stance and the distance you are to the net, affect how much room the goalie has to score.  The further out you are, the more net you're going to cut off.  The problem with going out to far though is that you might end up getting caught, especially if it's a two-on-one or two-on-zero.
The CoverEdge+ will help take off that net surface area, even though you might be further back in the net.
True L20.1
The True L.20.1 goalie pads were the consensus number one pads on the market last year, but they were recently dethroned by a newer and more popular pad, the True Temper L12.2 pads.   While still super popular and a great overall set of pads – we gave them a little decrease in our goalie pad power rankings.
Positives
These are a lightweight and stiff pair of goalie pads, with really solid mobility.  The stiff internal board clears rebounds quickly and the Fast Rotation System creates a very elusive and responsive set of goalie pads.
Negatives
While being very mobile for a pair of stiff goalie pads, they're not quite as agile as other soft goalie pads on the market.  If you're one of the goalies that would prefer a softer touch, go with the L12.2 or the CCM Eflex 5s.  Simply because they are far more flexible and you can move a lot easier in them.
Overview of the L20.1 Goalie Pads
Listen, if you aren't sure who or where Lefevre came from, we've an article explaining everything on the site here.  There are a lot of NHLers like Marc-André Fleury who are wearing these pads.
These are some of the top-rated all-around goalie pads that you can get for this season, for a couple of reasons.  One, True (Lefevre) makes very high quality and durable gear.  If you've worn CCM goalie pads before (in the last couple of years), you were most likely wearing pads that were built by Lefevre.
Next up, these pads are lightweight.  Maybe not as light as the Bauer Hyperlite pads, but not super heavy either.  This is helpful as a goalie so you aren't going to be dragged down by your equipment.  Any amount of weight cut off without having to sacrifice protection is a win in my books.
Three, they're designed for optimal movement, despite the stiff internal board.  They feature what is called the Fast Rotation System (FRS) and essentially what it does is makes dropping into the butterfly quicker.  It removes any restrictions that may have previously gotten in the way, allowing for a clean drop.  These pads also sit higher up on the leg which helps create space to move well.  The boot is also flexible and set at 90 degrees, allowing for maximum mobility in the ankles.
And lastly, and maybe the most important aspect of these goalie pads is how well these pads clear rebounds.  Because they are a stiffer pad, there's obviously going to be less energy lost when the puck hits the pad, which results in the puck bouncing well out of the crease.
Overall, the True L20.1 goalie pads are a great set of pillows.  They're lightweight, built to last, and are a responsive set of pads.
Bauer Supreme UltraSonic (Best Rebound Control)
If you are looking for a pair of goalie pads that have supreme rebound control and overall performance, the Bauer Supreme UltraSonic goalie pads are the way to go.
Positives
Bauer has been the most popular goalie pad brand on the market for creating EXTREMELY lightweight goalie pads with incredible rebound control.  I mean pucks are just bouncing off of these pads out to the blue line no problem.  The UltraSonics are (obviously) in the same boat as those other Bauer pads, except better now in a lot of ways.  If you are ultimately looking for a high performing pair of goalie pads, these are them.  Check for the best price of them here.
Negatives
I'm a sucker for lightweight goalie pads.. I just am.  But the problem with Bauer is that they're notorious for creating goalie pads that just don't last.  The Bauer Vapor 2X Pro goalie pads were a huge improvement over the 2S's, but there is still room for improvement.  Bauer is claiming that the CorTech skin that is wrapped up on the outside of these pads makes these the most durable goalie pads from Bauer in a couple years.  I will only believe it when I see it though.
Bauer Supreme UltraSonic Goalie Pads Overview
The Bauer Supreme Utlra Sonic pads are some of the lightest pads that you can get for this season.  The biggest problem with Bauer pads in the past was the durability.  Finally, Bauer has updated the CorTech Skin to create a more durable external skin.  It's now stronger and less likely to tear or break down.  Being that it's only been a couple months since the release, it's hard to know for sure the life line of them, but I'm excited to see the upgrades.
New in the UltraSonics is the one-piece knee block.  In (most) goalie pads, there are multiple different pads in the knee block, velcro'd together.  In the UltraSonics the knee block is only a single piece.  What this does for you is creates far better energy transformation from your body to the ice.  Helping you move quicker and more efficiently in the butterfly.
It also adds to the stability of the pads, while in the in butterfly.
Something else that I really like in the Supreme UltraSonic goalie pads is the seal on the ice, and in the RVH.  These are a squareish looking set of pads, which ultimately helps improve seal.  You do have to pay the price with the stiff internal board however to get this.
Lastly, I love the rebound control of these pads.  CurvComposite board sends pucks flying off very quickly and with a lot of power.  I fell in love with this technology from Bauer when they released the Bauer Supreme 2s Pro pads, and it's been keeping me inline with Bauer goalie pads since.
Performance-wise, I don't think that you are really going to find a better pair of goalie pads.  They're super lightweight and comfortable, while also having great rebound control.  The biggest problem that these goalie pads might have is the durability, but with the new and improved CorTech skin I think the durability is going to keep these pads alive for a long time.
Vaughn Velocity V9 Pro Carbon
The Vaughn Velocity V9 Pro Carbon pads are an elite pair of goalie pads.  New for 2020, they've implemented some nice upgrades in these pads compared to previous Vaughn pads.  The first one, Quick Slide Technology on the inner channel for better sliding in the crease.  Sliding technology amongst every goalie brand has been getting better year after year, and it's good to see Vaughn upping their game here.
Vaughn has also made some other changes.  They've put a new board in these pads with a lot more pop to them.  Rebounds are sent a bit further than before in previous models.  The panel has also been reduced in width to create a thinner pair of pads that weigh less.  And finally, the strapping system on the V9 Pro Carbon's has been changed for the better.  The straps are now better fitting and more comfortable than ever.
Vaughn seems to really stick to their designs and models, so it's fun to see some upgrades in their current lineup.
Advantages: 
Lighter than before
New, thinner board
Better rebound control
Comfortable
Known durability
Disadvantages: 
Price
Compared to Bauer and Warrior, these pads aren't very technologically advanced
Brian's OPTIK 2 
I absolutely love Brian's. The Brian's OPTIK 2 are some of the best goalie pads on the market if you take money out of the equation. If you're looking for the most durable goalie pad, as well as the highest performing gear, I firmly believe that you cannot go wrong with anything from Brian's or Warrior.
With that being said, the OPTIK 2 is a better option for somebody who wants a top of the line custom pad. Brian's may not be able to do what Bauer's digital printing does, but they cannot be touched in terms of high quality custom.
Not only are the Optik 2 pads very durable, they are also some of the best performing pads that you can get.  They have a great seal on the ice, slippery material on the inside channel and are lightweight.  Brian's also implemented a new strapping system in these pads that create a more comfortable feel while playing hockey.
Lastly, the Optik 2's have awesome rebound control.  Since they are a stiffer pad, pucks bounce very far off of them.
Advantages 
Great seal on the ice
Solid slip on ice
Rebounds fly off these pads
High quality and pads
New strapping system
Lightweight (4.6lbs)
Disadvantages
Expensive
Some goalies aren't huge fans of stiff pads
CCM Axis Pro
The CCM Axis Pro goalie pads are CCM's newest release for 2020.  They're very technologically advanced and lightweight.  They are designed for ultimate comfort, protection and lightweight.  They are a stiff pad (my favorite) that send pucks flying off into the corner.  If you are a wide butterfly goalie, these are also designed for you.
The Axis Pro pads are really an all around quality pair of pads.  The seal on the ice is tight, they are slippery in the butterfly, and the rebound control on these pads is pretty good considering the break up with Lefevre. Not only that, but the strapping system is comfortable and easy to adjust.  Predator's goalie Jusse Saros wore these pads during the Covid play-ins last August.
Now despite all the positives, these goalie pads are going to feel different from the Lefevre pads that CCM used to use.  You'll definitely feel a difference, but that's not necessarily a bad thing!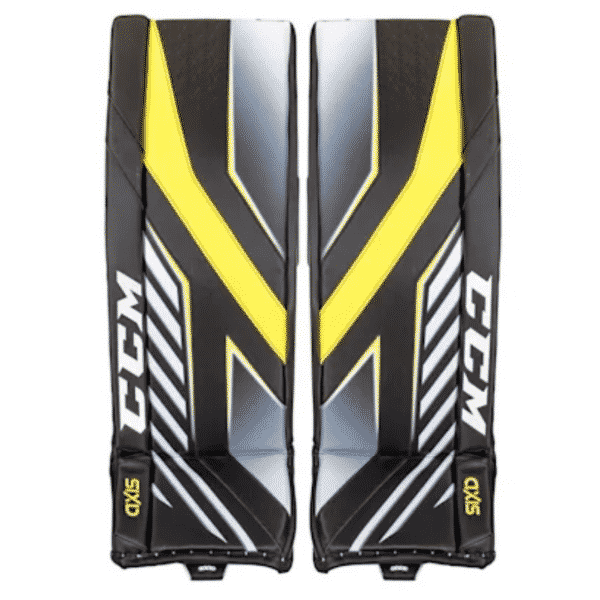 Advantages:
Stiff
Lightweight
Good rebound control
Tight seal on the ice
Comfortable
Disadvantages:
Expensive
Despite all of the positives, they feel a little weird
Warrior GT2 Pro
Honestly, there isn't a ton of difference between the GT2 and the G4 lines, other than the GT2 was released more recently. Warrior will be out with a new line soon, so now is the perfect time to pick up a set of GT2's or G4 gear. We tested the GT2 extensively, during the time we were using the Bauer Vapor 2X line on a daily basis.
Performance wise, the GT2 set and the Bauer Vapor 2X were just about equal. Warrior has the upper hand on the durability end of things, even if Bauer is pushing closer and closer. I seriously think that this comes down to customization.
The biggest thing I personally was not a fan of with these Warrior pads was the sliding capability. Yes, they slide like butter. But the Airslide on the G5 lineup is unbelievable. Oh well, I guess.
Advantages 
Super lightweight
Fast transition from upright to butterfly with a tight seal
Standard Warrior strapping (very easy to use)
Tighter leg channel
Good rebound control
Disadvantages
Related: Best Goalie Sticks
Bauer Vapor 2X
The Bauer Vapor 2X series is the next best pad series on the market right now, here's why. When it comes to a "best of the best" style article about goalie equipment, we consider these things. First, cost compared to performance. Second, durability, third, the ability to customize.
After using these for nearly a year, part of which was an actual 30+ game season of high level hockey: I believe that the Vapor 2X pad is the most durable of Bauer's Vapor / Supreme pads in recent years.  The only Bauer pads that are more durable than these ones are the Ultra Sonics.  But still, the 2X pros were quite durable, and even still they are performing great.
The Bauer Vapor 2X line entered the market as one of the more expensive pad options for goalies. Then, Bauer changed the game and started to allow digital printing for everybody. As it stands, these pads perform just as well if not better (depending on who you ask) as the other top pads on the market.
Advantages 
Lightweight
Durable
Simple strapping system
Good rebound control
Customizable graphic
Disadvantages
CCM E Flex 4
The stock graphic on the new E Flex 4 is one of the better stock graphics on gear. It's far better than the graphic on the Vapor pads, but not quite as good as the OPTIK 2 stock graphic.  (Just my opinion)
Graphics aside, the E Flex 4 is a tremendous pad in terms of durability and performance.  They have a nice seal on the ice and are fairly mobile.  Many NHL goalies had been using the E Flex 4 pads, until Lefevre released their latest pads.  (Most goalies using the E Flex 4's switched to Lefevre because of similarities.)
I think that the E Flex 4 is truly one of the best all around setups, if you want to buy a matching, complete set. Bauer's glove improved quite a bit from the 2S to the 2X, but it's not quite as good as the 590 break made famous by Lefevre (CCM). More on that another day.
Out of the box, you won't go wrong with a custom set of E Flex 4 gear. Of all goalie gear on the market, you're most likely to like the CCM glove. CCM is also a great glove for beginners, as it's the most natural feeling. It may not be the most broken in right out of the box (Warrior and Brian's get that nod), but it's one of the most widely used for good reason.
Advantages 
The ice seal with the E Flex 4 is one of the best on the market
CCM Speed Skin is comparable to Bauer's sliding gusset on Vapor / Supreme lines
The CCM E Flex 4 is most versatile goalie pad
Disadvantages
Break in period on glove is longer than other brands
No custom graphic option
Vaughn Ventus SLR2 
Vaughn has been the brunt of a lot of criticism in recent years. While many brands were innovating, Vaughn stood behind what they know best. A solid pad built to last a long time, with customization options for goalies.
I'm always a bit surprised with Vaughns representation in the NHL, with the options available to professional goalies. However, it's a testament to their build and performance. The Ventus SLR pads are a true butterfly style goalie pad, though I'm not sure that term makes any sense these days.
Advantages 
The best rebound control pad from Vaughn, ever
Flat pad face design
Disadvantages
Extended break in period
Vaughn gloves are typically not loved
Related: Best Goalie Skates
Can't afford any of these? Here are the best quality, affordable pads
It's hard to believe that the days of the Bauer 2S and the CCM Premier 2 are for the most part behind us, even though they're still being used in the NHL. And we probably could include them on the top pads for this year, but I don't think it makes a ton of sense.
These would be great buys if you're wanting a top of the line pad on a budget, but they're not going to feature the technology that each pad company gets to sell on a yearly basis.
Warrior Ritual G5+
The Warrior Ritual G5+ pads are the next best pads in the new G5 lineup, underneath the G5 Pro pads.  They aren't as technologically advanced as the former, but they are a great pair of pads for any budget goalie.  We here at GoalieCoaches are fans of Warrior, simply because they make quality gear.
These pads slide well, are comfortable and feature a lot of the same advances that the elite pads have.  360 Active drop, AirSlide, and the forward tilted Coveredge.  So essentially the same pads, made with slightly less quality material.  There are some small tweaks that make this pad a little bit less in terms of quality and performance, but they are also almost half the price of the G5 Pro's.
Conclusion: Best Goalie Pads For 2023
Goalie pads are not that cheap, but if you purchase a great pair, it can be one of the best investments you can make.  For playing hockey that is… Playing hockey in a comfortable, durable and high performing pair of pads is far more exciting than playing hockey in pads that aren't.  Take it from us, we've been there.
Got this far, still have questions? Check out our "How to Measure Goalie Pads" guide for some of the most frequently asked questions on goalie gear. If you've already picked your pads, consider taking a look at the best knee guards for goalies.
Hope this article helped you out and thanks for reading!