The goalie stick market has been one of the most disrupted in recent years. NHL goalies quit using wood sticks over a decade ago, while amateur goalies have been slower to adopt composite and foam core goalie sticks. Just 5 years ago, foam core sticks were some of the best goalie sticks on the market. Today, nearly 100% of goalie sticks are built of composite materials, making them stronger and lighter than ever before.
In 2023, the goalie stick market is dominated by Warrior, Bauer, and CCM.
When it comes to finding a hockey goalie stick that fits your game, you really can't go wrong with CCM, Warrior, OR Bauer. Yes, Warrior disrupted things when they first released the V1 goalie stick. But that doesn't mean the products that CCM and Bauer make won't do the job extremely well for you.
With that being said, the two most popular goalie stick manufacturers are far and away Warrior and Bauer. Warrior, all around, makes the best shooting and most durable goalie stick. We've personally been recommending Warrior goalie sticks to all of the goalies we train for a number of years, as they simply outlast the competition.
Here are the best goalie sticks that money can buy in 2023.
We intentionally listed a handful of sticks here. If you decide that you absolutely cannot have the Bauer or the Warrior, I would maybe take a look at CCM as a close 3rd.  Let's get into our picks of top high end goalie sticks on the market.
Warrior M2 Pro+
Last season, it was the Warrior Ritual M1 Pro+. This year, it's the Warrior M2 Pro+.
The best goalie stick that you can get for 2023 is the Warrior M2 Pro+.  It's one of the lightest goalie stick that we've seen out of Warrior to this date.  It's almost to the point of reaching Bauer goalie sticks lightweight (although, the True Catalyst 9X has been seriously impressive).
One of the major advantages to the M2 Pro+ and any Warrior goalie stick for that matter is their durability. Composite goalie sticks are great in terms of their weight and puck-handling ability, but not so great in terms of their durability. Higher-end goalies playing advanced players should expect to go through a couple of these sticks a season, regardless of which brand you buy.
On that note, if you're considering buying a "cheaper composite goalie stick", don't. We tested some lower-end Warrior models last season and destroyed them within a week. It's disappointing, really, because it's become a pay-to-play game but the bottom line is the lower-end composite sticks will end up costing you more in replacement cost.
Not only that, but M1 Pro+ is a lot better at shooting and puck handling, compared to previous models.  The stick has a low kick point design which gives it a better spring, shooting the puck further, quicker.  This goalie stick is also very balanced.
Here's how we scored the Warrior Ritual M2 Pro+ goalie stick in our on-ice testing. 
| | |
| --- | --- |
| Goalie Stick Ratings | |
| Puck Handling Ability | 10/10 |
| Shock Absorbstion | 9/10 |
| Shooting Ability | 10/10 |
| Durability | 9/10 |
| Weight | 10/10 |
| Price | 8/10 |
| Total | 56/60 |
If we're clear about one thing, the goalie stick game has been forever changed with Warrior entering the market. Don't get me wrong, Bauer and True have come a long way, but Warrior simply cannot be overturned this year.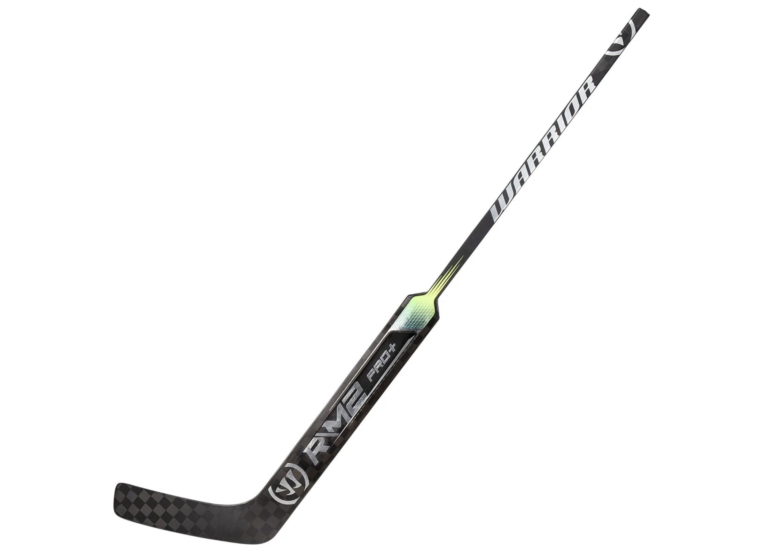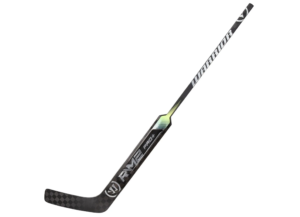 What we loved about the M2 Pro+
This stick is super lightweight, comparable to the True Catalyst 9X and Bauer Hyperlite / Ultrasonic
Durability wise, the Warrior Ritual M2 Pro+ is the most durable stick on the market
The stick has a very balanced, lightweight feel when playing
Superior puck handling and shooting ability
Disadvantages
Warrior has not been able to totally solve shock absorbency
Price, the M2 Pro+ is upwards of $300
Warrior Ritual M2 Pro+ Alternatives/ Closest Sticks
A few years ago, Warrior came out with the "Pro+" model for each of their goalie stick lineups. This was designed to offer a premium, top of the line goalie stick without compromise. The "step down" model of each stick is simply marked without the "plus". We are currently on-ice testing the Warrior Ritual M2 Pro goalie stick and find it highly comparable to the M2 Pro+.
All in all, for this year, it's Warrior sticking at the top of our stick list in terms of pure performance and durability.
Warrior Ritual V2 Pro + (Best Customizable Goalie Stick)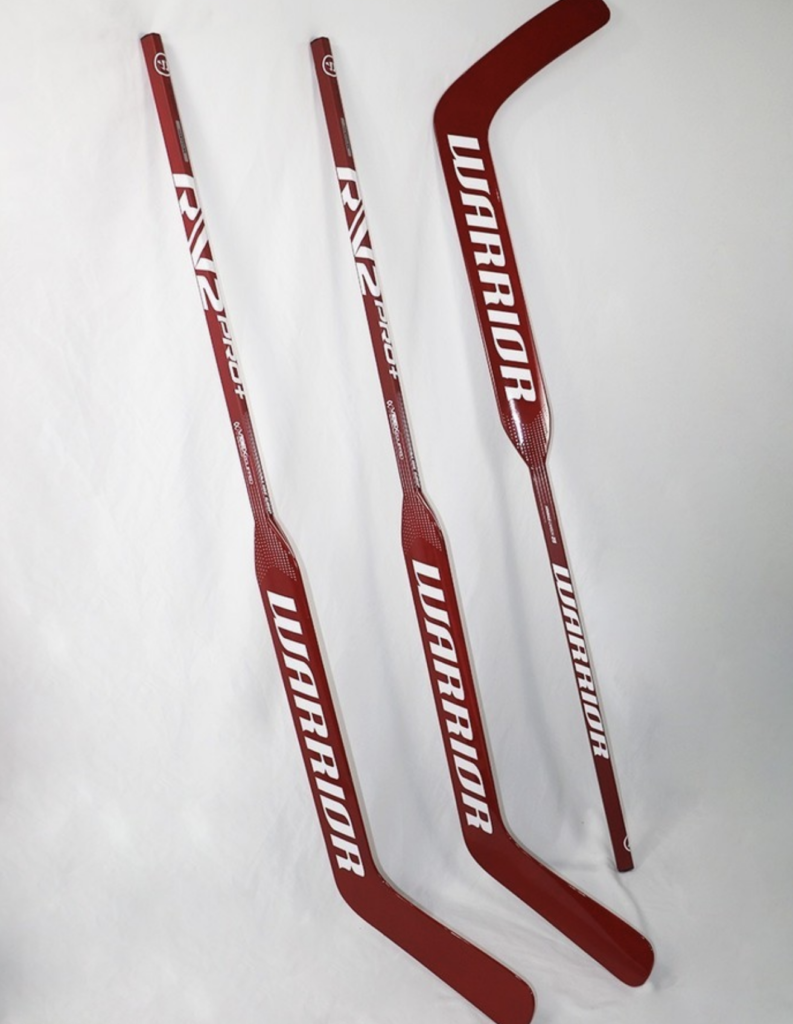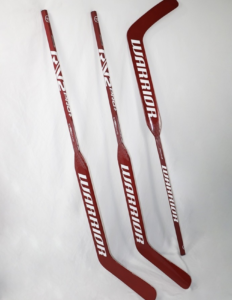 The number two stick on our top goalie sticks list is one of the best custom goalie sticks money can buy. 
Outside of custom colorways available on 3 pack purchase of this stick, one of the next best custom options is a rounded shoulder offering. In the photo to the left, we're demonstrating the rounded shoulder difference, where you can clearly see how the top of the paddle is compacted to provide a more comfortable grip for the goalies hand.
Warrior continues to dominate the goalie stick game and the Ritual V2 Pro+ stick is no exception. This stick is in our top two favorite goalie sticks this year, losing in just one category and that's price. The V2 Pro+ is the stick of choice amongst NHL goalies using Warrior.
While we ranked the M2 Pro+ a stick above this, the V2 Pro+ could just as easily be the top goalie stick this year. Outside of a damaged heel after two months in our on ice testing, the V2 Pro+ held up to everything we threw at it.
One of the things we'll continue to keep our eye on when it comes to Warrior goalie sticks is the blade thickness. The Ritual V2 Pro+ does have a slightly thicker blade than the M2 Pro+, or any Bauer stick.
While I felt the blade thickness only added to it's durability, there is something to be said about the razor thin profile of a Bauer goalie stick blade.
The Ritual V2 Pro+ takes the place of last season's #2 stick, the Warrior V1 Pro+.
The V2 Pro+ is built using Minimus Carbon 25, the strongest carbon composite that Warrior uses in any of their sticks.
Here's how the V2 Pro+ goalie stick rated in our on ice testing. 
| | |
| --- | --- |
| Goalie Stick Ratings | |
| Puck Handling Ability | 10/10 |
| Shock Absorbstion | 9/10 |
| Shooting Ability | 10/10 |
| Durability | 8/10 |
| Weight | 10/10 |
| Price | 8/10 |
| Total | 55/60 |
Customizing the Warrior Ritual V2 Pro+ stick
Choose from 5 Carbon Fiber Weave Patterns
Choose from 12 different paint colors (paint adds 20-30 grams per stick)
Choose from 18 different logo colors
Choose from 12 different alternate logo colors
Choose from 3 different accents
Choose from 3 different blade patterns (we recommend 32 MID)
Customize the paddle shoulder (rounded or square)
Add custom name plate
Customize the Warrior Ritual V2 Pro+, here.
What we loved about this stick
Super lightweight, super durable (we did dock one point as it cracked before the M2 Pro+)
Balanced incredibly well
Handled vibration from puck impact well
Customize them however you want on Goalie Monkey
Downsides
Warrior still cannot make a stick that shoots better than any Bauer stick in recent years
Super expensive. If you need a cheaper version of this stick, shoot for the Warrior Ritual V2 Pro (yes, the biggest difference is it's missing the +)
Warrior Ritual V2 Pro+ Alternatives/ Close Sticks
If you're reading this in time and can get your hands on a discounted V1 Pro+ or even a Warrior M1 Pro+, we recommend it. Both of those sticks are comparable to the Warrior V2 Pro+, although the custom options are better on the V2 Pro+.
Warrior maintains the top of the pile of goalie sticks with their top two models in 2023. 
CCM EFlex 5 Prolite
A popular goalie stick in 2023 is the CCM EFlex 5 Prolite.  Historically CCM has had some durability issues with their goalie sticks; they've addressed those concerns in the EFlex 5.
This goalie stick has been optimized to reduce vibration otherwise known as "puck shock".  CCM improved the paddle with aerograde foam, which is how they were able to decrease the amount of puck shock after making a stick save.
It seems every year sticks are getting lighter and lighter.  In some cases this can be a bad thing as we've seen it decrease durability in some sticks, but that isn't the case here.  The EFlex 5 Prolite features a new "C carbon weave" which decreases the weight of the stick while maintaining durability.
While we haven't seen the puckhandling technology increase dramatic amounts in CCM goalie sticks, other areas of puck dampening technology and durability make up for it.  Similar to Warrior goalie twigs.
It's no surprise that CCM is a relevant goalie stick brand considering they make some of the best player sticks year after year.
Bauer Supreme Mach
The Bauer Supreme Mach is the next best goalie stick of the year.  What you are paying for this stick is the extremely lightweight feel and puck-playing abilities.  It features Bauer's lightest goalie shaft to date.
An area of improvement Bauer made with the Supreme Mach is shock absorption.  I didn't love how the older Bauer sticks felt after redirecting a puck into the corner with my stick.  It's gotten significantly better which is nice because you don't have to add multiple layers of tape to the shaft handle.
An area of disappointment is the durability.  While Bauer has continued to put more emphasis on creating longer-lasting goalie sticks, it's not quite up to Warrior standards yet.
That being said, if you are looking for top-of-the-line performance you aren't going to find a better option on the market.
True HRZDUS PX
The HRZDUS PX is the high end goalie stick from True.  While True hasn't quite been able to make the same splash in the goalie stick industry as they have had with goalie pads, this stick is a big improvement from last year's model.
It's 30 grams lighter than the Catalyst 9X, an enormous leap in reducing the overall weight of the stick.  What we found interesting in this stick is that it's much easier to play the puck with as well.  Whether that is due to the decrease in weight, or the low kick profile, it's not so easy to decipher.  But the low kick profile is designed to release the puck quicker than a mid or high quick stick.  This is beneficial when you're playing the puck to get the puck off your stick as quickly as possible.
A big area of improvement with the HRZDUS PX is durability.  True's RESFLO technology was engineered to increase the strength of the paddle and blade.  If you are paying the price that these goalie sticks cost, they had better last longer than a month.  Which the HZRDUS PX looks like it has the capability of doing so.
Lastly, the shock absorption is good.  Better than the Bauer Supreme Mach, not as good as the Warrior M2 Pro+.  But if you're a fan of True, you can certainly rely on this twig to get the job done for you.
Bauer Vapor Hyperlite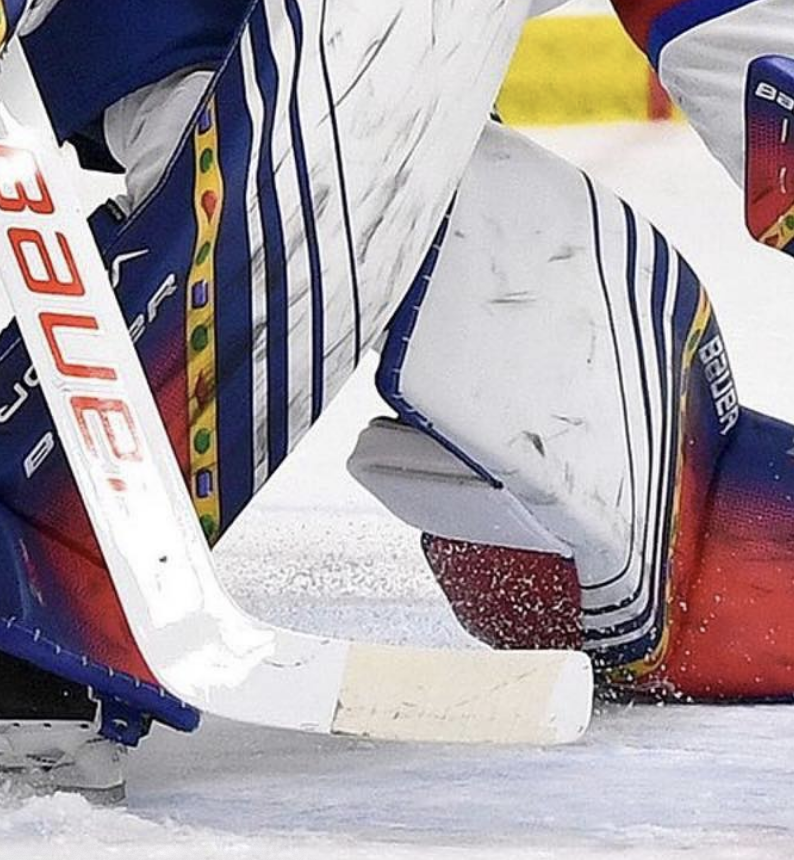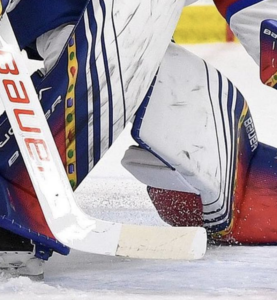 Previously, Bauer reserved their Vapor line for a foam core stick offering. The introduction of the Bauer Vapor Hyperlite is a complete closing of the door on the last foam core goalie stick in the "non composite" goalie stick era.
The Bauer Hyperlite goalie stick features a curved toe, which is designed to improve puck control. Honestly, I wasn't super blown away with it, hence the reason we rated this stick a 4th on our list. I considered the True Catalyst 9X over it, but the shooting ability of a Bauer stick is still superior to anything else on the market (yes, even Warrior).
The one major downside to any Bauer product, is durability. Which, for goalie sticks, isn't a huge negative as you simply won't find a composite goalie stick that's going to last you more than a couple seasons (or a season, depending on which level you play).
Bauer gear, in general, isn't that great durability wise. But performance wise, it's unmatched. So, which would you rather? A stick that shoots like the wind, or a stick that lasts 3 years? Since there isn't a composite goalie stick on the market that's going to last a higher level goalie more than a year and a half, I'll take the stick that puck handles and shoots the best. Insert the Vapor Hyperlite or the Supreme Ultrasonic.
The Bauer Vapor Hyperlite is equally as good of a goalie stick as the Bauer Supreme Ultrasonic. We actually rated this stick the exact same as the Ultrasonic, for how close in actual performance the two are.
| | |
| --- | --- |
| Goalie Stick Ratings | Bauer Vapor Hyperlite |
| Puck Handling Ability | 10/10 |
| Shock Absorbstion | 6/10 |
| Shooting Ability | 10/10 |
| Durability | 7/10 |
| Weight | 10/10 |
| Price | 8/10 |
| Total | 51/60 |
True Catalyst 9X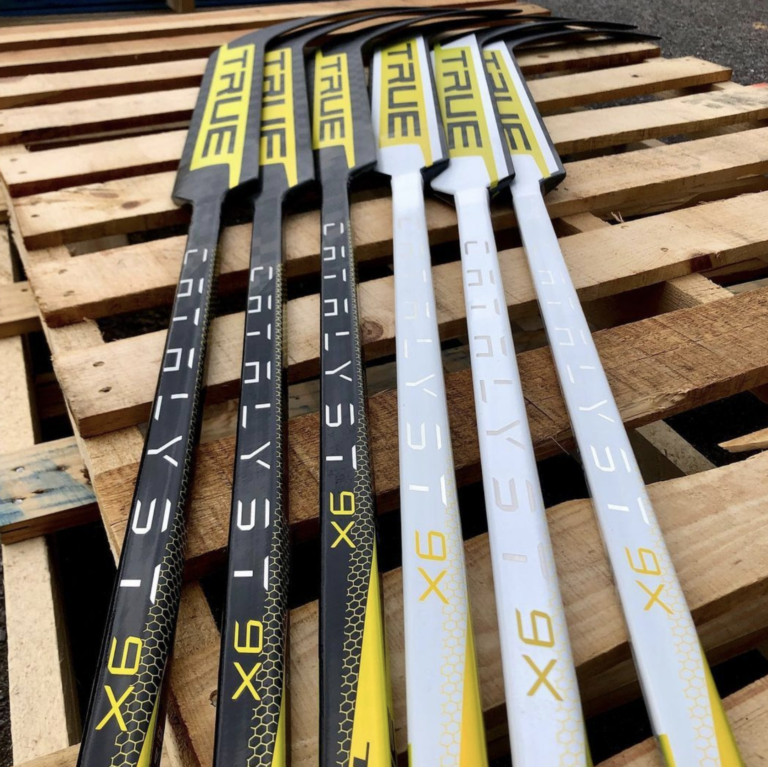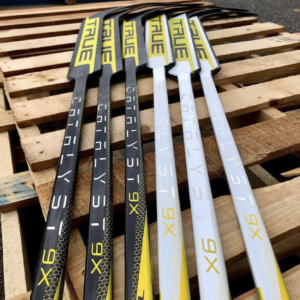 Comparing the True Catalyst 9X to Warrior might be a stretch this year, but in years to come I fully expect True to be a neck and neck competitor to the brand in the goalie stick market. There have been several pros using the True Catalyst 9X stick this year, most notably Jordan Binnington of the St. Louis Blues.
I'm not totally sure what I was expecting from the 9X stick this year, but what I experienced was far from what I expected. In short, I was blown away. In our testing of the True Catalyst 9X, I wrote how I felt like Harry Potter with his magic wand with this in my hand.
The stick played super comfortably and felt extremely light. I wouldn't say this is the lightest goalie stick on the market without weighing them all side by side, but it certainly felt like it.
As far as sticks by True Goalie are concerned, the 9X is their top-line offering. Last season, Winnipeg Goalie Connor Helleybuck used the True AX9, a stick we rated at the bottom of our best goalie sticks list. This time around, True is a legit contender in the stick game. This is a serious stick for serious goalies, that'll bring serious results.
Here's how we scored the True Catalys 9X Goalie Stick in our on-ice testing.
| | |
| --- | --- |
| Goalie Stick Ratings | True Catalyst 9X |
| Puck Handling Ability | 10/10 |
| Shock Absorbstion | 6/10 |
| Shooting Ability | 10/10 |
| Durability | 7/10 |
| Weight | 10/10 |
| Price | 8/10 |
| Total | 51/60 |
For a brand not known for their twigs, I'm excited to see what the future holds for True. This is the first time we've ever considered True to be a legitimate player in the goalie stick game.
True Catalyst 9X Alternatives
If you haven't loved what you've felt out of Warrior or Bauer, I would highly recommend giving this stick a try. While we did not have huge issues with the stick breaking, I've heard a few complaints of folks not being super impressed with it's durability. The stick started to wear out after about 6 months of pretty high level play, which is good enough for our durability testing. All things considered, it's an excellent stick.
Warrior Ritual M2i
Next on the list is the Warrior Ritual M2i.  Warrior has simply been the best goalie stick brand for the last 5-10 years, and it doesn't look like that's changing for now.
Durability has been a strong component in Warrior sticks, and the same is true with the M2i.  It features a new Minimus Carbon 25 material.  It's the lightest goalie stick we've seen out of Warrior yet.
If you've played goalie before, you know that reducing puck shock is an important aspect of goalie sticks.  The M2i has impressive dampening technology.
One area of improvement that Warrior improved in with the M2i stick is puck handling and shooting.  It has a low kick point (a term common in player sticks) that helps with the release of the puck.  Essentially what it does is quickens the release time and increase the speed of the puck.  This is technology that Bauer has drastically dominated over the past few years.
Overall, it's hard to beat Warrior in a goalie stick competition.  Looking across the NHL, Warrior is simply the most prevalent stick.  The main reason for that is the durability and puck-dampening technology.  If you're willing to pay the price, you will not regret it.
CCM Axis Pro
The CCM Axis Pro is the next best goalie stick for this year.  It's CCM's newest goalie stick and it appears to be leagues above their previous models.  It features NanoCarbon layering, a new stronger shaft, Zeroflux technology (vibration dampener), and a more durable blade.
I already said it, but this goalie stick appears to be a whole letter better than their Eflex 4 goalie stick, which kept breaking at the shaft or in the blade.  If the new Axis Pro is reinforced as well as CCM claims that it is, this is one of the better goalie sticks you can get.
And not only that, but the NanoCarbon layering technology dramatically reduced the weight of the stick.
Bauer 2S Pro
The difference between the 2S pro and the UltraSonic stick isn't huge (better durability in the UltraSonic).
With that being said, the Bauer 2S is one of the best goalie sticks for shooting that has ever been made. This is because of the extremely thin profile of the blade. The Bauer 2S shoots better than Warrior sticks, plain and simple.  Warrior did however come out with the M1 Pro+ this year which is very solid at shooting and stick handling.
The problem with the Bauer 2S Pro is the durability of it.  It may have some concerns in that area, but it excels in the others.
Bottom line, every goalie stick is going to burn out eventually. I am more than comfortable recommending the 2S twig to any goalie, anywhere. It's a phenomenal stick, but a spendy one. If you can't take this risk, I seriously recommend going with a CR1, a V1, or a Bauer 2S (not the pro version).
Advantages
One of the best goalie sticks for stick handling
Lightweight
Downsides
Durability is a concern
Light weight sacrifices vibration
Related: Bauer 2S Goalie Stick Review
Warrior Ritual V1 Pro
The Ritual V1 Pro would be a step down from the V1 Pro + and I'm very comfortable recommending this twig to anybody. For the price, the Ritual V1 pro is one of the best all around goalie sticks available to buy.
It's fairly light, very durable and has good vibration dampening technology.  This is the goalie stick to get if you can't afford the elite end sticks, but still want something that will perform at a high standard.
Advantages
One of the best all around goalie stick
Great vibration handling
Shoots well, not as well as the 2S Pro
Downsides
Slightly dated, considering Warrior has launched the new M1 lineup
Bauer Vapor 2X Pro
The Bauer Vapor 2X Pro is another goalie stick that is very popular in the NHL.  It was designed for the goalies that liked the feel of the foam-core stick, but wanted something that was up to date.  Mainly because the foam-core sticks from Bauer have been discontinued.
The 2X Pro has really good vibration dampening technology.  It is a bit heavier than the UltraSonic and 2S Pro, but not by much.  The balance and feel of this stick is actually very good.  A lot of pro goalies were/ still are using the Vapor 2X Pro stick, simply because it has a great feel to it.
You get a lot of the advantages of both a foam-core and a composite goalie stick here.  It is a little outdated now, but don't count it out as one of the best.
CCM E Flex 4
The CCM E Flex 4 Pro is the next best goalie stick.  I'm having a difficult time recommending this goalie stick over other sticks on the market because it's not the most durable stick out there, but there are several NHL goalies using it, including Jusse Saros of the Predators. It does feature a lot of good technology such as the low kick point for shooting pucks better and the Sigmatex material which decreases the weight of the stick.
Along with that, similar to the Axis Pro the E Flex 4 stick has ZeroFlux tech which reduces the hand vibration.
Overall, if you are a big fan of CCM, I would recommend getting the Axis Pro goalie stick.  The E Flex 4 is still good, but the price doesn't differentiate very much between the two.
Related: Best Youth Goalie Sticks
These Are The Only Goalie Sticks We Recommend
Here's the deal when we're recommending goalie gear.
Honestly, we could take money from brands to only recommend their gear. While that would be great, our only mission is to bring value to you, the goalie (or parent). It makes zero sense for us to have our opinions influenced by a brand paying us.
Does that mean we won't work with brands? Absolutely not. In fact, we've worked with Bauer goalie for several years. Go look at the gear we recommend. Bauer has the best mask (our opinion) right now, but they don't have the best stick, or the best pads, or chest protector. We're not swayed by outside influence.
And that is what we will always be here at Goalie Coaches.  Only bringing you the best information possible.
Cheaper Goalie Sticks That'll Save You Money
As we continue to test goalie sticks and run them through the paces, we thought it would be a good idea to include some of last years top goalie sticks. Each year, when we continue to update our goalie stick buying guide, we'll link the sticks up that we rated last season. As a note, we only list sticks that we have personally tested. If you see a stick missing here, it's because we haven't used it ourselves on the ice.
Last Years Top Goalie Sticks
Goalie Stick Sizing Guide, Picking The Right Sized Goalie Stick
What's the difference between senior and intermediate sized goalie sticks?
The main difference in senior and intermediate goalie sticks is going to be length of the stick and weight, with some overlap in paddle size. It is perfectly normal for goalies under 5'10" tall to use intermediate sized sticks.
When should my goalie switch from a youth goalie stick to a junior size?
Switch to a junior sized stick after 1-2 years of playing goal. The main advantage to youth goalie sticks is they're lighter than junior sized sticks. This helps kids focus on better form rather than dragging around a log on the ice!
Here's how to size a goalie stick.
| | | | |
| --- | --- | --- | --- |
| Size of Goalie Stick | Paddle Length | Goalie Height | Goalie Age |
| Youth | 18″ | 3.5′ | |
| Youth | 19″ | 3.5′ to 3'8″ | |
| Youth | 20″ | Up to 4'2″ | |
| Junior | 21″ | 4′ to 4'4″ | |
| Junior | 22″ | 4'4″' to 4'6″ | |
| Junior | 23″ | 4'6″ to 4'9″ | |
| Intermediate | 23″-23.5″ | 4'6″ to 5'3″ | |
| Intermediate | 24″-24.5″ | 5'3″ to 5'4″ | |
| Senior | 24″ | Under 5'10" | 14 years + |
| Senior | 24.5″ | 5'10" to 6'+ | 14 years + |
| Senior | 25″+ | 6'2″ and up | 14 years + |