For a hockey goalie, the glove is one of the most important pieces of equipment you'll buy. There's a number of things to consider before buying a new goalie glove, and we'll take you through all of them.
These are the best goalie gloves, or should we say, best hockey goalie gloves on the market this year. We're huge fans of building a kit of gear that suits your playing style the best, regardless of what brand you're wearing. When it comes to goalie gloves, hockey goalies must remember that catching the puck is one of the most important things you'll do in making a save.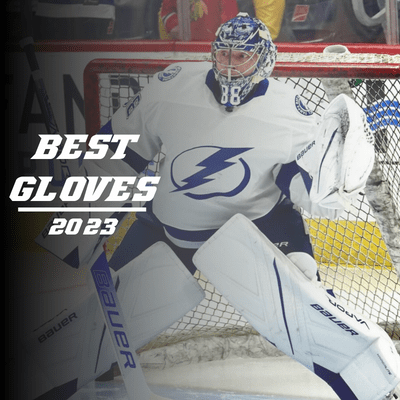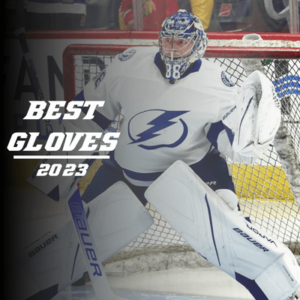 These gloves are not going to be the cheapest goalie gloves on the market. They're the best gloves that money can buy. We're talking about performance things like the best closing goalie gloves, easiest to use right out of the box, and more.
Here at Goalie Coaches, we take our reputation seriously.
We've trained hundreds of elite Division 1 and Professional goalies throughout the existence of our company and as a result, we've learned more about gear than most individuals on the planet.
Each summer during our annual camps throughout the United States and Canada, we field more gear questions than we know what to do with. When we get a question like this, we answer honestly and openly. If one of our camp goers needs more advice, we send them here to help make their decision easier.
Here are the best hockey goalie gloves for 2023. 
2023 Best Hockey Goalie Gloves
The best hockey goalie glove money can buy is the Bauer Supreme Mach. 
Before we jump into this article, I would like to point this out. These are not cheap gloves. We talk about two things here at Goalie Coaches. First and most importantly, the best of the best when it comes to equipment. We're not paid by certain companies to say one thing or another. We'll say what we want, where companies can improve, and where you should stay away.
The second thing is, we're driven by quality. The stuff we talk about, regardless of price, is the stuff that we've used ourselves or is used by our D1 and Professional clients. When we write goalie gear reviews, the single most important thing that sets us apart from anybody else is this fact. We put our money where our mouths are. If we do not own the gear, we buy it. If we cannot buy it, we use our network to get our hands on it before anybody else has.
Again, these are NOT the most budget-friendly gloves available to goalies. These are the top-of-the-line, best of the best hockey goalie gloves. Most, if not all, of these are currently worn in the NHL by pros who're seeing faster shots than any of us will ever see.
What's our pick this year?
Move over, CCM, the Bauer Supreme Mach goalie glove is the best glove for goalies this season. Featuring a newly redesigned back of hand flex area, it's one of the most comfortable goalie gloves we tested prior to writing this article.
Bauer Supreme Mach
The Bauer Supreme Mach is designed for elite performance.  The first thing you'll notice is that it's very light.  Bauer has been rolling with the digital printed graphic since the Supreme 1S lineup many years ago, and it's dramatically reduced the overall weight of their equipment.
The Supreme Mach features a 75-degree closure angle (very common break angle) that gives you a lot of flexibility with how you catch the puck.  The CURV reinforced palm gives you the protection that you want in the net.  There are only a few things more annoying than taking a stinger off the palm mid-practice.
One of the best features in the Mach is it's range of wrist motion.  Bauer implemented a new wrist strap that increases motion while still ensuring you have complete control of the glove.  It's also adjustable so you can play around with it if you don't love the way it comes stock.  Lastly, the pocket is a double T.  It's a big pocket, making it easier to catch and keep pucks in the glove.
The biggest concern is the price.  As with all of the high-end gloves on the goalie market. It can be a tough pill to swallow, but if you're playing the game at a competitive level, it is certainly worth it.
True L12.2 Pro
True exploded into the goalie scene a couple of years ago with the merge with Lefevre.  The result?  The production of elite goalie equipment that saw nearly all of the CCM pros switch over to True.
But what makes this glove special?  The first is overall durability.  It's a high quality glove that is built to withstand the test of time.  You're not going to get a super lightweight glove like the Bauer Mach, but the construction and the materials used will likely last longer.
The True L12.2 features a 75-degree break, also known as a 600.   This is a popular degree of break amongst goalies since it naturally opens the glove face up to shooters.  And it also features a double T pocket, designed to give you the extra catching space we all desire.
Out of the box, the L12.2 is ready to go.  The palm is lined with what True calls "Suregrip" which helps keep your hand from slipping later on in practice or a game.  I always found it helpful to tighten the wrist strap on my glove to the point where I could stand confidently knowing that my hand wouldn't move in my glove after making a trapper save.  You shouldn't have to do that with this technology.
And since the construction of the glove is top tier, you aren't going to a whole lot of stingers using it.  There's a fine line between too much padding and keeping a glove flexible, and I think True found it.
The reason you might not want this glove is again, the price.  You also aren't getting a glove that is optimized purely for performance like the Bauer Supreme Mach, but it will likely last you a longer time and hold more value down the road.  Buying goalie gear should be mostly to your preference and what you are looking for.  And each brand will have their strengths and weaknesses.  True Temper (Lefevre) is generally a pretty safe bet.
Brian's Optik 3
The Brian's Optik 3 is the third-best goalie glove for 2023.  Brian's again, is one of those reliable goalie brands which will last a long time, well into your beer league days if you choose.  This one of the most comfortable gloves you will find, which is why they're so high up on the list.
A little different from the other two goalie gloves on the list above is the 40-degree break.  It also features a single T pocket, but the pocket is plenty big enough for most goalies.
The one-piece beveled thumb is engineered to help steer pucks directly into the pocket.
An interesting feature in the Optik 3 is the smart dial strapping system.  While I don't think this is in itself a game changer, it does give you the freedom to adjust the tightness of your glove very quickly and to your liking.
The palm comes game ready and does not require a lot of breaking in.
There are possible reasons why you might not want to buy this glove. The first is that Brian's isn't as popular as some of the other brands (Bauer, True, CCM).  Whether that changes your tune or not (I don't think it should, goalies like Carter Hart and Igor Shesterkin wear Brian's) it might steer some people away.  You're also going to have to pay top tier prices to get your hands on this glove.
But if you do, the quality of the construction will last you a long time (I still have my Brian's glove from 5+ years ago), and the comfort will impress.
Warrior Ritual G6 Pro+
The one brand of goalie gear I'd love to see break out in the NHL (in another department other than goalie sticks) is Warrior.  They, in my opinion, make some of the most underrated goalie equipment on the market.  This is why the Ritual G6 Pro+ is the next best glove on the list.
First of all, this glove is super light.  It's similar to the Bauer Supreme Mach in that regard.  Out of the box, it is one of the most game-ready gloves available.  It features a 75 degree break and a single T pocket.
The overall build is that of a high-end glove.  It's comfortable and protects the hand and wrist well.  One possible downside of it is that it probably will take some adjusting to get used to.  It's very easy to close, but the palm doesn't feature a sloped side like many other gloves have.  It's a little straighter and quite frankly, different.  But after making the adjustment, it is as good as any goalie glove out there.
Like the first three gloves on this list, it's also quite expensive.  But that's the game we play in 2023, unfortunate as it may be.  While not nearly as popular as some other goalie brands, I think this glove certainly deserves some looks from goalies.
CCM E Flex 5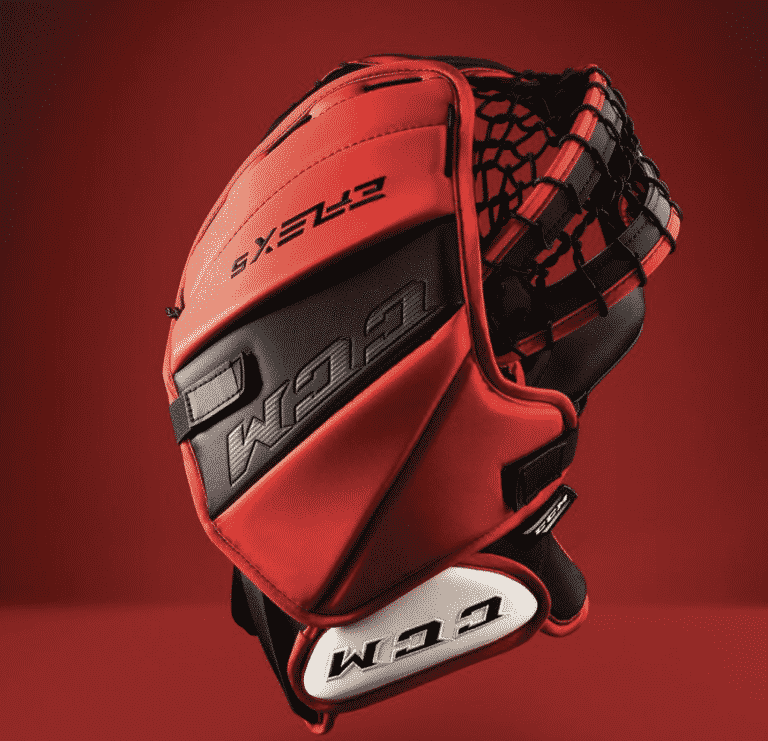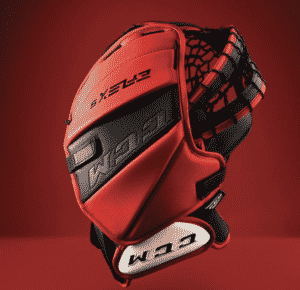 The company released the CCM E Flex 5 lineup in 2021. Along with it, we were introduced to the newly redesigned E Flex glove. One of the first things that jumps out to me about CCM over the past number of years, despite the fact that they lost a handful of pros, is the customization options they offer to goalies.
Bauer focused on the look of pads, opting for less customization, where as CCM went for customizing the internals. To be honest, customizing the internals to get the performance of your pads down pat is the better option.
Looks are one thing, performance is another. This glove is, from what we've discovered in our testing thus far, one of the highest performance goalie gloves we've tried in the past handful of years.
The company utilizes a newly designed internal molded cuff, a one piece cuff design (two piece is available for custom orders) to improve the overall closure of the glove. Whether or not it actually makes a difference is up to the user, I thought this glove closed extremely well myself.
The one thing to keep in mind is CCM has always had one of the top goalie gloves on the market. You know how they call tissue paper, "Kleenex"? Well, they should just call the 590 break the break at which every other goalie trapper on the market was modeled after. CCM makes a professional level glove year in and year out, so getting back to the top of our list wasn't an issue.
In the photo we've linked here, we're looking at the back area of this glove. Just looking at this area, without taking measurements, it looks like the company increased the distance between breaks, designed to make the glove close easier than ever before. They're saying they modeled this after their pro clients feedback, some say it's more of a marketing ploy, but it worked on me.
CCM is calling this the "Flex Motion Backhand". Pretty catchy. Pun intended.
This glove is worth every penny and it's our number one this year for good reason. If you're customizing it, for optimal catching ability, get the double t pocket.
True L20.1
The Lefevre L20.1 is a super popular glove amongst NHL goalies.  As you have likely heard, True recently purchased Lefevre and many goalies wearing CCM have followed suit.
What makes this goalie gloves special is the quality that you find in it.  It's built of premium material and hand constructed for optimal performance.  The True L20.1 features a 590 break which is one of the more popular breaks that you can get in a glove.
If you are buying it stock, the L20.1 comes with a Game Ready Palm.  What this means is that you'll be able to break the glove in fairly quickly after it comes out of the box.  If you were to go with a custom glove, there are other options that you could choose like a Pro Palm which is going to be very stiff.
A simple but effective feature in the palm of the L20.1 goalie glove is the suregrip material.  The engineering behind it ensures that your hand won't slip while making a glove save, or playing hockey in general.  This is especially nice later in games when you've likely sweat a lot up until that point.
Lastly, the glove comes with straps to get a better fit for your hand.  Personally, I enjoy a tighter glove and I'm able to do that with a glove like this.
Brian's OPTIK 2
The Brian's OPTIK 2 is one of the best goalie gloves money can buy, no doubt about it.
Without question, this glove is more versatile and fits more hands than any other competitor on the market today.  While you might be surprised to see this glove at the top of my list with plenty of great options out there, I stand behind this decision.
Each piece of equipment that wears the Brian's brand is handcrafted in Canada.  The thing about "smaller" goalie brands is that they generally put more effort into creating the highest quality product.  And so as a result you as the goalie benefits with a high quality product.
Overall though the Optik 2 glove is comfortable and is easy to close.  It's not the lightest glove on the market, but it's also built to last.  The palm is doesn't collect and stingers with the game ready option and you really won't feel a thing with the pro palm.  You can also get the bulk palm but honestly at that point it's going to be difficult to squeeze.
The thing that's really cool about the Optik 2 goalie glove is that you can completely customize it.  From colors to palm size to the new BOA strapping system or standard option.  It offers complete range of customizability.
In my personal opinion, you can't go wrong with this glove.  I know a guy that has been using his Brian's G-Netik 2 glove from years ago and it's still running like a champ.  They build them to last.  (And no, we have zero affiliation with Brian's, just like supporting companies like them).
Warrior G5 Pro
Let's make one thing clear about Warrior's goalie gloves.
While they're not currently worn in the NHL, these gloves are a pro level glove that would absolutely perform at that level. In recent years, Warrior has focused solely on the youth and entry level ages of goaltending. And by youth, we do not just mean kids. We mean, anything up to the NHL level.
The Warrior G5 pro is no exception of their superior goalie equipment lineup. This glove is one of the lightest goalie trappers on the market, and it comes out of the box ready to play.
What makes this glove so intriguing is the CoverEdge Technology implemented into it.  Essentially what CoverEdge does is adds a forward tilt to the glove.  This cuts the angle of the puck to the net more-so than the coverage you would get in a standard hockey goalie glove.
It also creates a natural hand position for goalies to move around and stop pucks in.
What really makes this glove cool though is the removable palm liner, allowing for maximum customization of the angle your glove will be at.  Your options are 60, 75 and 90 degrees.  Stock is 75 degrees.
Bauer Supreme Ultrasonic
It should come as no surprise to many that the Ultrasonic gloves makes the top 5 hockey goalie glove list.  It's just too good not to put it up here.
While I can honestly say that I haven't love the 2X and 2S gloves from Bauer in previous years, the Ultrasonic is pretty sweet.  It closes very easily and has a natural hand fit.
The cuff is now only a single piece compared to previous Bauer gloves.  Which prevents and negative movement in the wrist and cuff, allowing for a better squeeze on the puck.
The glove angle is 75 degrees which allows for you to catch pucks at or above your fingertips.
Bauer has also implemented what is called "Free Flex" on the backside of the glove. What it does is gives goalies better range of motion to catch anything thrown your way.
And lastly, this glove is very lightweight.  Now, with that comes the risk of durability concerns.  In my personal experience with Bauer gloves, they're actually held up well.  It's the leg pads that usually have issues.
CCM Axis Pro
CCM E Flex 4
As far as goalie gloves are concerned, CCM makes an incredible product. If you're a first time goalie and have zero idea of which glove you should buy, get a CCM glove (any one) with a 590 break. It's widely known and accepted as one of the most versatile breaks of all time. The 590 break is simply the way the glove closes, and it's been adopted or modeled by virtually every other goalie glove on the market.
But, why aren't you guys mentioning the CCM Axis Pro? That's what makes us different than other gear review websites. And, to be clear, we're not a gear review website. We care about you performing better on the ice, not getting paid a few bucks by CCM to tell you their Axis Pro is the greatest thing since sliced bread.
Truth be told, we haven't used the CCM Axis Pro yet. Yes, you can buy it on both Goalie Monkey and Pure Goalie, but we're still waiting on ours. Until we get a chance to extensively test it, or train one on one with somebody who has, we won't be able to tell you whether or not it's better than the E Flex 4.