Andersen lets up a "squeaker", could he have done anything differently?
First off, let's take a look at the actual goal.
Oshie picks up a puck after a defensive zone breakdown, walks in and gets a good shot off on Andersen.
Now, I do not necessarily think this was a bad goal by Andersen.
Yes, it DOES look like the puck simply squeaked by.. however, if we look at his positioning just prior to the shot–he's actually set up pretty well for the save.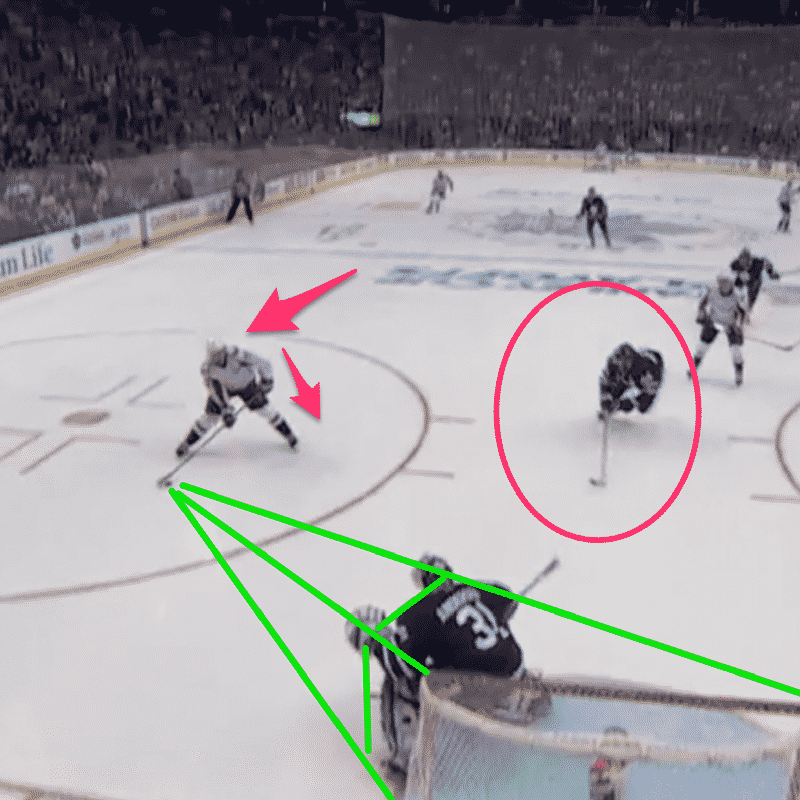 Of of the biggest differences between Andersen (or NHL goalies in general) and the rest of goaltenders is this, size. 
Andersen takes up plenty of space in this situation by simply keeping half of his feet in the blue paint. The shot ends up finding his five hole in what looked like it was going to result in a save.
So, it begs the question: what could we do to prevent this goal from happening?
In that exact same game, on the other end of the rink, Braden Holtby made an impressive save of his own in a different situation (but from the same area of the ice).
Let's look.
Tremendous save by Holtby.
Young goaltenders can prevent this save simply by reading the situation and attacking the shooter.
In the above video, notice how Holtby challenges Nylander and takes away an excellent scoring opportunity. In addition, he shuts down momentum from the Leafs. Exactly the type of big play your teammates rely on during a game.
What's the biggest difference in these two plays from a goaltenders perspective?
Passive vs. aggressive.
Holtby is obviously in a slightly different situation in regards to players and traffic inside the zone, however, in the photo above you can see pressure from Oshie's backside (that he understands is there).
Even if Andersen presents himself 2 inches further out, it could've been the difference between a goal and a blocking style save at a critical part of the game. 
How can we apply this to our own game?
Don't sell yourself out thinking you've got to be aggressive at all times. Skating and positioning come first, but knowing when to be aggressive and force a shooter into messing up is a huge piece of the game as well.
Force yourself to start reading traffic inside the zone. Holtby knows he can "sell out" on this play because of the defensive pressure in front of his net. There isn't a perfect back-door play and the shooter has a clear lane to the net. Instantly, he attacks the angle and the shot ends up buried in his pads.
Here's a game scenario drill you can practice the next time you've got a spare 5 minutes before or after practice: The Holtby Attack Drill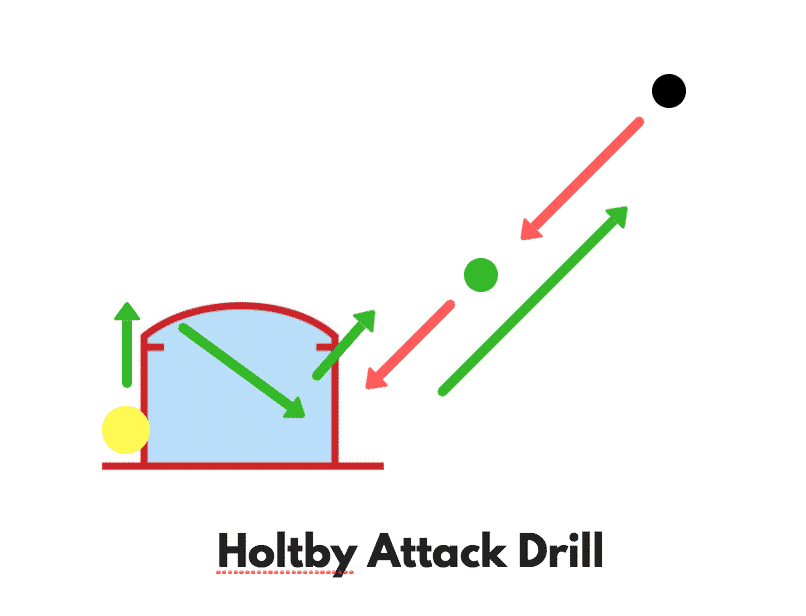 Start on your left post (yellow dot).
Pucks should be Green and Black Dots.
T Push/Bump out (standing) to upper left part of your crease
Butterfly slide to your far post for the first shot (jam style)
Immediately after the shot, shooter retreats to second puck at game speed and quickly takes a shot
After the first save, simulating a loose puck, quickly recover and challenge the shooter for the second shot.
This is not the time for your shooter to come in and deke. Have them turn around and let one rip from inside the faceoff circle. You're trying to work on quickly recovering and gaining depth to fill space.
Want A Free Game Scenario Drill PDF? Includes 5 More Game Scenario Drills (for before or after practice)
Click here to download the free game scenario drill pdf.