Jayme Pantekoek, an owner of Full Strength works with hockey players from youth to the NHL.
Jayme's credentials as a strength and speed coach are well beyond most trainers in the field. He has developed over 50 NHL athletes and hundreds of DI collegiate and junior hockey players across the nation.
Pantekoek is also equipped with a double masters degree, Reflexive Performance Reset specialist, Functional Range Conditioning specialist, National Academy of Speed and Explosion, NAFC Nutrition Certification and is CrossFit Certified.
We've released two goalie specific off ice programs for the Summer of 2018. 
First, a 15 week bodyweight program for younger athletes without access to a gym ($59), and second, a 15 week elite level summer training program for high level HS, Junior and College goalies ($79).
Pantekoek is a strength and speed specialist from Minnesota who has been training professional hockey players for the past 15 years. He has had the privilege to work with and learn from some of the most knowledgeable and well-respected people in the strength and conditioning field. His training methods and techniques has been sought after from professional, collegiate and high school teams who are trying  to gain an advantage on their competition. He prides himself on always being up to date on the latest science behind strength training as well as a leader in the field.
In the photo below from Lake Minnetonka Mag, Pantekoek is pictured with former NHLer Matt Carle.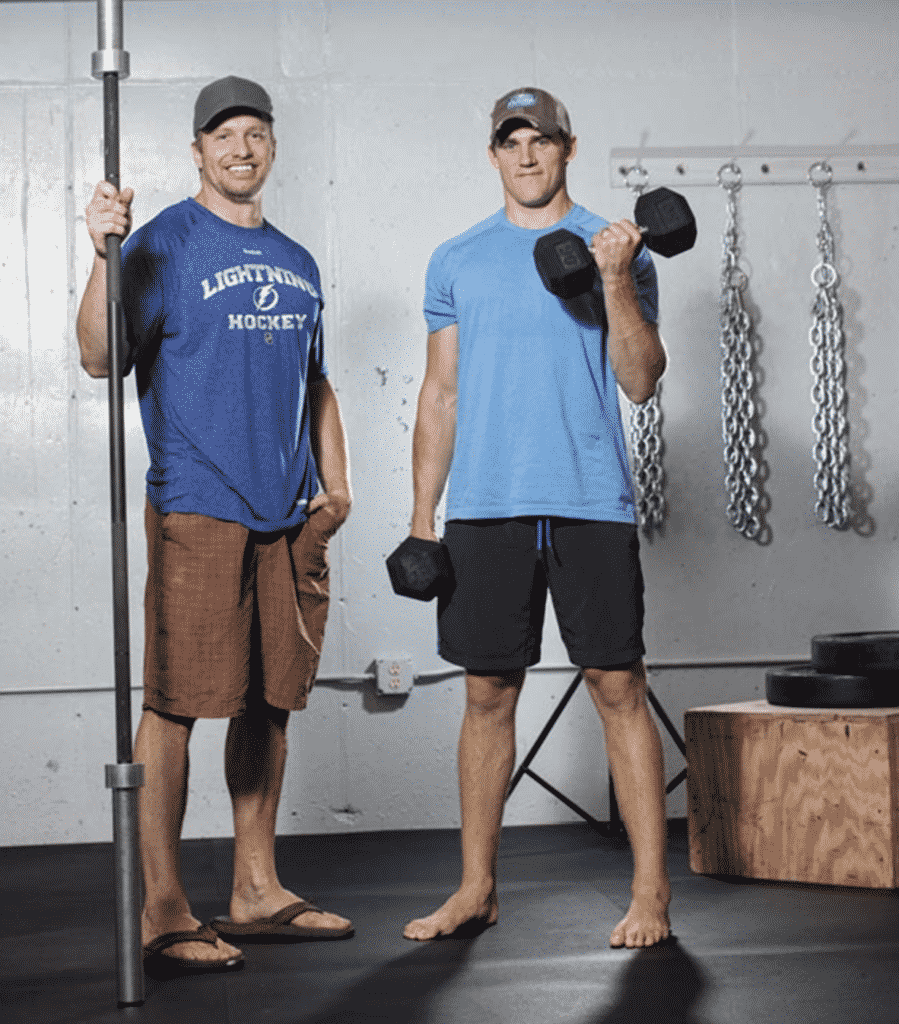 Pantekoek's Approach
"It's not what you do but how you do it that matters."
That's the motto that has stuck with Jayme after more than 10 years in the strength and conditioning space.
It means that while many strength programs use similar exercises such as squats and bench, Jayme takes his program to the next level by honing in on the science behind speed and explosivity.
Jayme takes pride in teaching and helping the athletes he works with to become the best that they can be, whether they are new to the weight room or a seasoned veteran. A division one athlete himself, Jayme knows what it takes to help athletes reach their full potential.
For the past two years, Jayme was appointed as the Minnesota Elite League's strength coach and was responsible for reporting strength and speed statistics to the central scouting agency. Jayme has also coached over 50 NHL players and hundreds of collegiate hockey players throughout his career.
What this means for Goalie Coaches
Goalie Coaches has ran online goalie training programs for number of years, with the focus largely being on ice videos. While we do run a full service goalie camps training program throughout the United States, our online training material is a chance for us to train goalies all over the world, without having to attend a camp.
We're looking to deliver the best possible material, at the best possible price. Adding Jayme gives us direct access to somebody who has experience training hockey players at the highest possible level – the NHL.
For this summer, we've released two training programs, but that's just the start. We hope you'll take a chance on us for your summer training programs, Jayme's put together a phenomenal program for both younger and elite goalies.
Buy the Elite Level (HS, Junior, College) 15 Week Summer Program ($79)
Buy the Advanced Level (Under HS) 15 Week Summer Program ($59)