For those familiar with the position, Warrior makes far and away the best knee guard product for goalies. The latest iteration of their knee guards is the Warrior X3 Series.
The Warrior X3 Knee Guard Series includes three different models of the knee guard. 
Warrior X3 Pro + (Most Protective & Expensive Model, NHL Level)
Warrior X3 E+ (Budget Choice for Advanced Goalies)
Warrior X3 E (Beginner, Cheapest Model)
Warrior X3 Knee Guards Product Specs
Built using a 4 piece construction design
Improved Wider Profile for more protection and five hole coverage
Reinforced, HyperComp Technology Knee Plate
Improved shock absorbant landing area
Slip reduction design
Warrior X3 Knee Guards
Warrior has for the past 5 years, made the most protective knee guard on the market. The Warrior X3 is no different. We tested other models and wouldn't even consider them over the protection and mobility offered by the Warrior X3 series. The best money can buy, hands down.
Buy at Pure Goalie
Check Price on Goalie Monkey
We appreciate your support! At no extra cost to you, we may earn a small commission if you purchase a product through GoalieCoaches.com.
Warrior X3 Knee Guard Review
Here's where Warrior's X3 Pro+ Knee Guards Graded on our Knee Guard Grade Chart. 
Goalie Knee Guard Grade Chart
| Product | Advantage | Cost | Durability | Protection | Mobility | Product Improvements | Total Score |
| --- | --- | --- | --- | --- | --- | --- | --- |
| Warrior X3 Pro+ Knee Guards | 10/10 | 7/10 | 10/10 | 10/10 | 7/10 | 6/10 | 50/60 |
| Bauer Pro Knee Guards | 8/10 | 7/10 | 8/10 | 9/10 | 8/10 | 5/10 | 45/60 |
| CCM Knee Guards | 6/10 | 10/10 | 7/10 | 9/10 | 5/10 | 2/10 | 39/60 |
Advantage – 10/10. The Warrior X3 Pro + knee guards are at the top of their class in the knee guard category. There is not a knee guard that currently outperforms these.
Cost – 7/10. Compared to other knee guards, these are the least affordable for a "Pro Level" knee guard.
Durability – 10/10. The durability of these knee guards is second to none. We've been testing them for 6 months with not a single rip or tear. In fact, we're still wearing an original Warrior Ritual X Pro set of knee guards from 3+ years ago.
Protection – 10/10. These are the most protective knee guards in their class.
Mobility – 7/10. The mobility of these knee guards would improve if they were smaller. Buy them for the protection, learn to work with their size.
Product Improvements – 6/10. Full transparency, Warrior seems to take the "if it's not broken, don't fix it" approach. The Warrior X3 series is no different. This product is very similar to the previous iteration, the Warrior X2 series.
Worth noting, when we test gear, especially gear like the Warrior X3 knee guard, we like to test the top of the line product. So, in this case, while Warrior does offer two cheaper models of the Warrior X3 knee guard, we're reviewing the Warrior X3 Pro+ knee guard. This is the same product your favorite NHL goalie would (or does) wear. It's the best knee guard they offer currently and the top of this series.
First impressions of the Warrior X3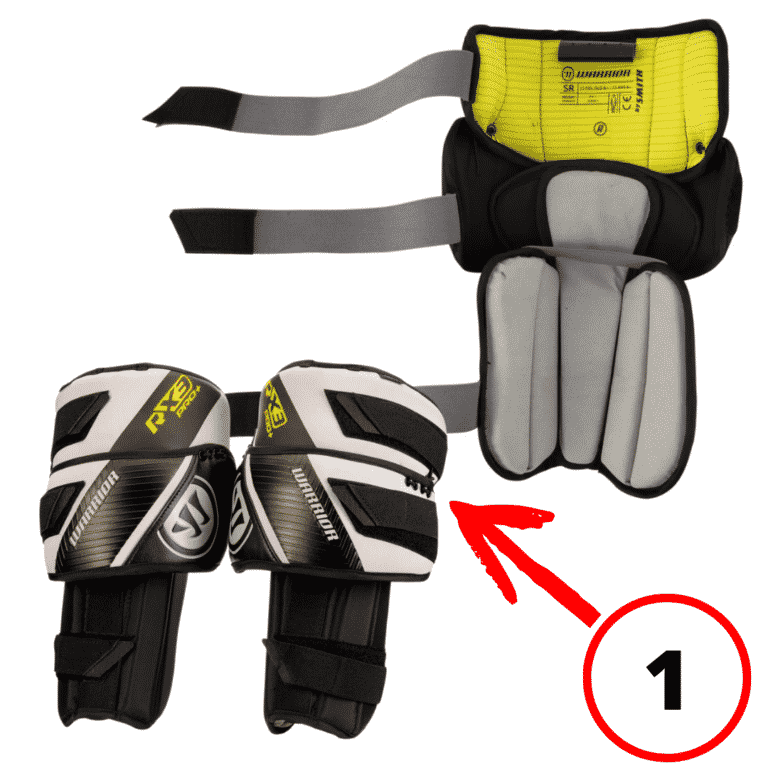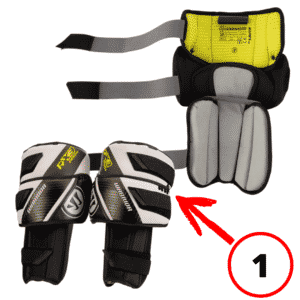 Warrior says this knee guard is wider than it's previous knee guards. The area they're talking about is in the knee cradle area, following the X2 series that first introduced this at the Pro level. The X3 Pro+ knee guard does appear to be wider than previous models, but it fits the knee quite well. It feels very snug and secure. In fact, of the other knee guards I've worn, Warrior has the most secure fit of any I've tried. For whatever reason, Warrior knee guards just fit better. It's almost as if the company looked at a knee before building these, I don't know.
Thoughts the HyperComp knee plate. To me, this one is a marketing term. Warrior, like every goalie equipment manufacturer, does this. I wish they didn't, but they do. I didn't actually cut my set apart to look at the material inside, but I'm considering it. Alas, the knee protection offered by the X3 Pro + matches that of previous iterations of Warrior's knee guards. These fit perfectly and the shock absorption when entering the butterfly position is second to none.
In the photo, the #1 highlights the area of the knee that I'm referencing.
The knee area expansion was designed to offer more protection but also take down five hole space without sacrificing movement. Honestly, this one's a bit of a stretch for me, as I'd rather
Overall, the "Knee area expansion" doesn't affect movement.