Sparx Skate Sharpener Review (from purchase to use, in a skeptics perspective)
Note: this article follows a timeline of when we decided to purchase a sharpener to current day. It's been nearly four years since we first purchased the Sparx Skate Sharpener, and it's been worth every penny.
This is a completely unbiased Sparx Skate Sharpener Review. I've owned this skate sharpener for a number of years now and having sharpened literally thousands of pairs of skates, I can say with complete confidence that it's one of the best skate sharpeners on the market, hands down.
Editors Note: As of November 16th, 2021, it's been 4 years since I purchased my first Sparx sharpener. This machine is far and away the single best skate sharpeners I've ever used. This skate sharpener delivers precision accuracy each and every time you sharpen your skates. I would venture to say that it's the best skate sharpener pound for pound in the entire world. If you're considering it whatsoever, take our word for it.
As of 2020 been using the Sparx skate sharpener for well over a year and a half now and it has far exceeded our expectations. The only big downside to the Sparx is that there isn't an aftermarket option for their grinding wheels. What we found, however, is that the edge you'll get on your skates is so good, you won't get buyers remorse buying the wheels.
Also, a quick sharpening tip, flip the direction of the skates halfway through your sharpening to completely sharpen the skate tip.
It really is a phenomenal product from top to bottom. Also, we should probably get around to it, but in a years worth of use the machine hasn't told us to update the air filter. I think on my next grinding wheel order I'll throw in an air filter.
Enjoy my review of the Sparx skate sharpener.
October 17th, 2017: I give up.
Up until this year, getting my goalie skates sharpened perfectly hasn't been an issue.
Well, we moved, and I've struggled to find somebody who really understands how to sharpen goalie skates.
I went out and bought the Sparx Skate Sharpener, which leads to my next question. Is it worth it? Also, I should be clear with my motivation that purchasing this machine was largely so that I could leave an objective Sparx skate sharpener review (without being paid to do it, giving me the flexibility to point out areas that need improvement). The article is written in start to finish from when purchasing a sharpener was just a thought, to my final review.
*note: I had my skates done on a local Sparx sharpener just to test the edge, decent. It wasn't the perfect sharpening I'm after, but I have to see for myself (a good friend tells me that without a good post sharpen stone, it can feel like you're without any edge). To be fair, the gentleman sharpening my skates said it was the first day they were sharpening with the new machine.
I reached out to the Sparx team via email asking about the quality of edge on goalie skates and did not get a response. 
Update on above comment (October 20, 2017): I did get a response, a pretty in depth one. I have not mentioned this article to the Sparx team so I'm sure they give the same level of care to everybody. I'm excited to see what results I can get with the sharpener. One thing worth noting; the response from Sparx asked if I had used the goalie risers when sharpening. I'm not 100% they were used when my skates were sharpened. 
Bonus: the Sparx team gave us a $25 off code on the purchase of a unit.. use code "GOALIE82" if you decide to purchase a Sparx Sharpener and you'll get the discount.
For commercial operations looking to buy a Sparx, my local shop (Letterman's in Plymouth, Minnesota) has one, I'd talk to them or just up and buy one. The rest of my review is only my confirmation of being won over by the product. It's incredibly easy to use and well worth every penny (though, to be fair, I haven't had mine for more than a year at the time of this writing, so it could break down).
Buy the Sparx Skate Sharpener Here >>
SPARX Skate Sharpener Bundle (Best Value)
Having personally used the Sparx Skate Sharpener for going on 3+ years, it's worth every penny. To stress test the machine, we have not changed the filter once. While I wouldn't recommend it, this sharpener is the single best skate sharpening I've ever experienced. -Tyler
Buy at Amazon
We appreciate your support! At no extra cost to you, we may earn a small commission if you purchase a product through GoalieCoaches.com.
Is the Sparx Sharpener worth the money?
The short answer is a resounding yes. I originally purchased my Sparx sharpener (and still have the original, though I'm getting close to donating it) in the fall of 2017. By late 2021, that means I've used this sharpener for 4+ years personally over thousands of sharpens and this machine has stood the test of time. The Sparx Skate Sharpener review should really end here, after over 4 years of using it I can say with complete certainty that this machine is the best skate sharpener on the market today.
Here's a quick breakdown of the cost of the Sparx sharpener, shipped to your door. As of late 2021, prices have shifted considerably and my next unit will be purchased from Amazon. The link is floating somewhere around here.
$899 – the actual sharpener (includes a grinding ring of your choice)
$139 – edge checker (absolutely necessary.. do not buy the sharpener without this)
$45.20 – shipping to Minnesota
I believe that the only additional add on you'll need is that edge checker.
Before you use your edge checker, take a small piece of tape and put it over the pin on the back of the unit (my edge checker fell apart the second or third use, but only because I didn't have this pin covered up. In my opinion, Sparx should fix this design issue (I'll update the post with photos once I get them), but for now tape works just fine. Sparx was also super quick (they responded on the weekend) to respond to my issue over Instagram DM.
Post Purchase Note: the sharpener comes with a honing stone and leather strop for finishing. A good friend of mine has sharpened hundreds of pairs of skates, he said it should be just fine for what I'm after. Immediately after using the machine yesterday for the first time, I realized A) I'll be buying more rings right away (different hollows) and B) I'll probably buy a spare air filter. Those might be additional things to add to your cart should you decide to buy a Sparx unit.
In comparison, an entry level "commercial" sharpener (just the sharpener with none of the extra accessories) are selling for prices at $1,099 and higher.
So, right off the bat, the Sparx sharpener comes in cheaper than a brand new Wissota.
If you've already purchased the Sharpener, here is how to set it up. 
Does the NHL use the Sparx Skate Sharpener?
Here's a clip, admittedly from Sparx hockey so it doesn't TOTALLY count, of NHL players thoughts on the Sparx sharpener. It's an unbelievable tool and since it's cheaper than a regular sharpener, we recommend one to every hockey family.
An Automatic, Portable Skate Sharpening Machine
Automatic skate sharpening machines were once just a fantasy. Today, they're far and away the most popular skate sharpening machines on the market, whether you're buying a Sparx Machine or a Pro Sharp skate sharpener. Automatic skate sharpening machines make precision skate sharpening easier than ever, with pinpoint accuracy every time.
For the most part, I'm a skeptic when it comes to the Sparx. I started this article when buying a Sparx was just a thought (and, it reads as such) and completed it upon actual receipt of the machine. Hopefully this style is beneficial for you and helps you make a decision.
Traditional sharpeners are known to last for years. I have a friend who bought the above listed Wissota and has had it for over 20 years without issue. I'm a bit nervous about the overall length of use I could get out of a Sparx. If it lasts for 2-3 years, I'll be very happy.
Another thing. I have zero experience sharpening my own skates — so the Sparx fits me better. If you're sharpening the entire teams skates.. this might not be the perfect fit (but it would be great for tournaments, as I've heard the system is pretty mess free).
-The biggest difference between the Sparx skate sharpener and most other commercial sharpeners is it's completely automatic, meaning you set the skate up and it does the work for you. 
SPARX Skate Sharpener Bundle (Best Value)
Having personally used the Sparx Skate Sharpener for going on 3+ years, it's worth every penny. To stress test the machine, we have not changed the filter once. While I wouldn't recommend it, this sharpener is the single best skate sharpening I've ever experienced. -Tyler
Buy at Amazon
We appreciate your support! At no extra cost to you, we may earn a small commission if you purchase a product through GoalieCoaches.com.
Pre-purchase PROS of the Sparx Skate Sharpening System
It does the work for me. I'm not lazy, I just do not have experience sharpening my skates on a traditional sharpener. I'm hoping this system gets the perfect edge.
The Sparx is portable, much more so than most traditional sharpeners (after purchase, it's portable, but I'd recommend buying the carrying case if you decide to purchase with intent to move the sharpener).
It's cheaper, overall, than an entry level traditional sharpener
We're going to do a mobile sharpening with the Sparx machine in mid December of 2018 and the full video will be posted below. The machine is portable, make sure you're physically fit enough to carry a heavy object, however.
For mobile use out of your car, you're also going to need an adapter that allows you to plug a standard wall plug into your cigarette lighter.
Pre-purchase CONS of the Sparx
Back order. I guess this is a good thing, means people like them? I have to wait up to 15 days for the entire unit to ship. I'm guessing a traditional sharpener would ship immediately, but I could be wrong. That'll be my next sharpener purchase.
Grinding wheel price and length of use. This has to be the biggest downfall of the Sparx sharpener and I really hope they can find a way to get the price down. Sparx claims that a wheel lasts 40 or so sharpenings and the wheel costs $50.
*in comparison, a wheel from a traditional sharpener lasts about 200 sharpenings and costs $30.
3. Only one hollow choice per wheel. Want a difference hollow on your skates? That'll be $50. With the Sparx, since there is no way to shape the wheel and determine your hollow, each new hollow requires a different wheel. Not the end of the world, but if you're sharpening other skates you're likely going to need another grinding stone.
The wait is on! 
I ordered the Sparx Sharpener on October 19th. This post will be updated with a complete review and video upon receipt of the system.
PS: whether or not you decide to purchase a Sparx Sharpener is completely up to you.
If you do decide to buy one off of the Sparx Website instead of Amazon, use the code "GOALIE82" for $25 off. It's not the best discount in the world, but there's a chance it'll cover your shipping. 
November 6th Update: still not shipped (12 days later)
This was one of the things I was aware of prior to ordering (it was one of the only negative comments I could find). The units take forever to ship.
I ordered on October 19th, not counting that day it's been 12 full business days and I still have not gotten an alert of shipment.
Again, I was aware that the unit takes some time to ship (they claimed the grinding wheel I selected was on backorder and like to ship the entire set together), yet I'm still hoping it ships this week. They projected the ship time at 10-15 days.
If you're thinking of ordering a Sparx sharpener — make sure you keep this in mind prior to doing so. You may be able to get them on demand at local hockey trade shows, but these shows are hard to come by.
November 13th (the Sparx Sharpener arrived!)
Coming in at 50 pounds, this thing is a tank. The skate sharpener shipped via UPS, I should've updated last week when I got a notification email from Sparx that it was on it's way.
On that note, in a perfect world, I think Sparx could alleviate some of the "when is my unit going to ship questions" by sending out an automated email sequence right after the order.
Regardless, I got the unit all set up and sharpened a pair of goalie skates in addition to a pair of my player skates. I'll come back here tomorrow with the full review on how the edges performed.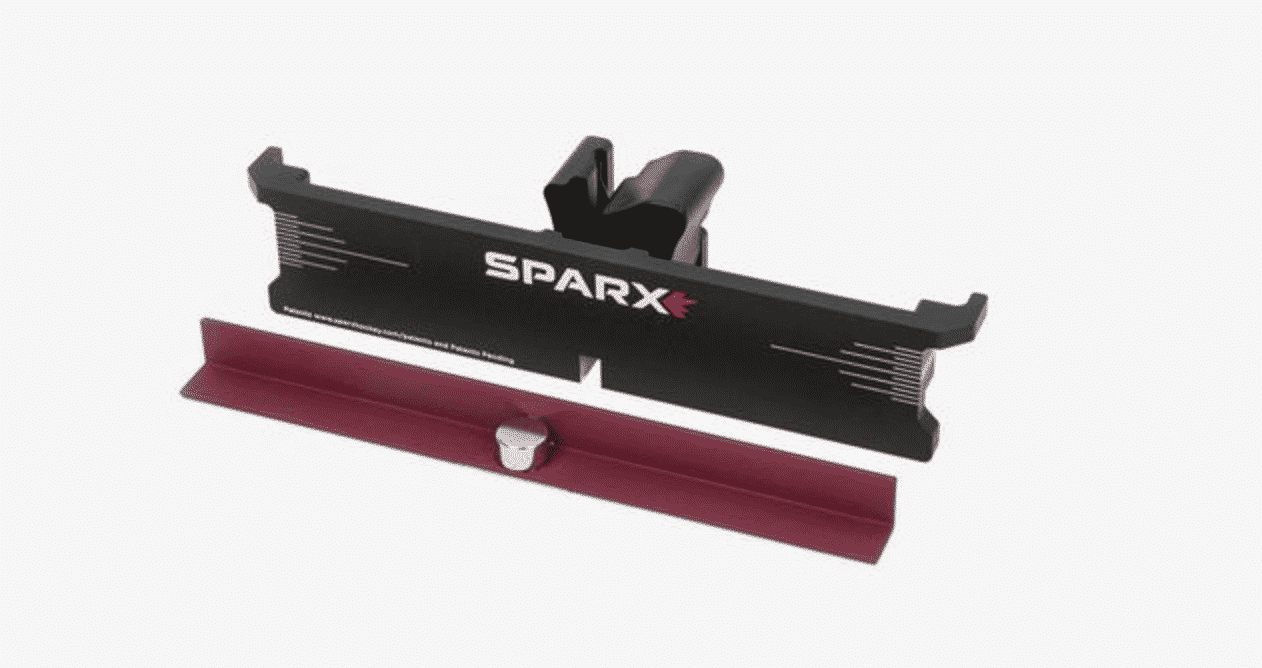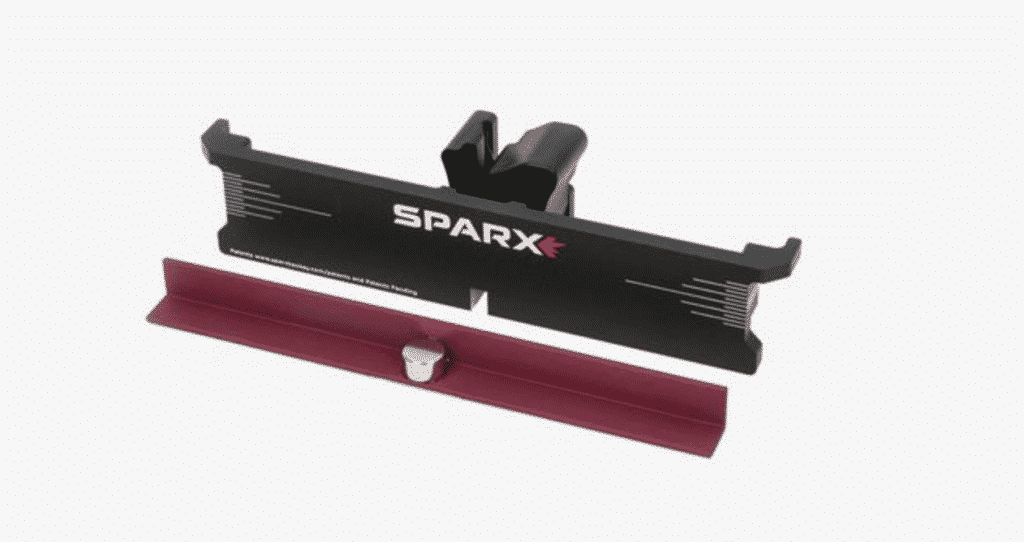 Important Note: while my local shop isn't the best at goalie skates, Hockey Zone in St. Cloud does a phenomenal job. When I told them of my intent to buy a Sparx Sharpener, they made it very clear I should buy an edge checker (or, height depth indicator, HDI) and I did. Well worth it. The first few runs with the Sparx brought both pairs of skates to near perfect edges. We talk more about skate blade edge checkers in the linked article.
Sparx Skate Sharpener: out of the box (and setup!)
Setting up the Sparx Skate Sharpener is incredibly easy. Initially, I opened the package and took a break — I thought I would be overwhelmed.
However, instead of opening up the owners manual, I went on to the Sparx website and watched their installation videos (in order) until I had my first pair of skates completely sharpened. The videos are set up so you have to click each page individually, which is oh-so-annoying, so I went ahead and built a Sparx Sharpener Step by Step Setup page for anybody who has purchased.
Setup time: 15 minutes or less. Honestly, I could've set the actual machine up in about 6 minutes, but I watched every video from start to finish. You'll need to attach just one part (the piece that opens the skate holder, also the piece I predict will break the quickest). And remove the travel holder + travel pin.
Aligning the sharpener: right off the bat, this is an area I think could be improved. Prior to sharpening any skates, you're going to need to set up the alignment wheel (so your grinding ring doesn't completely miss your blade or sheer off an edge, this is quite important). My only complaint is that there is a slight gap when looking through the optical alignment tool (you'll see this when you buy it). The truth is, after I tried this a couple times, I was pretty confident I had it perfectly aligned. I have no idea how many times I have to do this, I aligned the machine when I was done sharpening and checked in the middle of my sharpenings and the machine held it's alignment perfectly.
The sharpener itself: it's sturdy. Sturdy and it appears to use heavy duty materials, which I really appreciate. The unit I purchased, Sparx recommends less than 1600 sharpenings on it per year and to be truthful, there's no way I hit that number. The glass door is a nice touch, opens and closes perfectly (of course) but also feels quite sturdy. I'm a fan.
Learning the sharpener: if you don't have this down by watching the videos once or twice, call me. Learning the sharpener is 100X easier than any homework assignment I had back in school. There is only one thing you, the user, has to understand how to do after you've gotten the alignment buttoned up and that's on adjusting the grinding wheel height.
Answering our final question: should you buy the Sparx..
It's November 21st and I've been skating with the Sparx sharpened edges for several days now (as have a few of my buddies who volunteered to test a free sharpening, how convenient of them) and the response has been unbelievable.
Honestly, the Sparx does a fantastic job. I've been putting it through the ringer and it appears to be worth every penny. Believe it or not, I'm not paid to say that. 
My biggest pros of the Sparx Machine are this.. 
I Instagram DMed them about an issue I had with my edge checker and they responded, even on a weekend. That's awesome.
This thing actually NAILS the edge. The entire reason I bought a sharpener in the first place was because I wanted to finally get a good edge on my goalie skates. It's the best sharpening I've had in awhile, maybe ever.
It's ridiculously easy to use. I know, with certainty, that anybody could use this. From Grandma and Grandpa to Mom and Dad (even the kids themselves, with supervision) should be able to operate the machine flawlessly.
The machine appears to use heavy duty, high quality parts. I love it for that.
This list could literally go on for pages. I'm thrilled to this point with my experience, I really hope the Sparx lasts for as long as I want it to (which, is always 10 years longer than it's supposed to last).
My biggest complaints with the machine are..
1. It's always on backorder
2. The grinding rings are horribly overpriced for the amount of sharpenings you get with them.
If you're a pessimist, don't buy this sharpener because you'll most likely spend all of your time looking for issues. On the other hand, if you want to actually buy one, use GOALIE82 and you'll save a massive $25.
January 24th, 2018 Update on the Sparx
It's been a few months now of only sharpening my skates using the Sparx. Just last week was the first time I had to switch out the wheel, I can say will conviction that I will not sharpen my skates elsewhere.
Quick note on the grinding wheels. If you're sharpening your own skates, you'll find that 4 passes is not completely necessary. I was able to get way more life out of my wheel plus still maintain an excellent edge by simply doing 2 or 3 passes.
In addition, if you're doing skates other than your own — try asking them to only use you. You'll be able to save a bit on the wheel by doing less passes, it's when skates come in with a bad edge that you have to do more passes (and thus, burn out your wheel faster).
Honestly, the Sparx sharpener has been a game changer for my goalie skate sharpening. This sharpener is worth every penny.
April 11th, 2018 Update on the sharpener
One of the biggest concerns I had when we originally decided to purchase this sharpener was whether or not there would be a ton of extra maintenance involved.
I'm happy to tell you that we've done almost zero maintenance to the sharpener and it continues to perform like the day we took it out of the package. Even resetting the grinding wheel has been a non issue.
What I'm referring to when resetting the grinding wheel is simply adjusting the wheel so it hits the exact middle of your skate blade. I typically reset it after 5 or so sharpenings, because I want a perfect edge every time, but I'm confident you would just be able to leave this as is and run until you need to replace the wheel.
Here's some FAQs we've gotten so far..
If you've got a pre purchase question feel free to shoot me an email, tyler at goaliecoaches dot com and I'll be happy to assist (nope, do not get paid for helping you answer a question, I'm just a non company user)
Has the sharpener been worth it?
A zillion percent. I seriously think you could train an animal to run this sharpener. It's that easy. Also, I've sharpened quite a few skates that weren't mine and the feedback has been ridiculous. So much so that one local guy even bought his own after a couple sharpenings.
How is Sparx Skate Sharpener customer service?
This part is a little un fair for me to answer since I run an Instagram account with over 48k followers. I think the customer service is good and prior to ordering, the company wasn't aware who I was. If you have questions just email them, it's going to be in their best interests to take care of you.
How accurate is the Sparx Skate Sharpener?
Having now used this sharpener over 1,000 times, I feel well qualified to speak on the accuracy of the sparx skate sharpening machine. This machine delivers near precision accuracy every single time you sharpen your skates. Right behind durability of the machine, accuracy is one of the things I'm the most impressed with in my time using this device.
We will come back with a video tour of the sharpening soon!
SPARX Skate Sharpener Bundle (Best Value)
Having personally used the Sparx Skate Sharpener for going on 3+ years, it's worth every penny. To stress test the machine, we have not changed the filter once. While I wouldn't recommend it, this sharpener is the single best skate sharpening I've ever experienced. -Tyler
Buy at Amazon
We appreciate your support! At no extra cost to you, we may earn a small commission if you purchase a product through GoalieCoaches.com.