So, you're interested in finding the best street hockey goalie pads?
Welcome. We're Goalie Coaches. Unapologetically, we are one of the most trusted companies in hockey goalie training. We've trained goalies at every level of play, including the National Hockey League. When it comes to overall knowledge of the position of goaltending and everything that comes with it, we'd like to think we are well versed on the subject.
We care about one thing and one thing only, introducing our passion for the position of goaltending to everybody that shows an interest. So, if you son or daughter is interested in getting between the pipes on the street, we're interested in encouraging that.
And then, hopefully, when the season comes around, we can get them on the ice and mold them into the goaltender they dream of becoming.
So, let's jump into this.
The main issue with finding a top quality set of street hockey gear is, you're spending money on a pad that you're going to destroy. Long ago, we grew up on the streets using beat up goalie pads as our street hockey gear to stop tennis balls slapped around by friends. 
Today, street hockey has changed. Many of the world's top goalie gear manufacturers make specific lines just for street hockey. With that being said, however, many of these companies make what we call "roller gear".
These are the top two pairs of street hockey goalie pads that we'd recommend. 
Top Street Hockey Goalie Pads 
Street hockey goalie gear, specifically, is built to be low budget in nature. The entire setup shouldn't cost you more than $250, and if it is, it's probably too nice to be using on an asphalt street. One thing however, that we should clear up is that these are not roller hockey pads. While you can use street goalie pads with roller blades, goalies that play competitive roller hockey should probably consider something from our regular goalie pads guide.
Keep these things in mind when it comes to street hockey pads for goalies
Low quality – the gear is not built anywhere remotely close to that of a real goalie pad. We have a youth goalie pads and a regular goalie pads guide for real gear. This stuff will probably tear in a couple years (or maybe even year one), it's for messing around in the driveway, or for the grandkids. Some of my best memories are playing street hockey, so when an old beat up set laying around the house won't work, pads specifically built for street hockey are built using some of the lightest foam there is, obviously, for cost reducing purposes
Light – this stuff is extra light. Almost weightless. That means, it's also low on protection. Most manufacturers recommend the use of a ball with street hockey equipment, no pucks!
Now at the risk of sounding negative, I want to make one thing clear. Street hockey goalie pads are not real goalie pads. They're real, yes, in the sense that they are pads, but they're not built for use with anything except a ball. I know you know that, but I want to set the record straight. These are great pads for the driveway, but that's about it.
Winnwell Street Goalie Pads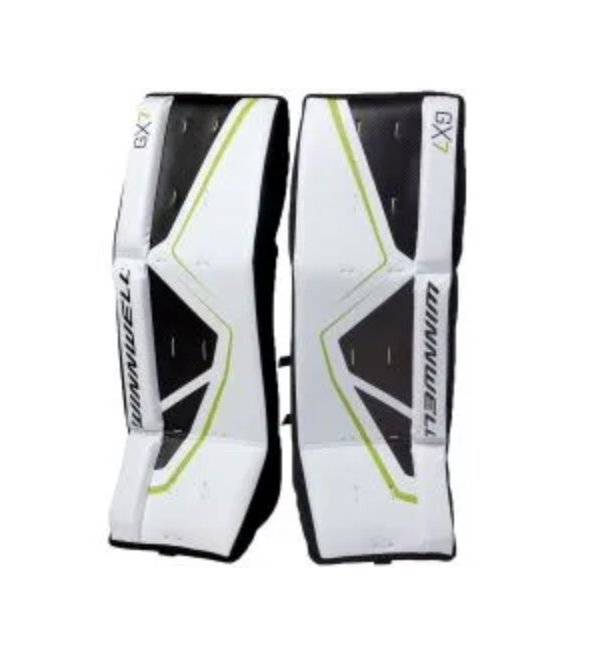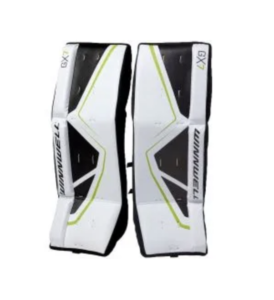 First off, I've got to hand it to Winnwell. Winnwell isn't known for their goalie equipment. They once made a highly competitive product on the hockey end of things (sticks), but they've sort of missed the boat on coming anywhere close to goalie gear. These are probably the most durable street hockey pads listed here.
As far as street hockey specific pads go, these Winnwell Pads are the best ones on the market. I say this because they've got the most choices for both youth and adult goalies.
You wouldn't go out and take your brand new gear on the street, so don't. Buy something cheap, beat it up and save your nice gear for the rink.
These pads are made of one piece of foam and feature an adjustable knee cradle.
As far as specs are concerned, street hockey gear for goalies is basic. As basic as it gets. The foam isn't anything special, it's not overly protective, and it's definitely not made for use on ice.
Check prices of Winnwell goalie pads at Goalie Monkey
Bauer Street Hockey Goalie Pads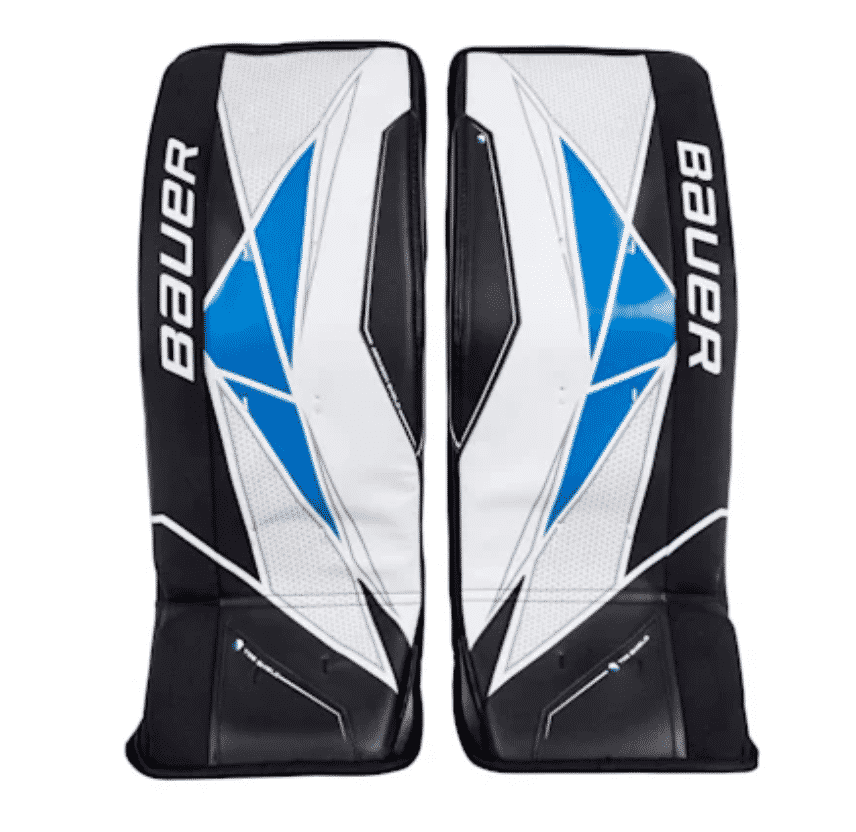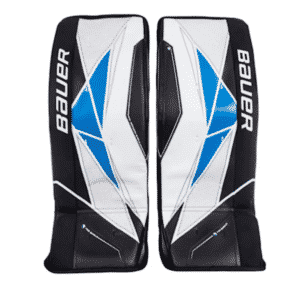 Built by Bauer, one of the top goalie gear manufacturers in the world, these street hockey goalie pads have an awesome design.
They're on the budget end of things, and they've got sizing for both younger goalies as well as adults.
Does design make the gear worth the investment? Well, when it comes to true street hockey gear, it absolutely does.
These pads come in a number of different sizes, so make sure you select the right size at checkout.
Junior 24″
Junior 27″
Senior 32″
If you're looking for adult street hockey pads, I'd recommend the Winnwell series we listed above, as they do come in more sizes than the Bauer option here has, but these ones at 32″ should work for goalies up to 6 feet tall. Please don't take that as advice for pads used for ice, as 32″ won't work for a 6 foot goalie on the ice (knee cradles will be way off)
CCM Fleury Street Hockey Pads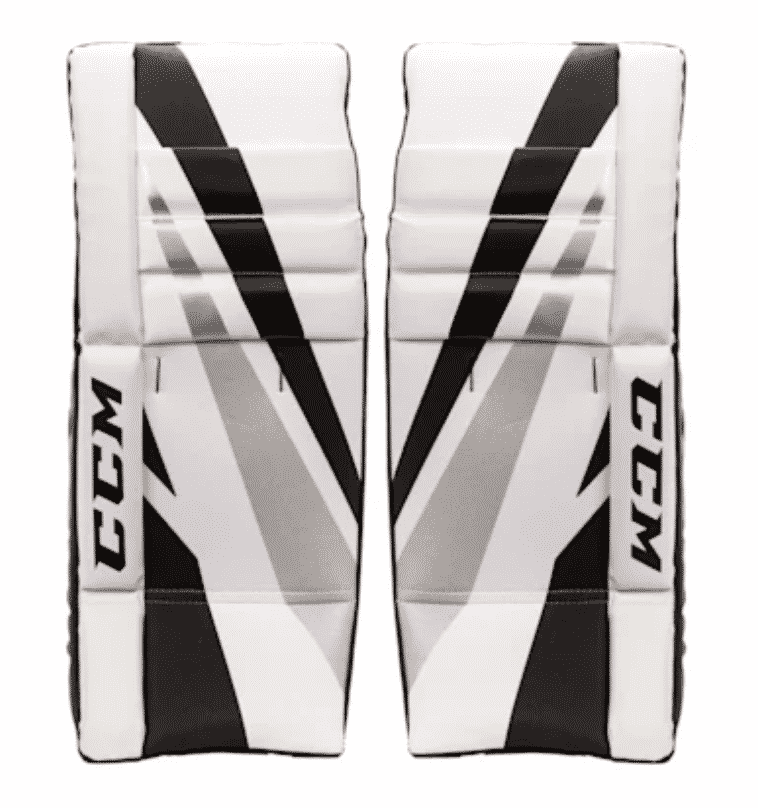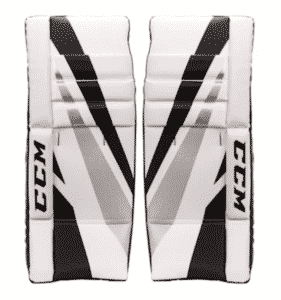 These things are the ticket. The design of the gear models that of their "real" line, like the CCM E-Flex 4.
Price-wise, they're cheaper than the Bauer by about twenty bucks, which is a sweet bonus.
Unfortunately, these are not offered at Goalie Monkey. I'm pretty positive that they quit making them, so honestly, I'd just stick with the Winnwell
Bauer 2 Street Hockey Goalie Pads
Looking for a different color option for street hockey pads? These Bauer are a black-based design built specifically for youth and junior sizes, which is a nice bonus.
Shop Bauer street hockey pads on puregoalie.
Is there a difference between roller hockey goalie pads and street hockey goalie pads?
The difference is, for roller hockey, regular goalie pads are modified using a specific sliding strip to make the gear slide better during roller hockey play. Street hockey goalie gear is lower quality and much more affordable.