Editors Note: this was written by Logan Halladay: today, April 4th, is the last day to enter to win his 2017 Mask worn in the USHL, here. Proceeds go towards the Global Down Syndrome Foundation. Above Photo by Photo by Nikki D Photography.
Goalies,
As my junior career comes to an end, I have a lot to look back and reflect on. Over the course of five separate seasons, I've played on four teams in two separate leagues, played over 120 junior games, dressed for over 250 games, and seen over 3,500 recorded shots. There have been a lot of ups and downs along the way but the truth is that I wouldn't go back and change anything.
I want to share my junior experience with you guys in the hopes that it can help you be more successful than I was, that you can learn these things and implement them into your game at the start of your career rather than picking them up as you go along like I did. I have a lot to share with you guys but if you can bear with me through it, you can learn a lot. Enjoy…
The Beginning
Here is a just a little background on my junior hockey career and how it all went down. I started my junior career in 2012 when I was drafted in the 3rd round of the Phase 1 USHL Draft by the Waterloo Blackhawks.
Oddly enough, due to their goalies being at prospect games, I would end up playing two games for them that year, one being the home opener, as a 16 year old.
That was it for me in Waterloo though, I was dropped by them the following summer and went to play for the Janesville Jets in the NAHL. After my year in Janesville, I signed a tender with the Bloomington Thunder in the USHL as a first year expansion team. I played in Bloomington for the 2014-2015, 2015-2016, and part of the 2016-2017 season before I was picked up by the Tri City Storm of the USHL.
I was then traded back to Bloomington only 19 days later to finish out my junior career before I head off the Merrimack College in the fall. Here are some of my biggest takeaways and tips for being successful in juniors.
Finding Success in Juniors
If I could look back and tell my 16 year old self anything at all before my first junior game and the start of my junior career, I would tell him to stress less and have more fun.
We are always caught up in the external things that we cant control and the things that don't matter, if you do the little things right, come to work every day with the right attitude, everything will work itself out, I promise. I spent way too much time in the wrong mindset.
I was always worried about what people thought of me or what my coach was saying about me or what schools were interested in me and the bottom line of that is that you can't control any of it but if you allow it to, it will begin to control you. Don't let that happen. Work on having a mental reset button, whether it be a phrase or an action, you can really start to train your brain to act certain ways and those mindless thoughts will vanish. Just be in the moment, you can't change the past, you cant control the future and worrying about either of those will do you nothing.
Stay in the moment and control what you can now, the rest will work itself you.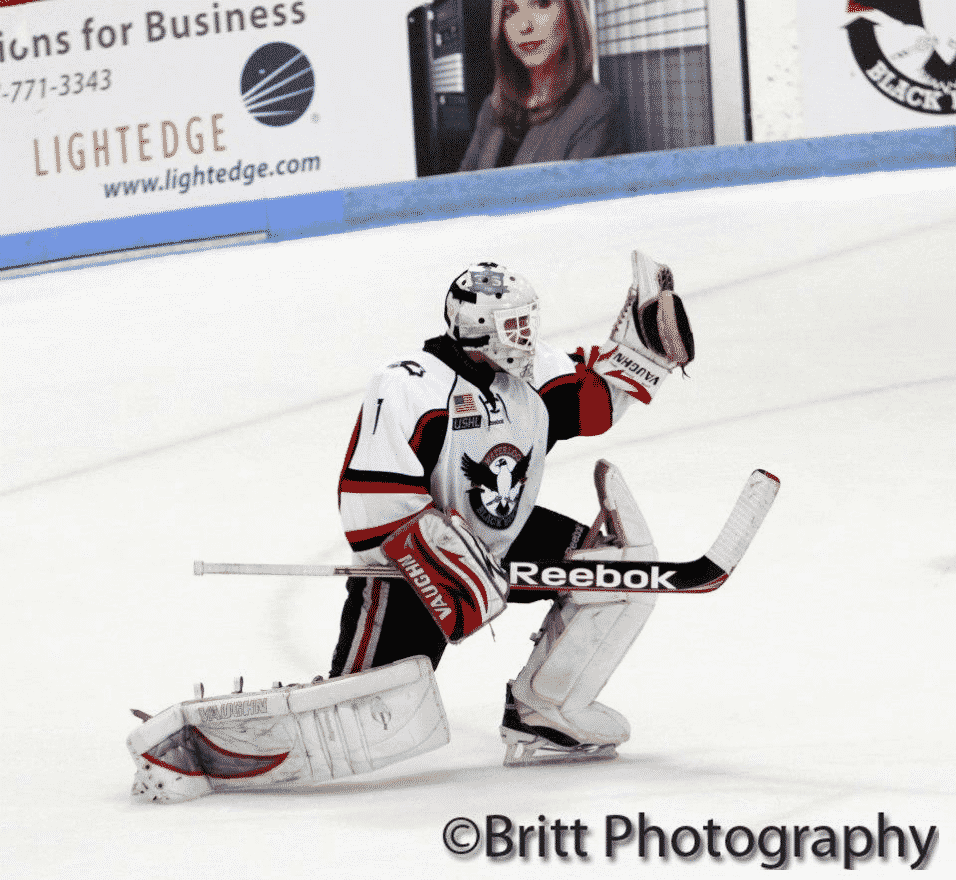 Physically, juniors can be hard but mentally it can be harder.
We all know how important the mental side of being a goalie is and how crucial it is to be able to be mentally tough. Juniors will put that to the test. You will have ups and downs, you will be good and you will be bad but finding what makes you the most consistent is the best piece of advice I can give and everybody is different.
Yes, junior hockey is about winning championships and moving on to college but more than anything it is simply about developing. Junior hockey is a time to try new things and branch out in order to find what makes you the best version of yourself.
Try to not be too stubborn in your own ways because I was for a long time with my preparation and routines and it wasn't good for me. It's taken me all of 4 years of juniors, and I mean every single game, to figure out what works best for me and I'm still learning more about myself each day and each game, but that's what it is all about.
"It's okay to fail as long as you are learning from your failures."
You can cross something off the list for you if it doesn't work or keep it if it does work but don't give up on the process of finding what works best for you mentally because it takes a while for everybody but that one day when it clicks, it will all make sense.
I had a lot of stretches throughout juniors when I felt like my preparation was bad and I had a lot where I felt like my preparation was good but I noticed all of those instances and learned from them.
As a goalie, you want to be able to control everything but the reality is that you can't. Only allow for yourself to put energy into the things you have control over, the rest is a waste. Control what you can and be aware of the things that are around you.
That's the best thing you can do is have an active mind and simply be aware of what works for you and what doesn't. Everybody is different and you have to find how you are successful. Try new things. Learn and develop into the best version of yourself.
"As a goalie, you have to always be willing to learn."
Players are becoming better than they have ever been at a faster rate than ever before and you have to be able to adapt your game if you want to be an elite goalie at an elite level. As much as you think you do, you will never have it all figured out.
You have to be willing to take time and learn. Being stubborn is the worst thing you can be as a goalie. Playing juniors, there will always be people around you that know more than you and people that are better than you. Don't pass up an opportunity to learn from them. It's extremely important to have an open mind as a goalie, to be receptive to new ideas and to be willing to try something you never have before.
Now I am a big advocate of staying true to yourself, which I will talk about later, but learning from other goalies and the people around you is one of the biggest advantages of junior hockey. Whether it's in a game or in practice or even away from the rink, you can always be learning.
Just from watching other goalies in my league I've been able to pick up on stuff, whether I liked it or didn't like it, it has all helped me as a goalie in my own career. I've probably learned the most from my goalie partners than I have from anybody else throughout my junior career. I've been lucky enough to play against some good goalies and even luckier to play with some elite goalies.
The best part about this has been sharing time with each other and being able to bounce new ideas off of each other and gain insight into the way that they may see things. You guys know what I'm talking about, goalie talk. The important part about this is having an open mind to the process of learning.
Anybody that had something to say to me, I was listening. If you think that you are just going to make it all by yourself, you are so wrong. You need the people around you to make you better and you have to take every chance you can to learn from them. Be open to new ideas, be receptive to things that players or coaches tell you and don't be afraid to try new things.
If you are always willing to learn and you don't think that you already have it all figured out, you're going to have a promising career. We all want to be the best that we can and learning from the people around us is one of the greatest tools in your arsenal towards success.
The Importance of Reading
Read books. Just like we have mentioned before you have to be willing to learn and be willing to push yourself every day to be better. Reading is one of those things outside of hockey to do that. In juniors, you have a lot of down time.
Whether it be during the long bus trips or at home after practice, you'll have free time and one way to be productive is to read. There are a lot of great books out there that can help you as a goalie but more importantly as an athlete in general.
I'll share a couple of my favorites for you guys… Mind Gym by Gary Mack, The Power Within, Between Two Worlds, and Embracing The Grind by Justin Goldman (these things are GOLD, get them if you haven't already) and lastly, The Inner Game of Tennis by W. Timothy Gallwey (trust me on this one, don't judge a book by it's cover.)
These books are all geared more towards the mental side of being an athlete but they are all great reads that I would highly recommend to anybody. Sit down, grab a highlighter and get to work. The things that you will find in these books will help transform you into the athlete that you want to be and the athlete that you know you can be.
It's A Business
You will find out soon enough that junior hockey is a business. From junior hockey all the way up to pro, it is a business and you are nothing more than an asset that either helps your team or hurts them.
I learned that my first full week of juniors during training camp with Janesville in the NAHL. By the end of the week, we were down 4 guys from where we started. Sometimes you see it coming but a lot of times it comes out of nowhere when guys get cut or traded.
I was lucky enough to be in the same spot for a long time but this past season I was moved from Bloomington to the Tri City Storm out of nowhere. We had struggled a little bit as of late in Bloomington and the playoffs were a long ways off, we had to start building for next year and I was of no use to the team because I would be going to school the next season.
"I got moved, it's a business."
I had been in Bloomington for over 2.5 years and it was like a second home to me. My best friends were on this team and I had a lot of other connections throughout the community and not even 24 hours after getting the call from my coach, it was all gone and I was on the 9 hour drive to Kearney, Nebraska to finish out my junior career.
It's tough transitioning into a new environment in any situation but I had to keep reminding myself to be true to myself and to be a good teammate. Control whatever I could control and let the rest go.
I played 2 out of the 6 games I was in Tri City and then something else happened. Not to be outdone by the first time, I got a call after 19 days of being in Tri City informing me that I had been traded again… back to Bloomington.
What a crazy couple of weeks. It's a business.
Bloomington had called and said that they wanted me back to help the team finish out the year strong, whether that meant me playing or me being a good teammate on the bench. They saw me as an asset that could help them win games and I was on my way back to Bloomington.
The reason I'm telling you guys this is that things will happen during your junior career that won't make sense but you can't take it personally. Coaches are paid to win and if they aren't winning then they will lose their job and that means that not only themselves but their families will be impacted as well and you will soon find out that a coach at this level will do whatever it takes to win games.
I had a great relationship with all of my coaches and everybody in Bloomington but at the end of the day, they had to build for the next season and I wasn't a part of that plan at the time.
"At some point in your career, you will be cut, you will be traded or you will be sent down."
It's just the way things work. But there's two ways to look at things when they don't go your way. You can feel sorry for yourself or you can put your head down and work even harder. People will always tell you that you can't do something but you can prove them right or prove them wrong. It's a business, guys and whether it's you or a teammate that it happens to, you will find out soon enough.
That right there should be enough motivation to push yourself every single day.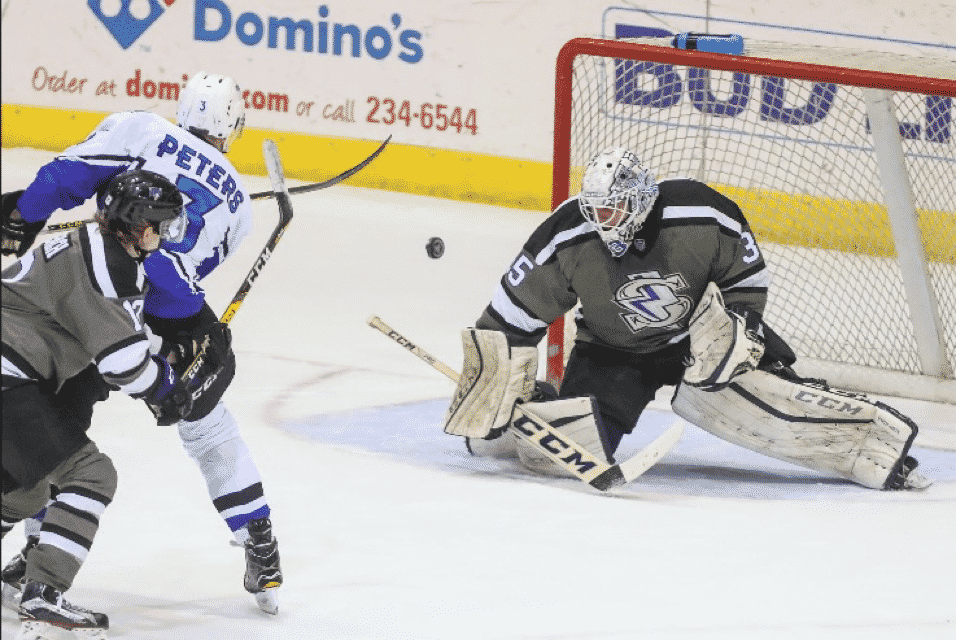 If we all had it our way, we would play every single game but the hard truth is that's not realistic.
You won't play every game.
You will have a slump, your goalie partner will go on a hot streak, you'll get injured and eventually you'll have your time on the bench.
If you're not contributing to your team on the ice, you need to find another way to contribute to their success. If you're the goalie on the bench, you owe it to your teammates to be the best teammate and contribute to them. It's really easy to sit there and sulk all game because you're not in the net but trust me, it won't do you or your team any good and it will affect them negatively.
Trust me when I tell you that you can help win games from the bench, without ever touching the ice. Throughout my career, I've struggled a little bit here and there and there were plenty of times where I should have been cut or traded from a team but I honestly think the one thing that saved me from that was the fact that I was a good teammate and I was more than just a goalie for my team. I was a supporter, a leader, a source of advice and the best encourager from the bench.
If you contribute more to a team than just goaltending, your value is so much bigger than your save percentage or the number of shutouts you have.
Find ways to contribute to your team that go further than what you do for them in games. If you think that you can contribute to your team in some way, do it. It's important as a goalie to put your own ego away and focus on the big picture of being a good teammate and contributing in whatever way you possibly can.
Juniors Can Be A Grind
Juniors can be a grind, you play 60 games and then playoffs on top of practicing Monday through Thursday with off ice workouts and travel and its even worse if you're still in high school and have to deal with school work on top of it all.
One of the biggest things I've learned in juniors is how to be a pro on and off the ice. This encompasses everything from taking care of your body, stretching and eating the right things to your practices on ice and so much more.
Sometimes it sucks to do the extra stuff and it's the last thing you want to do but it's the best thing for you. Take the extra time and ride the bike, stretch, take an ice bath. Do what you need to do to be at your best every single day.
I'm telling you, it's so easy to go through the motions in practice Monday through Thursday and then try to flip the switch for games on Friday and Saturday but one of the best things I've learned throughout juniors is to be diligent about your practice time. It's an old cliché, "you play how you practice" but it's so true.
If you let bad habits creep into your practice, they will creep into your games.
"You can't just choose to turn it on and off whenever you want, you're not that good yet."
Most goalies in the NHL aren't even that good. Being diligent about practice is one of the most important parts to being a goalie.
Yes, I understand that nine out of ten drills in practice are unrealistic for goalies and are often centered around the players but that doesn't mean you just write them off. You can take something from every drill and for me, I always tried to focus on one thing during a drill. Depending on what the drill was, I either focus on making sure my feet are set on a pass across, making sure I have good depth, making sure I control my rebounds and the list goes on of things to work on.
Focus on picking one thing per drill to work on and do it, put your energy into that rather than complaining about the unrealistic time and space given to players in practice, because no matter what level you play at, that will always be the case. There are 23 of them and two of you, it makes sense to center practice more around them compared to yourself. Pick that one thing per drill and own it.
It takes focus and effort and sometimes you just want to stand there and get hit with pucks and not worry about it, I know, I've been there. I promise you that putting in the time and effort now in practice will always pay off when it comes game time.
The Physical Side
Now I understand that on top of the mental side, there is a physical side to goaltending as well which is extremely important and a lot of you are going to wonder what will make you a successful goalie through a physical standpoint.
"If I could only tell you one thing at all, from my entire junior career, it would be to USE YOUR FEET."
I mean, use them as much as possible. Push your skating as much as possible and use your feet to get from point A to point B every single chance you get.
A lot of goalies now are sliding around everywhere and don't get me wrong, a well timed slide has its place for certain situations, but nine times out of ten you can get there on your feet and make your life ten times easier when it comes time to make the save.
Luckily, when I was growing up, the developmental coach in our area made all of the goalies do the exact same powerskating that all of the players had to do. Everything. I absolutely hated it. I hated doing inside edges and outside edges and acceleration drills but little did I know that would be the most important part of my game 10 years later.
"If you are a great skater, you can be a great goalie. Trust me."
If you can get somewhere on your feet, you can buy yourself more time, you can give yourself a stronger base to make a secondary movement decision and you can gain depth a lot easier because you will have a lot more time to make decisions.
I found that out the hard way my first year in the USHL when I was getting toasted on two on one's every single practice and in games too.
The players are too good at this level.
They will expose you so fast you'll be five seconds behind the play and by that time the puck is already in the back of the net.
That was the hardest adjustment I had to make was trusting my feet more and more to use them where I was used to a down movement. It has paid off tremendously and now in my third full year in the USHL, those odd man rushes with a cross zone pass are regular saves and I've opened up a whole new level of my game.
It will take time. It will be uncomfortable at first but it will be the best decision you make for your game.
Spend that extra time after practice doing crease drills, pushing your feet, working your legs when they are tired. Simulate a rush in your head with a cross zone pass and work on that over and over and over until it becomes a habit. When you use your feet, your whole game will be taken to another level.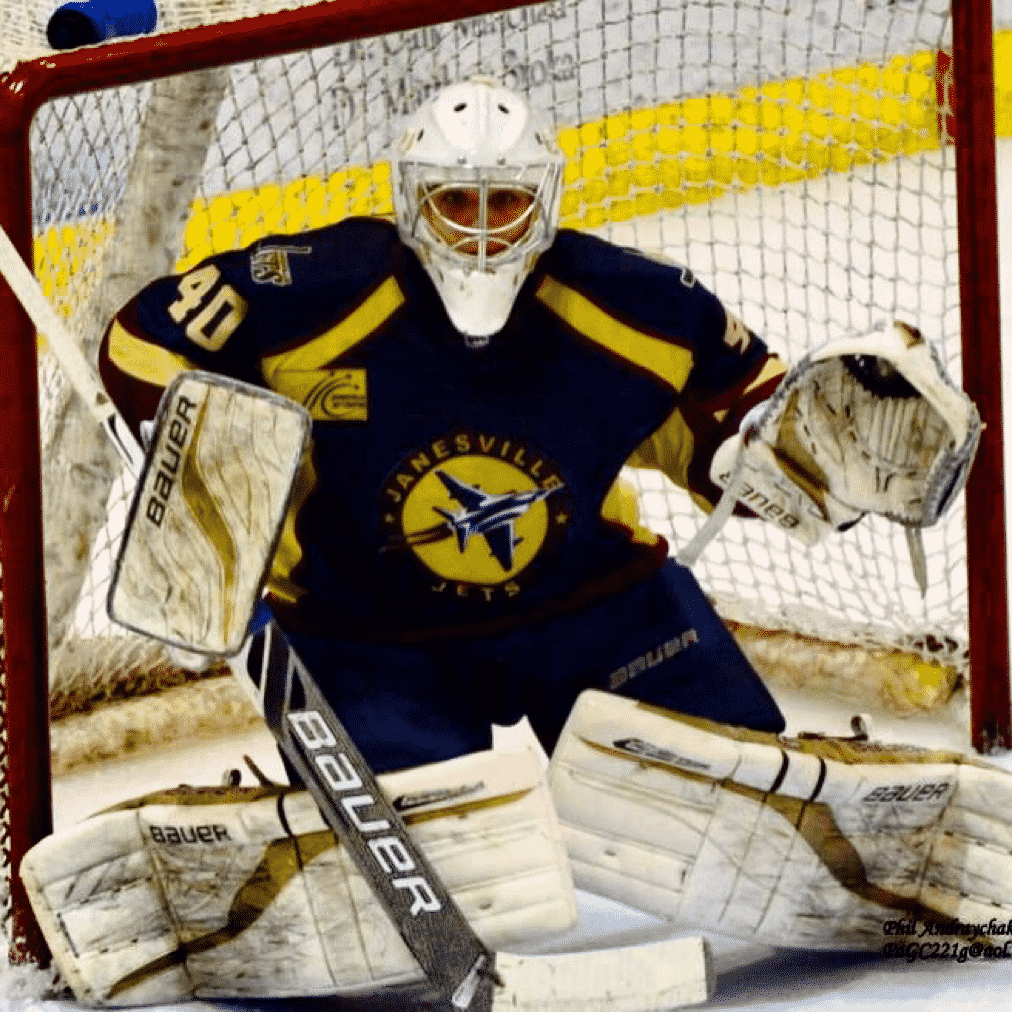 The more goalies that you play against throughout your career, the more you will realize that everybody is different and everybody has their own style.
Every goalie has their own strengths and weaknesses but I can't stress enough to you that you need to own it. Whatever your style is, however you play, own it.
One of the biggest things today that I see is goalies trying to imitate the best in the world. I often see young goalies trying to imitate Carey Price, Corey Crawford or worst of all, Jonathan Quick.
I hate to break it to you guys but 49 out of 50 of you cant play like Jonathan Quick.
Our bodies aren't made that way and we don't have the same skill set that he does. Don't get me wrong, I am all for watching NHL goalies and learning from them but taking pieces of their game and taking their entire game are two completely different ideas.
I have seen goalies ruin themselves by trying to be somebody that they are not and it's not worth it.
You as an individual have great strengths of your own that Jonathan Quick or Carey Price might not have and it's your job to use those to your advantage. How boring would goaltending be if everybody played the same? It would be terrible. That's the beautiful thing about being a goalie is creativity and authenticity.
Use those things to your advantage, be yourself. Own YOUR game.
The Importance of Mindset
Throughout your junior career, your status is going to change quite a bit. Whether it be starting goalie, backup, healthy scratch, injured and the list goes on and on. The hard truth is that you won't always be in the same situation. You might get send down or called up or a number of other things but the most important part of all of this is your mindset.
Having the right mindset in all of your different status' will help you dominate at each level. If you have the mindset of owning the position you're currently in, you will be golden.
Too many times we can complain or question why we aren't at a higher level when we think we should be, why we aren't starting, why we aren't getting drafted but thinking ahead is the worst thing you can do. If you're a backup goalie, own that. Be the best backup goalie that you can be.
If you're a starter, own that.
If you just got sent down, be a pro and own your status.
You have to dominate at your current level or position before you can move up to bigger and better things. Don't allow for your ego to get in the way of being the best at every level you're at. That's a little something called self-destruction, which isn't recommended.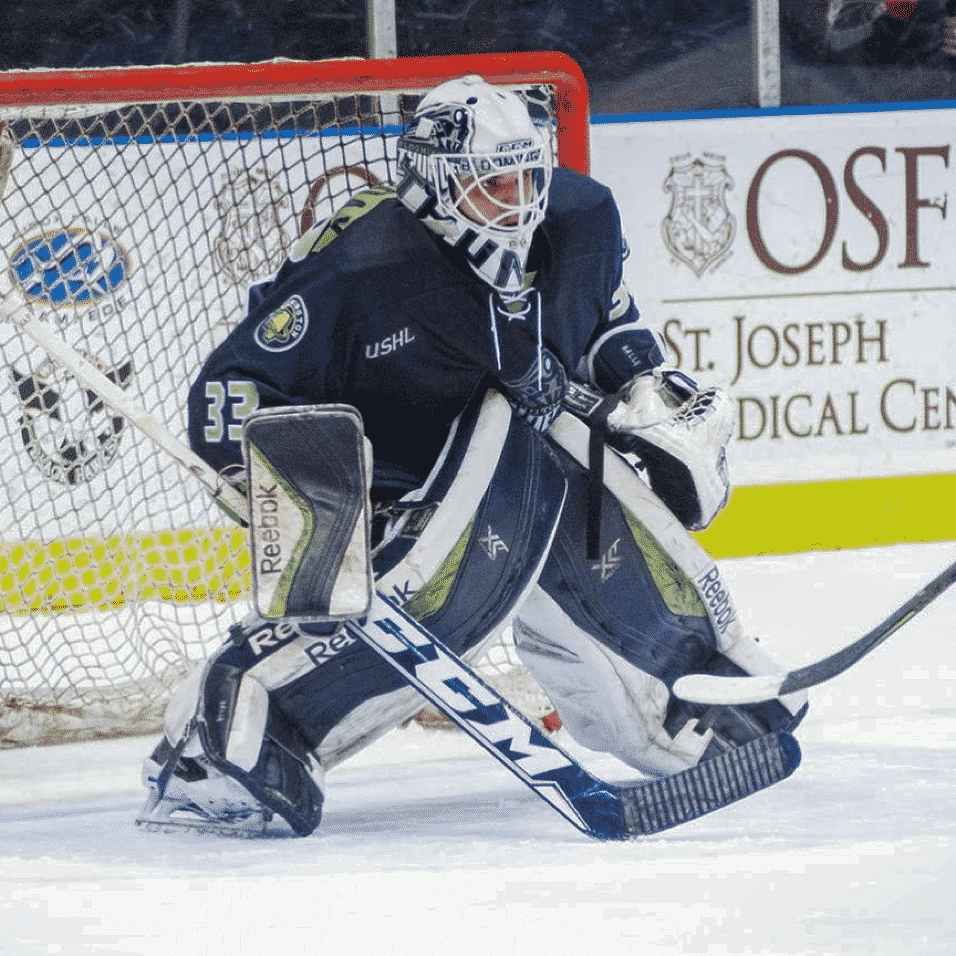 The Recruiting Process
If you are lucky enough to play in either the NAHL or the USHL, you will have schools that approach you about playing Division 1 hockey for them.
The recruiting process can be a hectic but exciting time for both you and your family. I'll explain a little bit about how mine went and then I will leave you guys with some tips on how to handle it.
I started being recruited about 3 months into my first year in the NAHL by college teams and it was slow at first but as my play continued to rise to did the teams interested.
By March of 2014 I had a couple offers and had gone on a few visits and I decided to commit to the University of Minnesota.
That year finished and I went to the USHL for the next two seasons.  I signed my national letter of intent to attend the University of Minnesota in November of 2014 and finished out the year in Bloomington.
I was originally going to play one year in the USHL but Minnesota decided that I wasn't ready for school so I stayed to play my second year for Bloomington. About a month into my 2015-2016 year I decided to de-commit from Minnesota to play out my other options.
Three months later I committed to Merrimack College and that is where I will be attending school this next fall. The whole four-year process was quite a ride but I couldn't be happier with how it worked out in the end. Here as some things I learned and I hope that they can help you through your process as well… Take your time.
"The recruiting process can be intimidating, exciting, scary and whole lot of other things but you can't rush through it."
Unfortunately, that is what I did when I committed to Minnesota and I made the wrong decision.
The whole recruiting process with them took two weeks before I committed there and it was rushed. To be honest I didn't feel comfortable when I visited there and it didn't feel like the right decision but I had a full scholarship offer from the number one ranked team in the country at the time and everybody whispering in my ear was telling me yes, so I said yes.
I made a decisions based off of what people were telling me and not what I wanted. There is nothing wrong with the University of Minnesota, they are a grade A program with tons of history but at the end of the day, it wasn't the right place for me.
This process is about your future and nobody else's.
You have to make the decision for yourself. You need to do what is going to be best for you. Take your time and go on visits, every school in this country is different and you have to find what fits you. Minnesota and Merrimack are two completely different schools and I never would've seen that if I didn't take my time the second go around and visit Merrimack and keep my options open.
It's important that you go somewhere that you want to but also that you go somewhere that you are wanted. You will be able to feel how bad a school wants you when they talk to you and that's really important.
You want to go somewhere that you are wanted and somewhere you know that you are going to be able to make an impact.
I knew that Merrimack was the right fit for me when I went on my visit because it felt like a home to me and I could see myself there in every way. The coaching staff was unbelievable and I felt welcomed from the minute I walked on campus. Through the whole process, accepting my scholarship to Merrimack was the best feeling because I knew I wanted to go there and I knew they wanted me as well.
Enjoy the recruiting process but take your time, this is a decision that is going to impact the rest of your life.
It's Just A Game
For most of us, hockey is all we have ever known.
We've skated since we could walk and we haven't missed a season since we started. It's in our blood. The older I've got the more I've realized that there is so much more to life than just hockey and at the end of the day, it's just a game.
A big part in my development throughout juniors was finding things outside of the rink that peaked my interest, that brought joy to me and that were an outlet for me outside of hockey. In juniors, hockey is all you do and finding these outlets made the biggest difference in my career.
Whether it could be getting a job or volunteering somewhere throughout the week, find something outside of hockey that you enjoy because as much as we all hate to admit it, there will be a life without us playing hockey.
Engage in new and challenging activities outside of the rink and get connected in the community.
I've volunteered at places, shadowed people at jobs, gotten connected through my church and just engaged with people and through all of this, not only has much of my life as a hockey player changed but so has my life as an individual changed.
I've found out what I want to study in school, I've found passions I didn't know I would have and I've met some of my closest friends through the community. Be diligent about creating relationships and spending time with people on your team but also people in your community. I've made just as many friendships through my church, volunteering and just getting out in the community and being social as I have through my teammates and these are people that I will be close with for the rest of my life.
Hockey won't last forever, but the relationships that you can create will.
Just Have Fun
As a closing note, the most important thing out of all of this is to have fun.
If you got nothing from this entire piece but this one thing right here it would be worth it. Have fun. We all started playing the game because we enjoyed it and we had a genuine love for it and it's important to keep that.
We can get lost in the fact that hockey can be stressful and it can wear on us and knock us down but at the end of the day we always play the game because we love it.
I've spent way too much time throughout my career worrying about things that I couldn't control and things that didn't matter and that's the only thing I wish I could change.
When it all boils down, you just have to enjoy yourself, work hard, have fun and stop the puck. I play mybest when I enjoy myself, most of us do, and my hope for the rest of you is that you find that before I did and you can allow it to help your game.
"Don't ever give up on the process. If playing in the NHL is your dream, don't let anybody stop you. You can do it."
There are plenty of success stories of guys that came from nowhere and have long pro careers because they were diligent about their work and they kept their goals in sight. A lot of things will come into play in your life, both good and bad, but keeping yourself focused on what you want and having a great attitude along the way is crucial to your success.
Work hard but don't take it too seriously, it's just a game.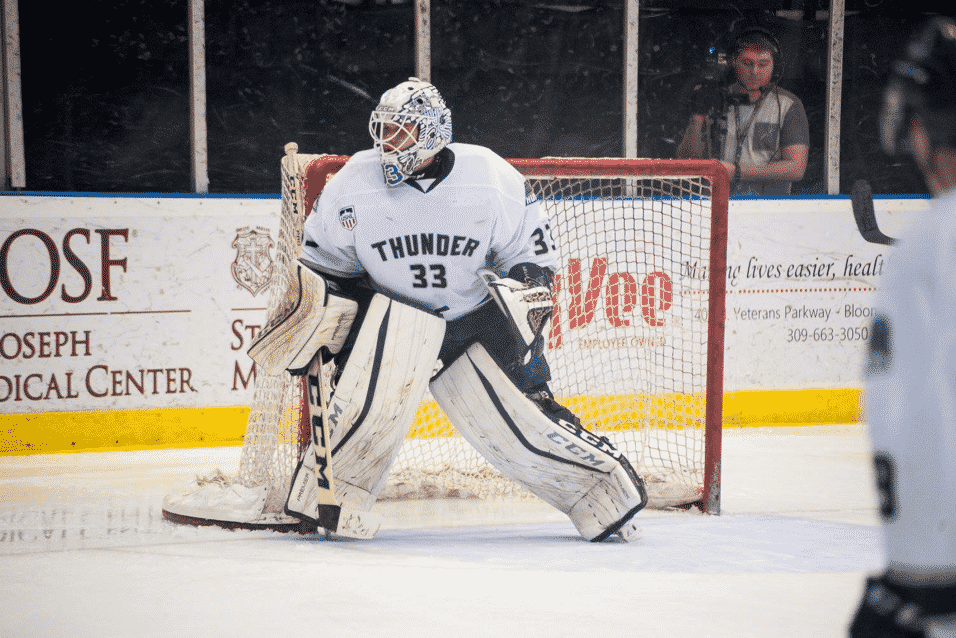 Just a little sidenote, one thing I've done throughout my junior career is take a puck from every rink I've played in. I have pucks from NAHL teams and USHL teams and they all have their respective logos on them and it's just a cool thing to look back and see all of the places you've had the opportunity to play in.
If you can, I would recommend you guys do something like this, it's just something for you to pull out of your bag one day and brag to your kids about.
"Lastly… Enjoy the process, come to work everyday with a smile and just get hit with that small little rubber thing. It's that simple."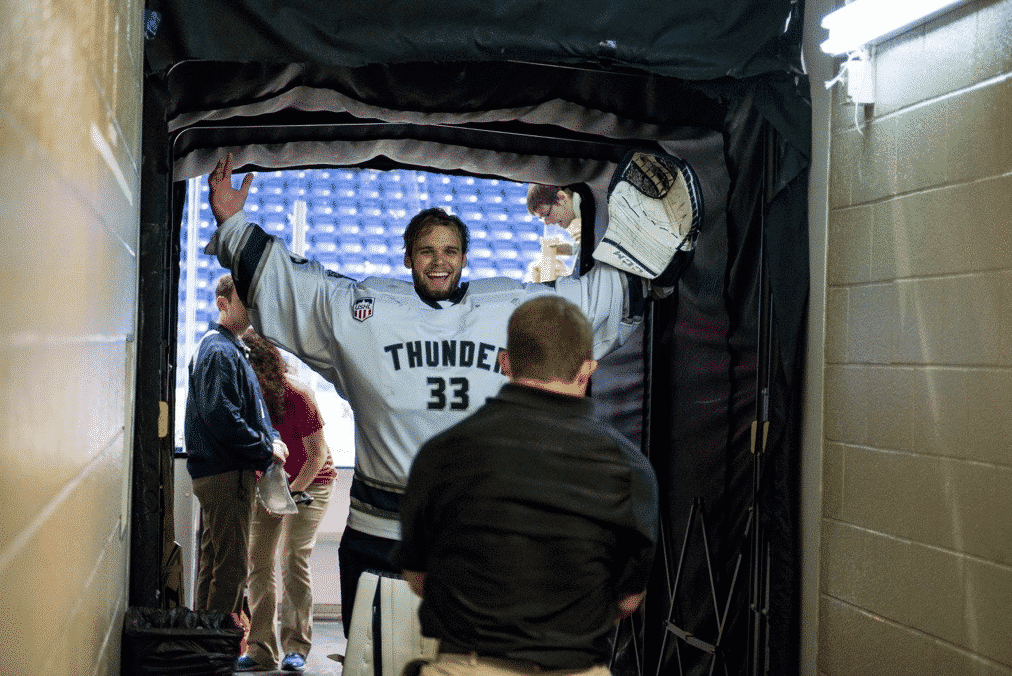 If you made it through all of that, thanks for sticking around. I've been doing this junior hockey thing for a couple years now so I had a lot to share. Hopefully you got something out of it and hopefully it can help you all be successful in your own junior hockey career. If anybody has any questions or just simply needs somebody to talk to, feel free to email me at [email protected]. I wish nothing but the best for all of you!
"Thank you, Juniors."
"From everyone to whom much has been given, much will be required; and to whom they entrusted much, of him they will ask all the more."   – Luke 12:48