Editors Note: this post was written by Stefanos Lekkas, University of Vermont. This photo credit is to Alastair Ingram of UVMAthletics.com
It all started when I was eight years old, before getting on the ice for the first game of the season my dad told me to not volunteer to play goalie.
The coach came in the room with the goalie gear and asked who wants to play. I saw the gear and that was it "I do!!".
All I remember from that game was losing by a lot, but I made one glove save and that was the coolest thing ever, I was so excited to flip the puck to the ref like I've seen all of the pros do.
I skated all the way to the boards and flipped him the puck. That was it. I was sold.
"I was a goalie."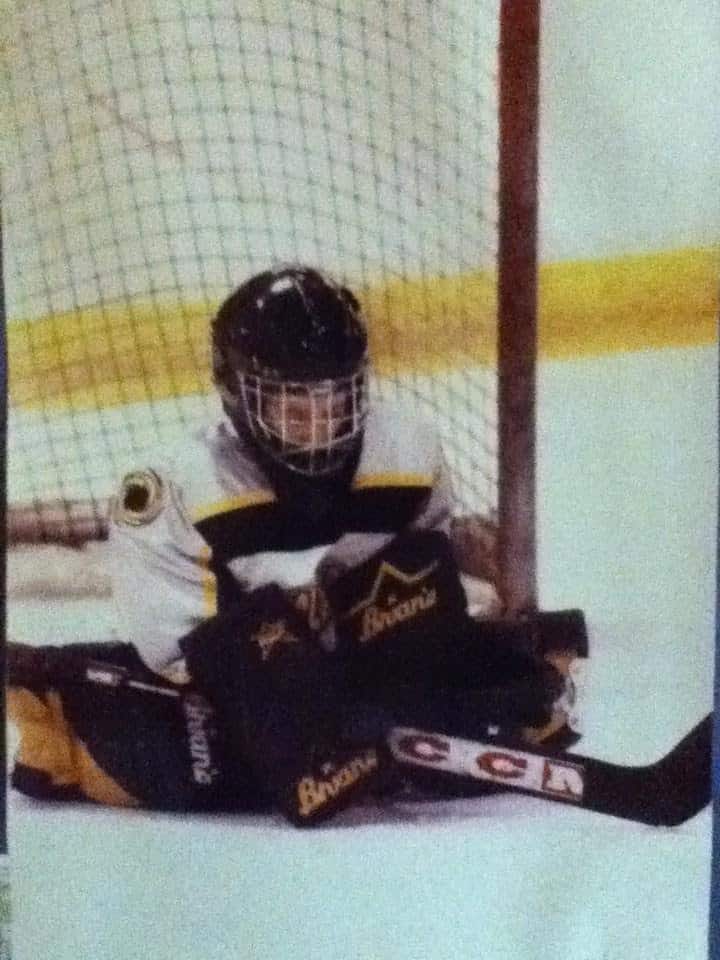 That Christmas I got my first pair of pads and never looked back.
And don't worry about my dad either, guys, he ended being my best advice and goalie coach to this day.
For those who don't know me, I am a now a freshman goalie at the University of Vermont.
"I am a now a freshman goalie at the University of Vermont."
I grew up in the Chicago area and played my AAA hockey with Team Illinois and Chicago Mission. I played junior hockey for the Springfield Jr. Blues in the NAHL and the Sioux Falls Stampede in the USHL where my team and I won a Clark Cup.
I have been fortunate enough to have a lot of successful seasons and receive personal honors. Some may look at my path to college hockey and think that it may be like your average story. Behind the scenes I have been faced with a lot of setbacks and adversity throughout my career and there have been a number of difficult times.
"The best advice I can give any goalie including myself is to trust the process. Believe in what you are doing, and have a purpose."
I am a 5'10" goalie.
In today's game smaller goalies never get the benefit of the doubt. That's just the way it is.
If a player goes top shelf on a perfect shot- you were "down early" or he "beat you high again". It is unfortunate but it is not the end all be all.
There are examples of goalies under 6 ft. tall at every level, including the NHL. Skating, positioning and box control are everything. If you work on these things and you are able to be set, on top of the crease, in good position you will look as big as anyone.
The best example I can give of this is Jusse Saros, Jhonas Enroth and Jonathan Quick. Watch them. And yes you can certainly keep that edge and that chip on your shoulder while you battle against giants night in and night out (but we wont go into that).
"I have been cut from teams, I have been a backup goalie, and I have had to battle injuries."
Trust the Process.
Being cut led to me playing in the NAHL, which ended up being the best possible outcome for my development.
After winning a Clark Cup in the USHL I needed surgery, which lead me to being pushed back a year in college. I came back to Sioux Falls for another season, and that year ended up being another pivotal one. On a weaker team, I learned how to steal games at that level, and also how to handle losing some tough ones. I also saw a lot of growth in my game physically and mentally.
"I learned how to steal games at that level."
This year during my first season in college hockey, all of my success, and how I have handled failure has been a collection of what these set backs has taught me. I would not be at this level without them. What I had to learn to do was shift my focus away from the big picture. One of the things that I always tell myself is to be in the here and now, this moment.
"Be in the here and now, this moment."
That's all you can control.
The end result is a compilation of one-day building blocks. Going back to the basics, paying attention to details and trusting your game.
You can only control so much. The famous Dave "Roggy" Rogalski sent me a very meaningful text (in a group chat with the man himself Charlie Lindgren), which summarizes this thought very well.
Roggy said,
"KEEP DOING WHAT HAS MADE YOU SUCCESSFUL. SEEMS LIKE EVERYONE TRIES TO REINVENT THE GAME WHEN THINGS TURN TOUGH. KEEP TRUSTING YOUR GAME, YOUR READS, AND GET BACK TO BASICS. FOCUS ON SIMPLE THINGS IN PRACTICE THAT PAY OFF COME GAME TIME. CONTROL THE CONTROLLABLE AND TRUST YOURSELF. ONE DAY BUILDING BLOCKS."
Thank you Roggy.
With that being said, another concept that I had to learn was that even though being a goalie on a team is arguable the hardest and most important foundation piece for a team.
"You are on a team. It is not all about you."
It becomes more about doing your job and helping your team find ways to win. When I left home to play juniors, hockey turned into more of a job than it was before. I can say it has been the best job I've ever had and I hope to continue this as long as I can.
There have been times where I have felt like nothing is going my way, and in these situations it can be easy to get complaisant and make excuses (believe me, it can be very easy). But the fact of the matter is that all of these things get put into your back pocket the day after. They make up who you are as a person and a goalie, you live with them and you learn from them whether they are positive or negative. There is no time to feel sorry for yourself or feel like you are entitled to anything. You will hear even NHL goalies saying the same thing.
All you can do is trust what you are doing, day in and day out, building your game and working to become better
Tomorrow the sun will come up, and with that you will have a fresh opportunity to improve as a goalie: Regardless if you are on a winning team, a losing team, a hot streak or a slump.
"Above all, remember why you play the game."
Remember that glove save you made when you were eight.
Remember that feeling of not wanting to get off the pond.
Remember how lucky you are to be playing this game.
Enjoy it all.
"Go back to your one-day building blocks, believe in what you're doing, trust it, and make that glove save then flip it to the ref."
Right now at UVM my team and I are gearing up for the push towards the hockey east playoffs and the shining opportunity to reach the NCAA playoffs.
I have to thank goalie coaches for the opportunity to write this, putting this on paper to help younger goalies has also reinforced and reminded me of the process, how to enjoy the ride and how to be in the best mental state I can be come game day.
Best of luck to you all, and hope to keep in touch with you guys and girls.
We are all students of the game as well as students of the position.
Stefanos Lekkas, University of Vermont
I also wrote a "Thank You to Stampede Country" article about my time in Sioux Falls on USHL.com