The Vaughn Velocity VE8 line of goalie gear is on the way: Here's what we know
Vaughn will jump in to the mix of those companies with new gear lineups just around the corner. The Vaughn Velocity VE8 line will be their latest line of gear.
Did you know that 82% of pro goalies wear at least one piece of Vaughn? It's a fact they're proud to advertise for obvious reasons, yet with all of the other gear talk going on.. a good reminder of very high quality gear trusted by a wide variety of goalies.
Buy the Vaughn VE8 Line on Pure Goalie
Vaughn VE8 Features
Vaughn is clearly putting a larger emphasis on innovation in their latest line of gear. The video below demonstrates their new strapping system, with magnets.
 Vaughn points out that their latest line (VE8) is "slightly lighter" than their previous line, the Ventus SLR.
And directly from the Vaughn website, the VE8 pads offer the following features.
Single break outside roll
Full pro core internal padding
Stiffer ankle break area
Wide knee with knee strap that has two attachment position options
Center calf strap with wider adjustment area
Thin profile outer side panel
New magnetic buckle quick attach system (video above)
Adjustable skate strap position
Full Carbon fiber reinforced front surface
Solid inside knee drive block
Smooth inside edge for easy movement on ice
Lower profile outside roll
Thin front face cushion foam for more puck action
New graphic with visually disruptive graphic
New design top thigh rise creates more blocking surface
Large inside landing area for greater balance and precise movements
Vaughn Velocity VE8 Goalie Gear in Action
Photographed below is Keegan Karki, of the Muskegon Lumberjacks (USHL) wearing VE8.
And Jared Coreau's set (plays for the Grand Rapids Griffins, AHL).
Mathieu Bellemare joins the VE8 party.
Here are a few photos of the new Vaughn VE 8 line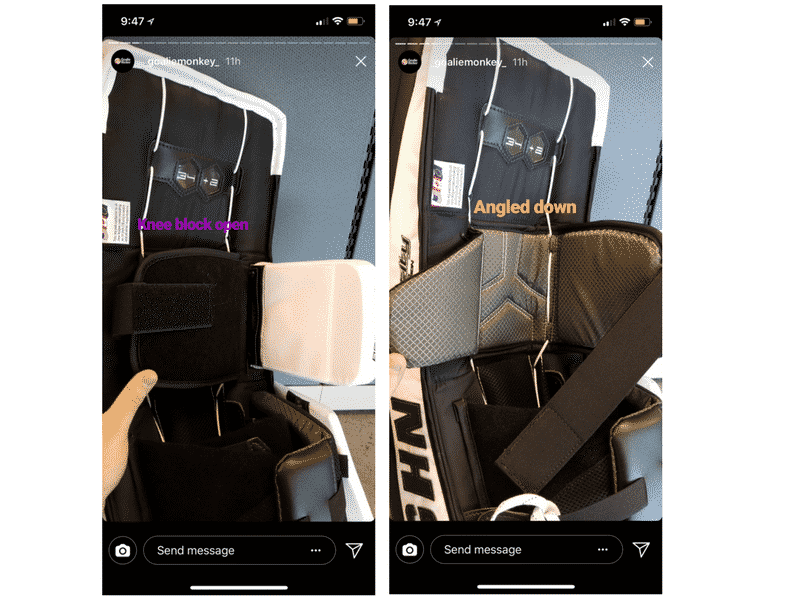 According to the guys over at GM, the knee block area is incredibly soft. This is a huge feature as many knee blocks can be stiff which leads to additional wear and tear on the goalies body.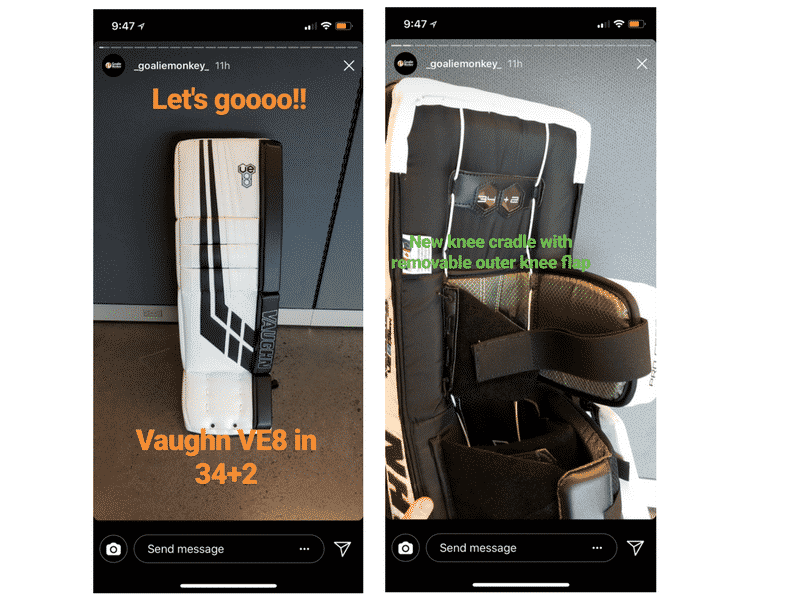 The redesigned knee cradle has a removable outer knee flap, standard in goalie gear. Most goalies remove this for added comfort when they're wearing knee pads.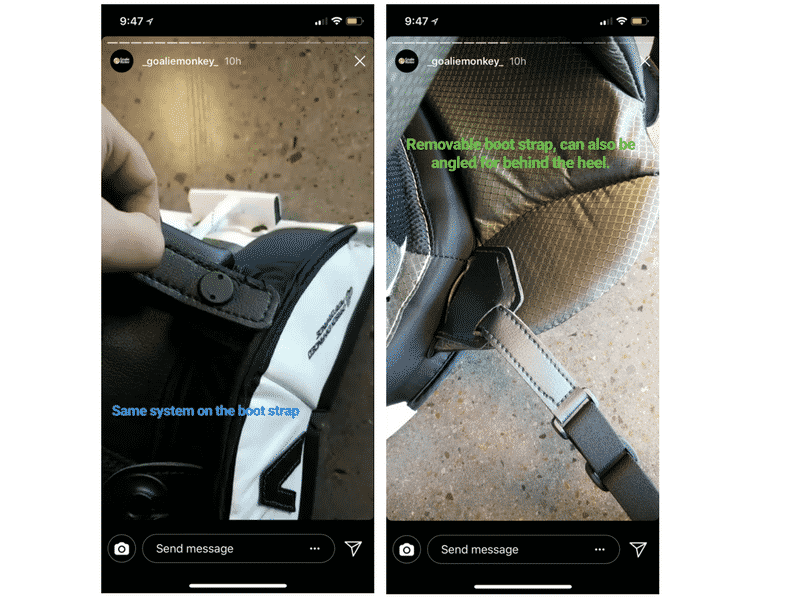 Removable boot strap is awesome. Some goalies love boot straps, some hate them. Personally, I do not use one. However, cutting off the boot strap can affect resale value, so this is a nice feature.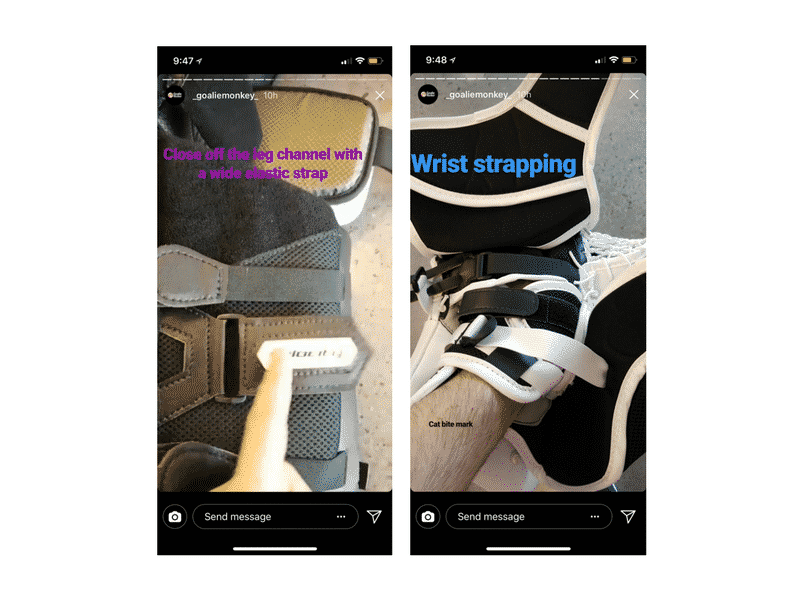 By far the biggest downside of the new Bauer 2S gear is the strapping system. I'm not completely convinced that the new Vaughn VE 8 is any better, but the magnetic quick release is intriguing, to say the least.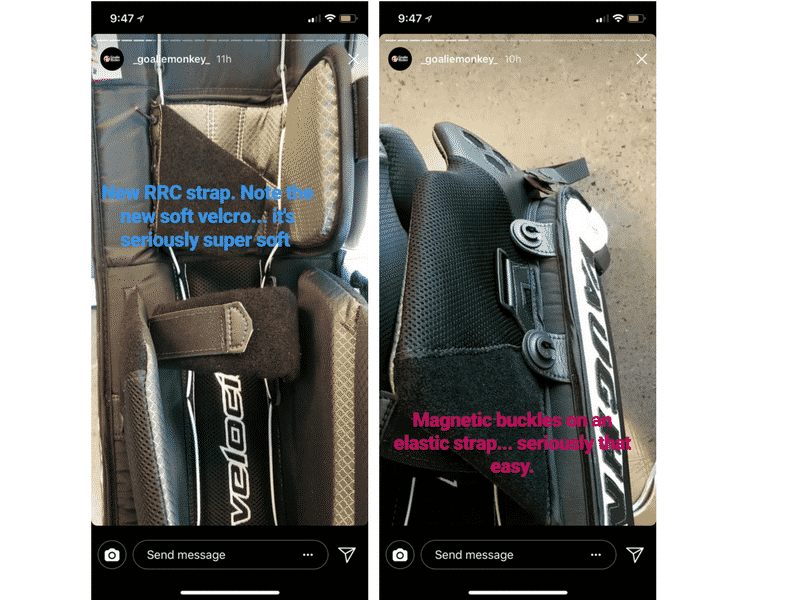 Should I buy the Vaughn VE8 gear?
Chances are, if you got this far, there's a good chance you're interested in the gear. Vaughn continues to product high end, professional grade gear and is unlikely to slow down. As are the trends, the push for gear that weighs less and less continues and Vaughn makes a good push with the VE8 line.