Welcome to my review of the Warrior Ritual G5 Pro+ Chest Protector.
Along with the Ritual Pro, this is the newest goalie chest protector we've seen out of Warrior in 2020.
There are a lot of features that we really liked in this protector, but the biggest it had to offer was the confidence boost.
There was no flinching at shots, ducking or reacting to the shot out of fear.
I'm not one to flinch at shots, but it is a problem that I've had in the past with lesser end chest protectors.
That wasn't the case with this chesty.
I had pure confidence the entire time.  I didn't catch any stingers and it allowed me to let pucks come to me.
I was moving quickly and confidently.
Overall, I really did like the Warrior Pro+ chest protector.
Here's what I did and didn't like about the Warrior Ritual G5 Pro+ Chest Protector. 
Advantages: 
Lightweight
Wide range of adjustability
Highly protective
Very mobile
Disadvantages:
Warrior Ritual G5 Pro+ Chest Protector Review
This is the one of the best goalie chest protectors that we've come across, ever.
And that's no joke.  It is a high performing machine.
Warrior is typically underrated in terms of goalie gear, but I've been a fan for some time now.
They're constantly innovating their products and doing it in such a way that creates excitement.  Now, chest protectors aren't the most exciting pieces of equipment that we can get as goalies, but they're super important.
The Ritual G5 Pro+ chesty added confidence like not a lot of other chest protectors could.  The Vaughn Velocity V9 Pro Carbon actually was very good in terms of confidence boosts, but the G5 Pro+ was about the same.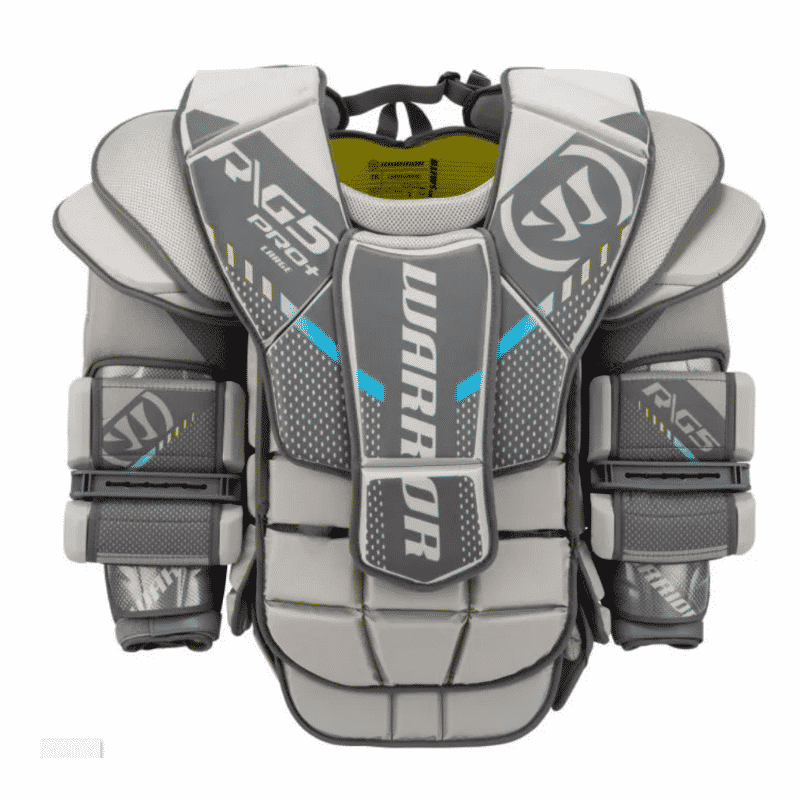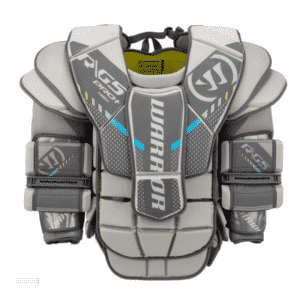 Mobility
It is super mobile.  You are able to change and adjust the straps of nearly every area on the protector to create the best feel for you.  The arms can be extended or shortened and the areas have removable straps or pieces of protection.
Ideally you wouldn't have to remove anything, but if it came down it, you are able to.
The arms feature AxyFlex technology which creates the break in the protection for maximum movement.
An update from old models of Warrior chest protectors is they've reduced the size of the sternum plate, which gives you better vision.  It also improves how well you are able to move around in the crease.
The chest floaters have also been redesigned and now have more breaks in the foam to allow for better mobility.  The head vision has been increased increased while looking in every direction.
The best part of these upgrades?  It still keeps you safe and protected.
You don't have to compromise safety for mobility, or vice versa.
Protection
I feel as though I've gotten the point across, but the Warrior G5 Pro+ goalie chest protector is highly protective.
I mean it has to be, especially for the price tag.
The foam is a standard chest protector foam, HD.  It's a heavy duty yet lightweight material.
It isn't so much about how much foam there is in a chest protector for it to be protective, it's a matter of placement and quality of foam.
In this chesty, the foam is both impact absorbent and strategically placed.
And while yes, there is still a lot of foam on it, you aren't going to feel a single puck hit your chest or arms.
Related: Vaughn Ventus SLR2 Pro Carbon Chest Protector Review
Comfort
Lastly, I want to talk about how comfortable this chest protector is.
As a goalie, I prefer when my gear feels really good and comfortable to play in.
That should be pretty obvious, I mean no one really wants to play hockey in something that hurts or is painful.
The point I'm trying to make is that the G5 Pro+ chest protector fits like a sweatshirt.
There really isn't any good way of showing you how it feels, but just know that it's super comfy.
There's no scratching or seams that rub up against the skin.
No annoying tags or anything of the sort.
Just pure comfort and bliss.
And I should know, I play without a shirt on.
The difference between the G5 Pro and G5 Pro+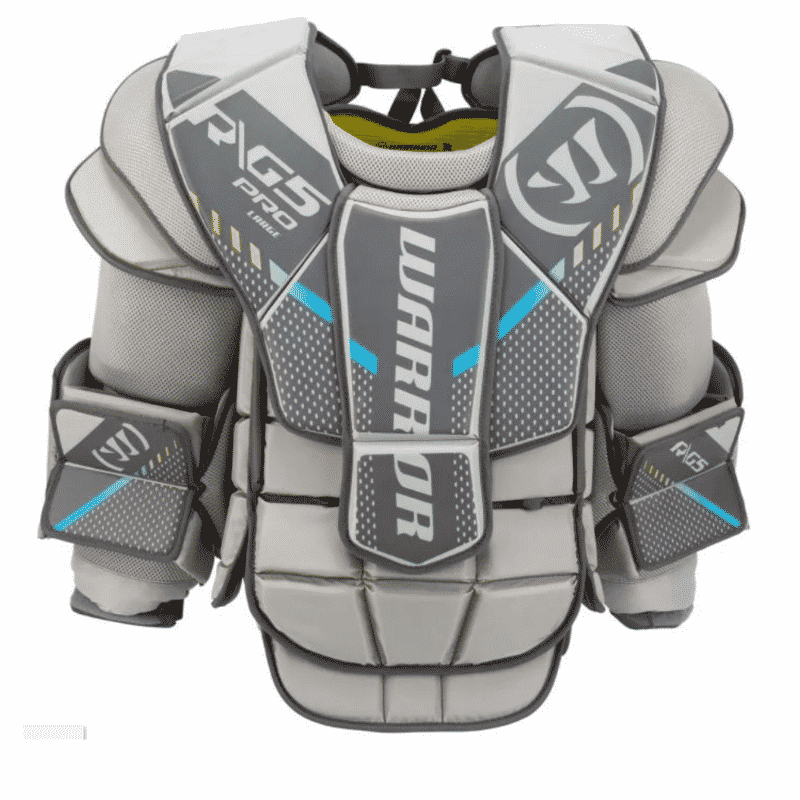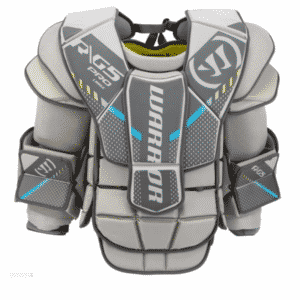 If you are at the point of getting a chest protector and you're wondering if you should go with the Warrior Pro or the Pro+, I would recommend the Pro+.
There isn't a whole lot of difference between the two.  They're both top of the line goalie chest protectors, but the G5 Pro+ chest protector has slightly better protection and mobility in the arms.
The difference maker is that there is Shock Shield and AxyFlex technology in the arm.  The Pro+ version has it, the Pro doesn't.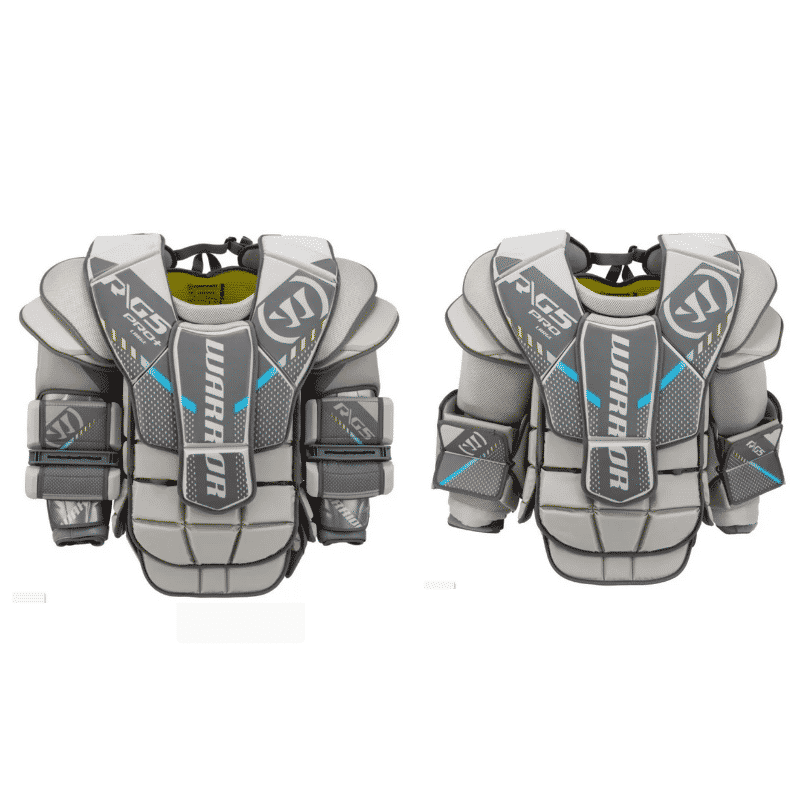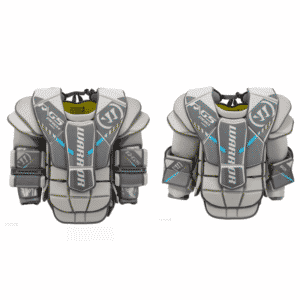 The ShockShield is really good at dispersing the impact (better than the material in the Pro chesty), and the AxyFlex adds mobility to the lower part of the arm.  Where the ShockShield is.
It's basically a hinge so that you can move your arm without hassle.
Other than thought though, there isn't a whole lot of difference otherwise.
But for an additional $20, it just makes sense to get the better chest protector.  You are already committing to elite performance on the ice, you might as well go all in.
That is just my two cents.
(of the Warrior Ritual G5 Pro chest protector)
Conclusion: Warrior Ritual G5 Pro+ Chest Protector Review
In all, the Warrior G5 Pro+ goalie chest protector is worth it.  While it may seem like a large investment, it has the price tag it does for a reason.  You aren't going to catch any stingers with this one and it's super easy to skate around in.
The adjustability of it is like no other chest protector on the market and the weight of it is low.  It is a little bit bulky, but not too bulky where you need a pair of suspenders to keep it down.
Overall this is a great chest protector for goalies.