It's with great excitement that we announce the latest innovation in goalie sticks from one of the top manufacturers in the space, Bauer.
Bauer is calling this next iteration of the Vapor line, "Hyperlite". We were first introduced to the Bauer Hyperlite goalie pad line earlier this year, when Bauer teased the line on Instagram. Let's take a look at our deep dive Bauer Vapor Hyperlite Goalie Stick review.
The Bauer Vapor Hyperlite goalie stick was released alongside the Bauer UltraSonic goalie stick. If you're currently in a Bauer UltraSonic or Bauer 3S Pro goalie stick, I'd highly recommend sticking with that series, as the curved toe on the new Hyperlite will throw you for a loop.
Bauer Vapor Hyperlite Goalie Stick Review
Let's start with the changes Bauer added with the Hyperlite goalie stick. 
A new curved toe design
New pattern design
Curved toe design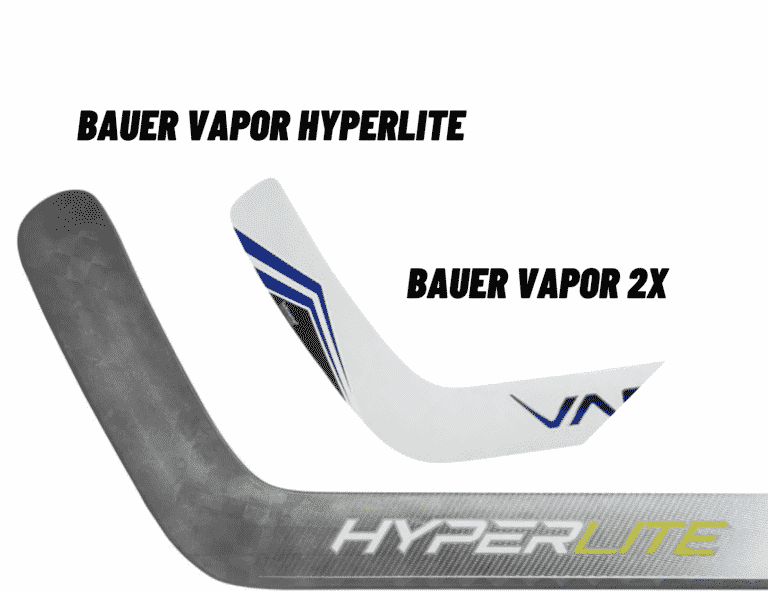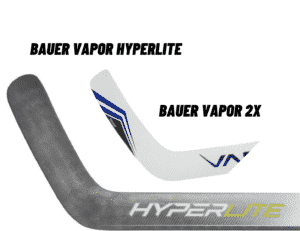 For those of you who were CCM stick lovers, thinking about making a switch to Bauer may be easier than ever before. One of the best things about CCM goalie sticks is the curved toe design.
As you can see from our photo to the left, the curved toe is really prominent on the top of the stick.
Another major difference from the Hyperlite goalie stick vs Bauer Vapor 2X goalie stick is the "flattening" of the blade when looking at the stick straight on.
The stick has more contact
Essentially, with the Bauer Hyperlite stick, Bauer is distancing itself from the "Foam Core" movement. The Vapor 2X goalie stick was the closest thing to a foam core goalie stick from the company and with the Hyperlite release, they can all but put a lid on the coffin.
Not a bad thing, by the way. Foam core sticks stuck around for awhile after the first composite goalie stick, but they're a thing of the past.
Bauer Hyperlite Goalie Stick Patterns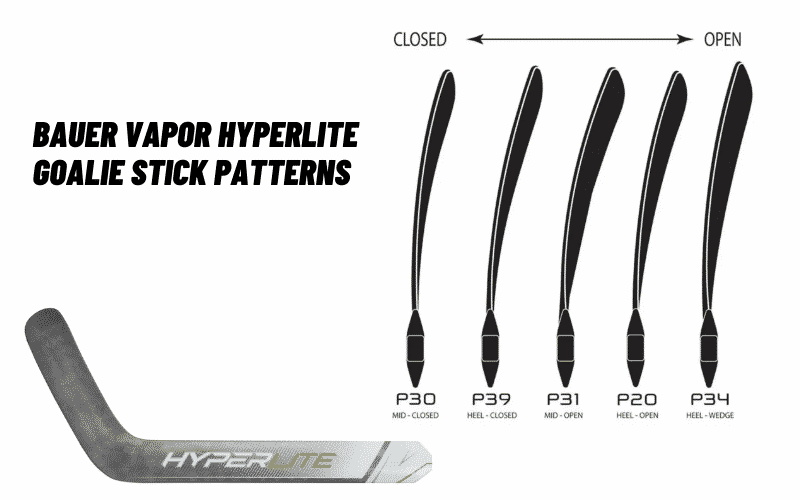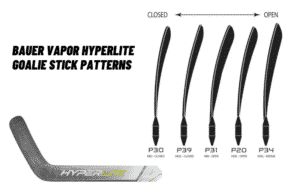 Bauer features multiple different pattern options for the Hyperlite goalie stick.
If you're stuck choosing a pattern, the P31 is by far the most common goalie stick pattern from Bauer.
As a general rule of thumb with patterns on goalie sticks, if you stick right in the middle, the chances you'll love it are high. It's when you decide to buy something like a P34 or a P30 (opposite ends of the spectrum) that you run into troubles and end up returning the thing.
So, again, when it comes to picking a pattern on this, if you want to play it safe stick with the P31.