Bauer has been at or near the top of the hockey industry for many years thanks to their hard work and dedication to making products that players have come to rely on.
The Bauer Supreme UltraSonic Goalie Stick is another example of the brand's pursuit of crafting sticks and other gear and equipment items that help elevate a player's game to the next level.
The Bauer Supreme UltraSonic Goalie Stick is moderately-priced and is one of the most popular goalie sticks available on the market today.
The engineers and design experts at Bauer have gone to great lengths to create a stick that provides a wide range of advantages for goalies on the ice.
In this article, we'll explore the many new ways in which the Bauer Supreme UltraSonic Goalie Stick is an upgrade over older models from the same company, as well as how this particular goalie stick offers more reasons for elite-level players to gain an advantage over their competition.
The Bauer Ultrasonic Goalie Stick's partner in crime? Take a look at the all new Bauer Vapor Hyperlite Goalie Stick. A quick word, however, if you're currently using a Bauer Supreme goalie stick of some form or another, I'd recommend sticking with the Supreme line. We cover the big changes to Hyperlite over on the linked page above, one of which is the new curved toe on the Hyperlite series. It's a big adjustment.
If you have to compare the Bauer Ultrasonic Goalie Stick vs Bauer Hyperlite Goalie Stick, think of it in these ways. The Bauer Ultrasonic is your high performance, rip the puck off the glass goalie stick where the Hyperlite is more of a puck handling stick. Both shoot the puck extremely well, but personally, I prefer the Ultrasonic.
Best Stick Handling/ Shooting
Bauer Supreme UltraSonic Goalie Stick Review
The Bauer Supreme UltraSonic Goalie Stick still has much of the same look that it has had for the last few seasons, but the brand has actually made some pretty significant changes to the stick's makeup that should capture the attention of players at any level.
Bauer has worked to make their headline stick model more durable and capable of withstanding a much greater workload than ever before through new carbon fiber material that's incredibly lightweight and tough.
As most goalies know, the lighter their stick feels, the better their performance will be on the ice as it will undoubtedly allow them to have faster reaction speeds and to further utilize their lightning-quick reflexes to block the puck and guard against the opposing teams' shots.
The stick now has an even lighter feel than ever before and Bauer boasts that its strength and durability are as good as ever thanks to the intricate construction efforts and new technologies used to make this product.
Taking a closer look at some of these new technologies and improved features makes it clear as to why so many goalies—at all levels of the sport—are turning to Bauer products like the Supreme UltraSonic Goalie Stick for an overall better performance.
Want UltraSonic like performance, without the price tag? 
Consider the Bauer 3S goalie stick. The 3S is the next step down from the Ultrasonic and the only major difference is in a few of the materials used and the ribbed shaft on the back (it's missing from the 3S).
Get the Bauer 3S goalie stick at Goalie Monkey.
Carbon Fiber Construction
One of the main reasons why the Bauer Supreme UltraSonic Goalie Stick has such an edge over the other goalie sticks currently on the market for a similar price range is that it's made of specialized carbon fiber material that gives it the impressive qualities that players want.
This carbon fiber material is wrapped onto the stick in layers that are strengthened with each one, creating a stronger and stronger stick with each new carbon layer.
Bauer has dubbed this its Advanced Carbon Layering Technology and makes it possible for the stick to be incredibly lightweight, yet actually more durable than previous models that were constructed out of different material.
The carbon material makes up the stick's grip portion, as well as the paddle, which means it will not be prone to breaking or cracking in the same way traditional sticks have been known to.
Related: Warrior M1 Pro+ Stick Review
UltraSonic Paddle
Part of why so many goalies see the Bauer Supreme UltraSonic Goalie Stick as a premier product is that it's paddle is made of a more energy-friendly material that is capable of allowing players to get faster and harder shots off.
A typical goalie stick paddle's known breaking points are not exactly the same when it comes to Bauer's new model as this stick is made with carbon material that holds up much better than traditional goalie stick material.
The stick's paddle offers much of the same curvature degrees and angles as previous models, but Bauer engineers and design experts have worked to increase the durability of this portion of the stick thanks to a newly designed Ergo Spine+ that features a more solid profile where breaks and cracks would normally occur during intense competition.
When other sticks' paddles might crack or break, the Bauer Supreme UltraSonic Goalie Stick holds up quite well, which makes it even more appealing to goalies who tend to block shots or passes with their paddle on occasion.
New 3K Carbon Shaft Design
Having a stick that's as light as possible is an incredible asset for any goalie and Bauer's new design is a testament to this fact. Bauer's previous headline stick model, the 2S Pro, relied on 12K Carbon material for its construction.
While this stick was quite a bit lighter than other, more traditional models, it still didn't offer the significant level of maneuverability that the Supreme UltraSonic Goalie Stick's 3K Carbon does.
This new material is made to be lighter, yet has the capability of offering just as much durability and strength as the 12K Carbon constructed stick.
Players note that this new material gives the stick a much more balanced feel than other models made by the Bauer brand.
Aero Foam 3 Core Blade
This stick's blade is made with a specialized Aero Foam 3 Core Blade that provides an elevated level of durability, just as the rest of the stick does.
It maintains a good level of stiffness and rigidity while still letting players have an ideal level of energy transfer with shots.
Bauer used much of the same blade construction that they did with the 2S Pro, but with newer, more fibrous carbon material that is a better all-around option than the heavier carbon that was previously used.
Best Stick Handling/ Shooting
Bauer Ultrasonic Goalie Stick Blade Patterns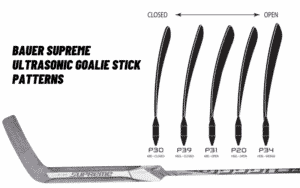 The Bauer Ultrasonic Goalie stick truly is one of the top performing goalie sticks on the market and it will be for several years to come.
When it comes to innovation, Bauer is ahead of the game in many aspects, their stick department is no different.
For fans of the Bauer brand, the Supreme UltraSonic Goalie Stick is a work of art that will fit right in with the same feel and level of performance they are used to. This stick's featherweight feel is a welcome addition for players who have had to deal with awkward, unbalanced sticks on the ice. It is a bit more costly than other models that are currently on the market, but elite players will understand the benefits and see this as a worthy investment that should heighten their own game to new levels.
Blade patterns on the new Bauer Ultrasonic Goalie Stick include:
Whether you decide to ultimately buy the Ultrasonic, or go with it's sister stick the Vapor Hyperlite, you won't go wrong shooting a Bauer twig. Some of the top performing sticks on the market.