Like just about every other large equipment manufacturer on the market, CCM carries multiple lines of goalie equipment. The CCM Axis lineup of gear is a complement to the CCM E Flex Line. It was released in 2020, and is worn by current Nashville Predators goalie Jusse Saros. There are a handful of other high end NHL and professional goalies wearing this gear in addition to those at entry levels of play.
In today's deep dive, we're going to be doing a CCM Axis Goalie Gear Review. We'll be doing a complete CCM Axis Pad Review, Glove deep dive, Blocker, Pants, Chest Protector, the whole nine yards. As with every deep dive we do, we'll be writing individual reviews of each section of gear, so just navigate there once you're in.
The CCM Axis line complements the CCM E Flex 5 goalie gear.
Here's all of the gear in the CCM Axis line.
CCM Axis Pads
CCM Axis Glove
CCM Axis Blocker
CCM Axis Goalie Pants
CCM Axis Chest Protector
CCM Axis Goalie Gear Review, Worth The Investment?
First things first, with the CCM Axis line, it's worth pointing out that you're getting pro level gear. You're getting the best of the best. This is the closest competitor to anything Bauer has made in recent years (Bauer Ultrasonic, Bauer 2S, Bauer 2X, etc).
The Axis lineup from CCM was far and away the most dramatic turn the brand has taken when it comes to gear, and they're well worth your money. The Axis gear line focuses on doing two things extremely well. First, they're designed to be light. Very light. This is some of the most lightweight, durable goalie equipment on the market. Second, they're built to control rebounds. Not just deflect rebounds, to fire rebounds out of the slot area quicker than any other model of CCM gear currently made.
The question we ask ourselves is this, do they accomplish both of those things?
The answer is a simple, 100%. So, personally, I think CCM Axis goalie gear has gotten a bad reputation. I think that the design of the pads turned a few people off, they thought it was a move designed to copy Bauer or Warrior, and they took it as cheap.
Well, what actually happened is around the time that the CCM Axis line should've been taking off, the core behind the gear made by CCM split (technically, CCM didn't renew their contract) and it overshadowed any progress the brand had made. So, Lefevre leaves CCM and CCM debuts the Axis line. Fans aren't big on the way the gear looks, and it shines a negative light on the gear.
When, in reality, the CCM Axis gear lineup is one of the most technologically advanced and best performance goalie pad lineups available to goalies around the world today. This gear controls rebounds just as well, if not better, than Bauer's UltraSonic gear line, as well as anything currently produced by Warrior.
What makes CCM Axis Gear Worth it? Let's start with the pads.
Here's everything listed by CCM as features that set the Axis lineup of pads apart from it's competitors.
They're built with L1TEXCORE Technology 
What CCM calls "Max Rebound+ Technology"
New quick motion strap system
Core Options on CCM Axis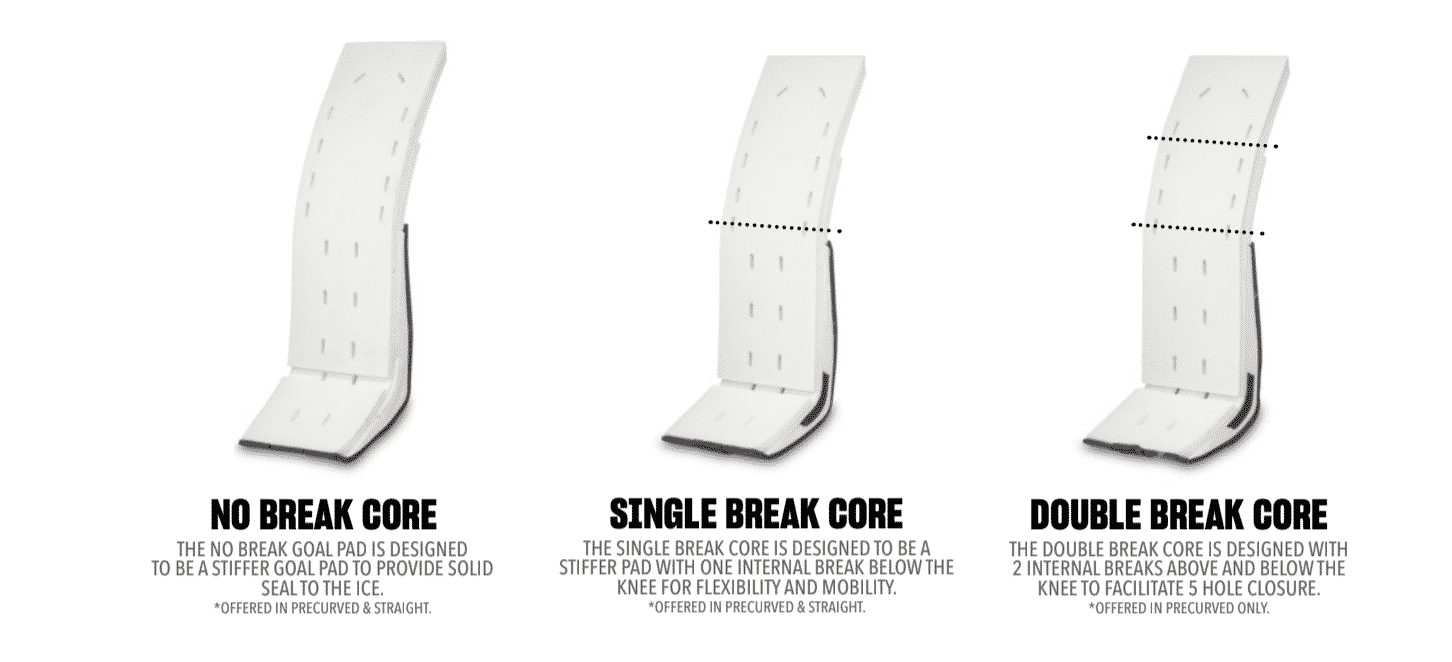 The CCM Axis line offers multiple different core options. In fact, it offers one more than the CCM E Flex line currently does.
First, the No Break Core.
The no break core is very similar to pads currently built by Bauer. These pads are going to take pucks and control them better than any other break option simply because the core is more rigid. They're a true butterfly style option.
Second, the Single Break Core. 
The single break core is the most popular goalie pad break on the market right now. Many goalies who play a modern style (every goalie plays a modern style) opt for a single break core. If you don't know what you should do, you cannot go wrong with a single break core. These are also great for younger and beginner goalies who are still learning to play the position and learn their style.
Finally, The Double Break Core.
The double break core offers the most complete 5 hole coverage for a goalie. They've got two internal breaks both above and below the knee that offer more pad curve and better coverage  than any of the other break options.
Multiple Leg Channel Options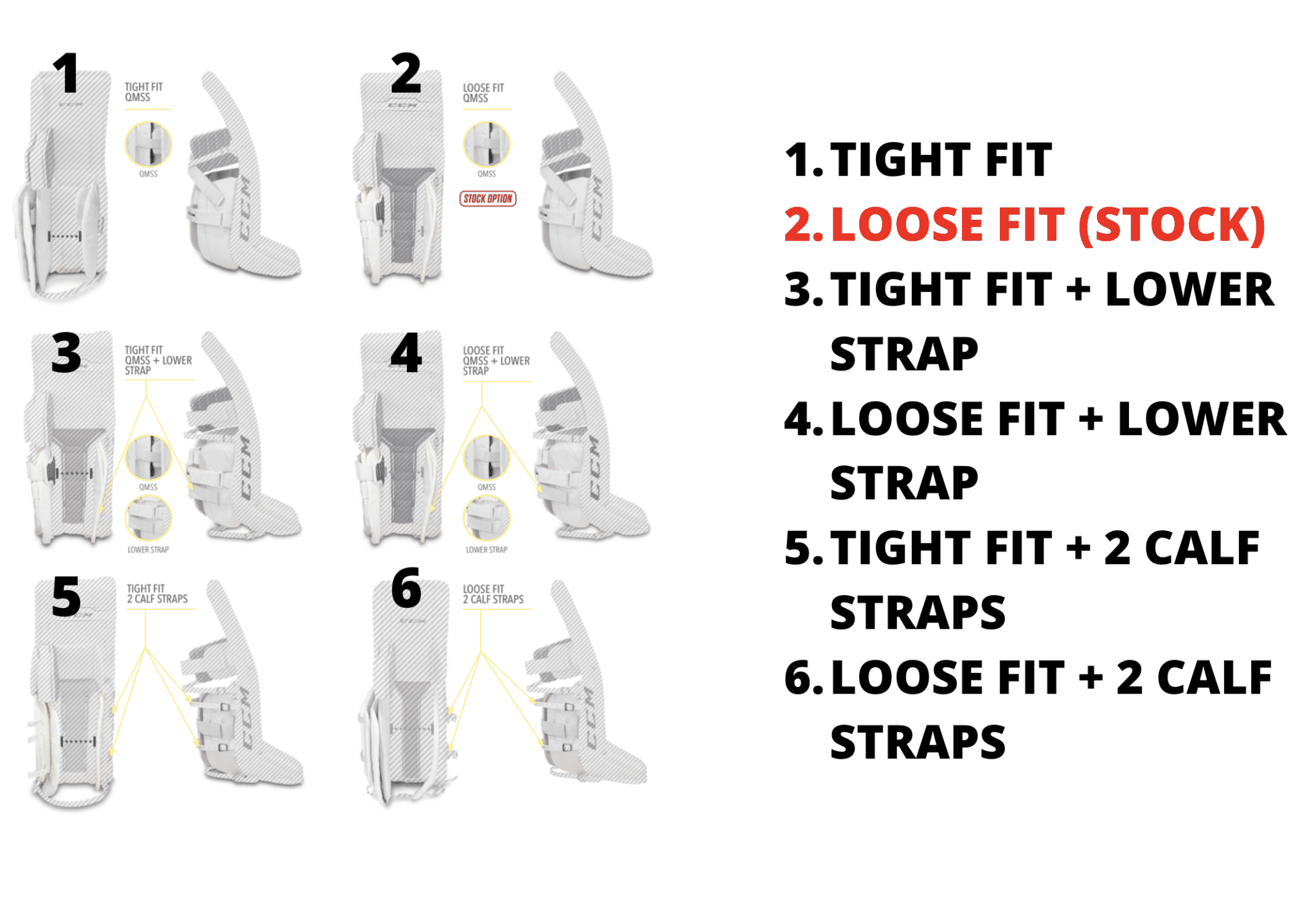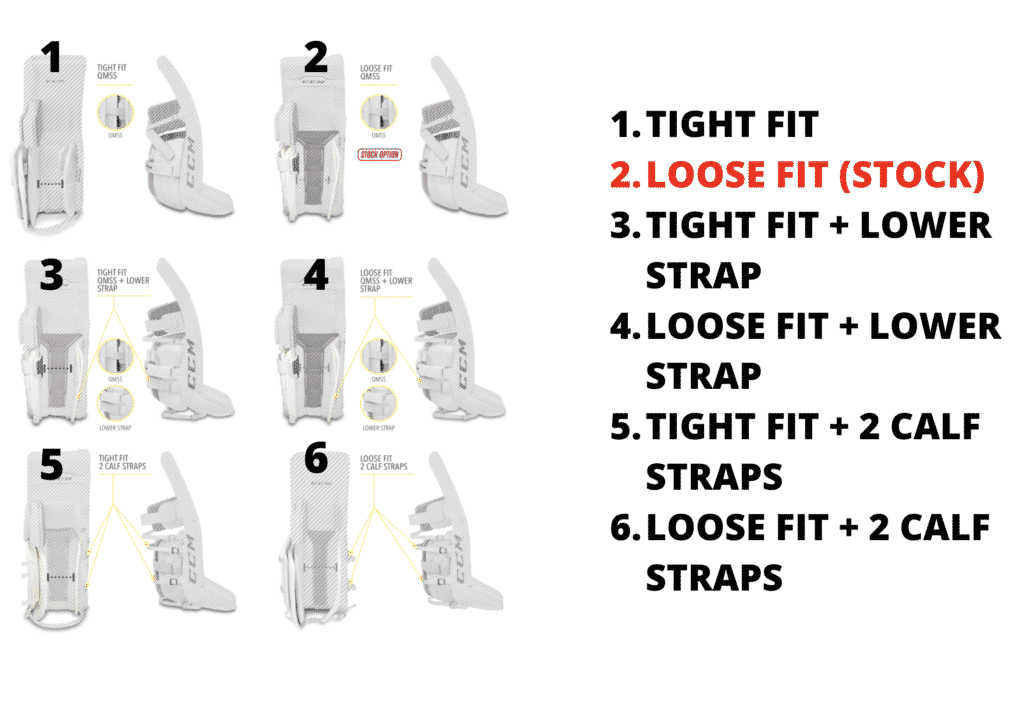 The stock option on the CCM Axis line is a loose fit leg channel. If you're not the type of goalie who prefers a loose fit (most do), there are tight fit options as well as both loose and tight leg channels with extra straps below the stretch strap behind the calf.
So, to summarize the leg channel options on these pads.
Tight Fit
Loose Fit (Stock)
Tight Fit + Lower Strap
Loose Fit + Lower Strap
Tight Fit + 2 Calf Straps
Loose Fit + 2 Calf Straps
As with any set, there are a ton of customization options that you can choose.
Knee Strap + Boot Strap Options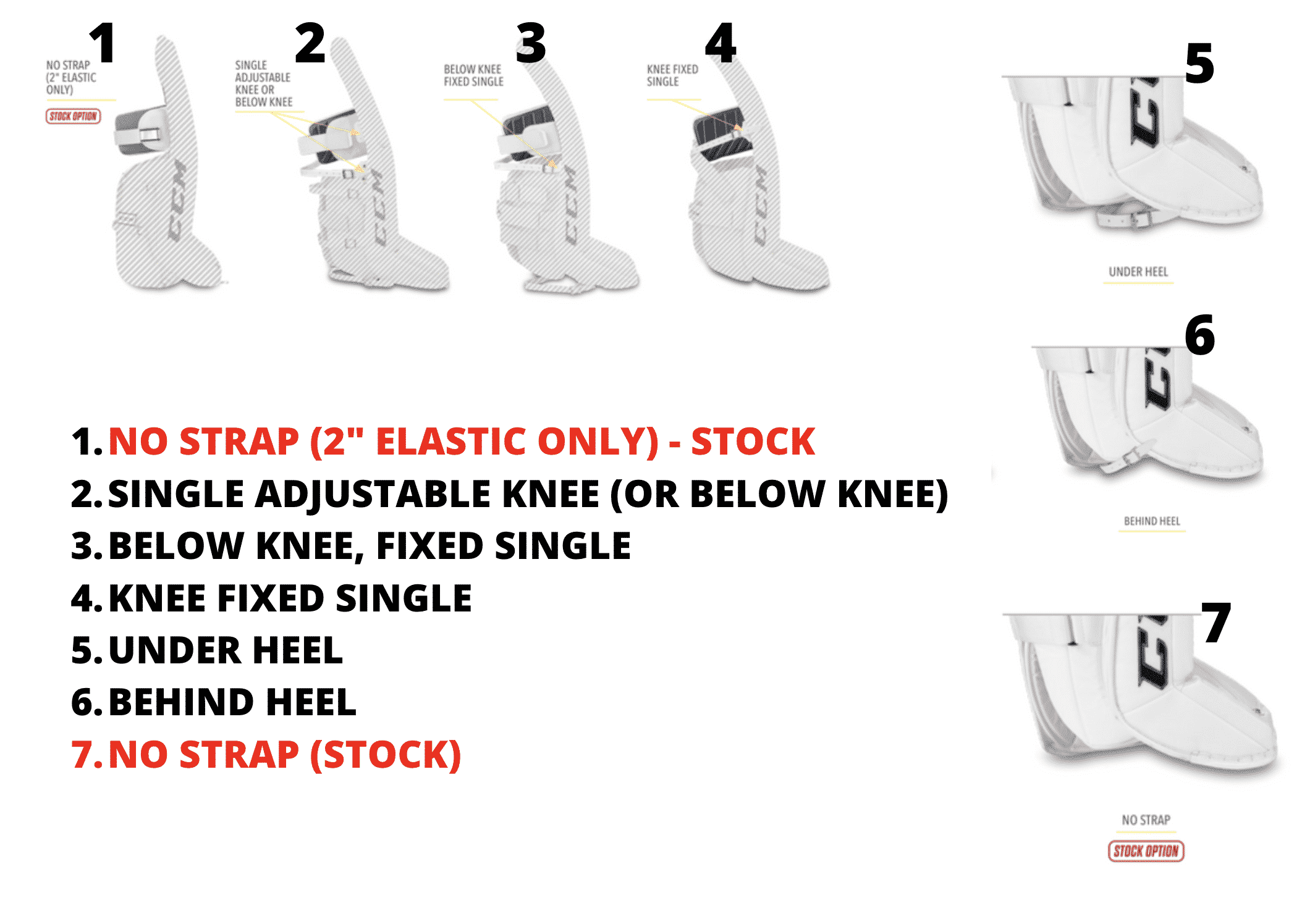 The knee and boot area are two critical areas for any goalie.
First, starting with the knee area. From left to right in our diagram. 
No Strap (2 inch elastic strap only) – this is the stock knee strap option and most popular among goalies
Single adjustable knee (or below knee)
Below knee, fixed single strap
Knee fixed single strap
Under Heel
Behind Heel
No Strap (Stock)