Ever wonder about all the possible goalie gear modifications a goalie can do? There are thousands of ways goalies modify their gear and in this guide, we're going to cover some of the coolest goalie equipment modifications we've ever seen.
This guide will be updated continually, so while it may appear small to start, we'll add to it on a weekly basis as we unpack new gear mods goalies are doing to their equipment.
To make navigating this gear modifications guide easier, we've pre-built links to each different section within the guide.
Goalie Gear Modifications
In the world of the goalie, there are literally thousands of different ways to modify your gear. From tiny things, such as changing the way a sweatband sits in the goalies helmet, to large things, like removing entire portions of padding in a pair of goalie pants. Goalies happen to be some of the most interesting types of hockey players on the planet. Always interested in maximizing the performance of their gear and in turn their game, it seems that goalies will stop at nothing when it comes to modifying their equipment.
Below, you'll find an alphabetic list of some of the ways that goalies modify their gear. In cases where a more details explanation of the gear modification being made is required, we'll link to the appropriate section of our website that looks at the modification more in depth.
Skate Modifications
The Lundy Loop – made famous by Future Hall of Fame goalie Henrik Lundqvist, this is a basic modification made to the back of a goalies skate that allows a goalie to run the boot strap of their goalie pad through the back of their skate, instead of beneath their foot.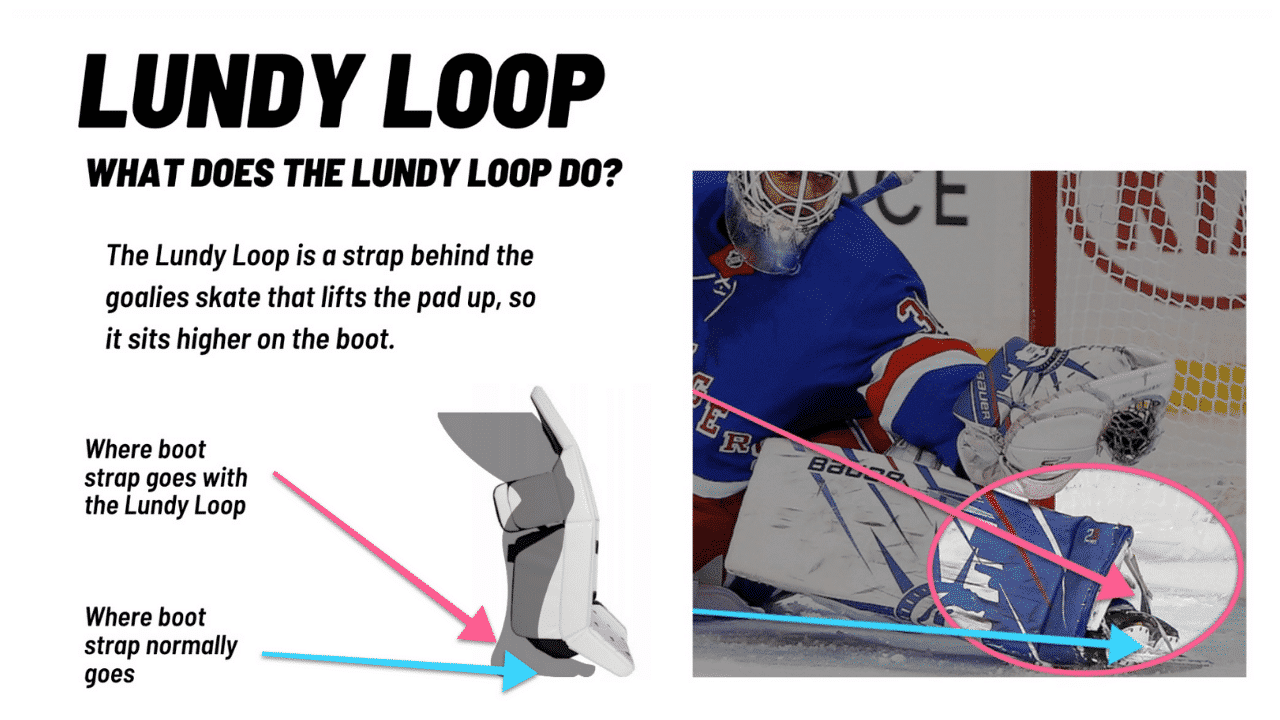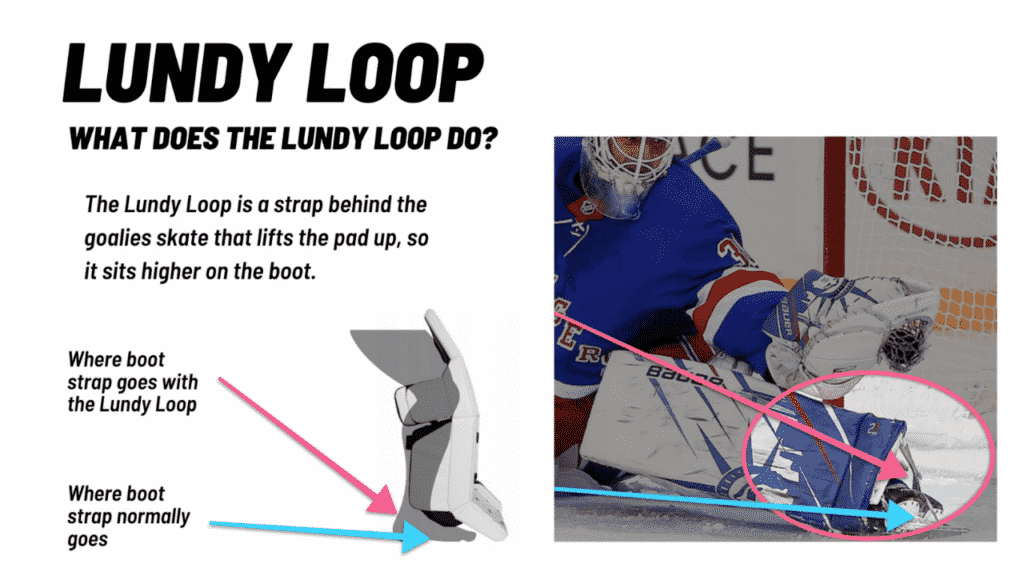 Helmet Modifications
There are a couple modifications that can be easily made to a goalie helmet. One of the biggest is changing out the sweatband, or upgrading the foam inside. While there aren't great options for foam replacement on the market currently, some NHL goalies still use a product called "Maltese" foam.
Adding a Dangler
Adding a dangler protective shield to the goalie helmet is required in many leagues, but not at the NHL level. There are several pros who use a dangler, however.
Kaapo Kahkonen attaches his dangler using hockey skate lace. This is one of the most popular methods of attaching a dangler throat protector shield to the goalie helmet.
Photo by @doncarlson4524
Pad Modifications
When it comes to modifying goalie pads themselves, changes are rarely made to the exterior, puck facing portion of the pad.
Adding knee blocks to the knee pad landing zone
Adjusting the strapping, adding or removing straps to the strapping zone of the pad
Adding custom toe ties (highly recommended)
Removing thigh protectors (recommended, if knee guards are worn)
Chest Protector Modifications
Modifying the chest protector is extremely common. It's one of the easiest pieces of equipment to make custom modifications to.
Adding padding to the shoulder "floaters"
Adding shoulder straps on chest protector floaters, designed to help keep suspenders in place
Removing padding from the bottom of the chest protector to increase mobility near the waist (not recommended)
Adding padding to the arms of the chest protector
Removing length from the wrist(s) of the chest protector
Pants Modifications
There are several ways to modify the pants a goalie wears.
Adding suspender straps
Adjusting the goalie pant belt (removing)
Removing padding in specific areas (not recommended)
Adding padding to the interior thigh area
Cutting the waist protection for better mobility when tucking the chest protector (not recommended)
Glove Modifications
The modifications made to a goalies glove, one of the most important pieces of a goalies equipment, are slightly limited unless a custom glove is ordered. One of the easiest at home goalie glove modifications is replacing the glove lace with skate lace.
Adding a skate lace pocket
Adding an interior wrist strap (extremely difficult)
Kaapo Kahkonen uses a modified skate lace pocket in his glove. Photo by @doncarlson4524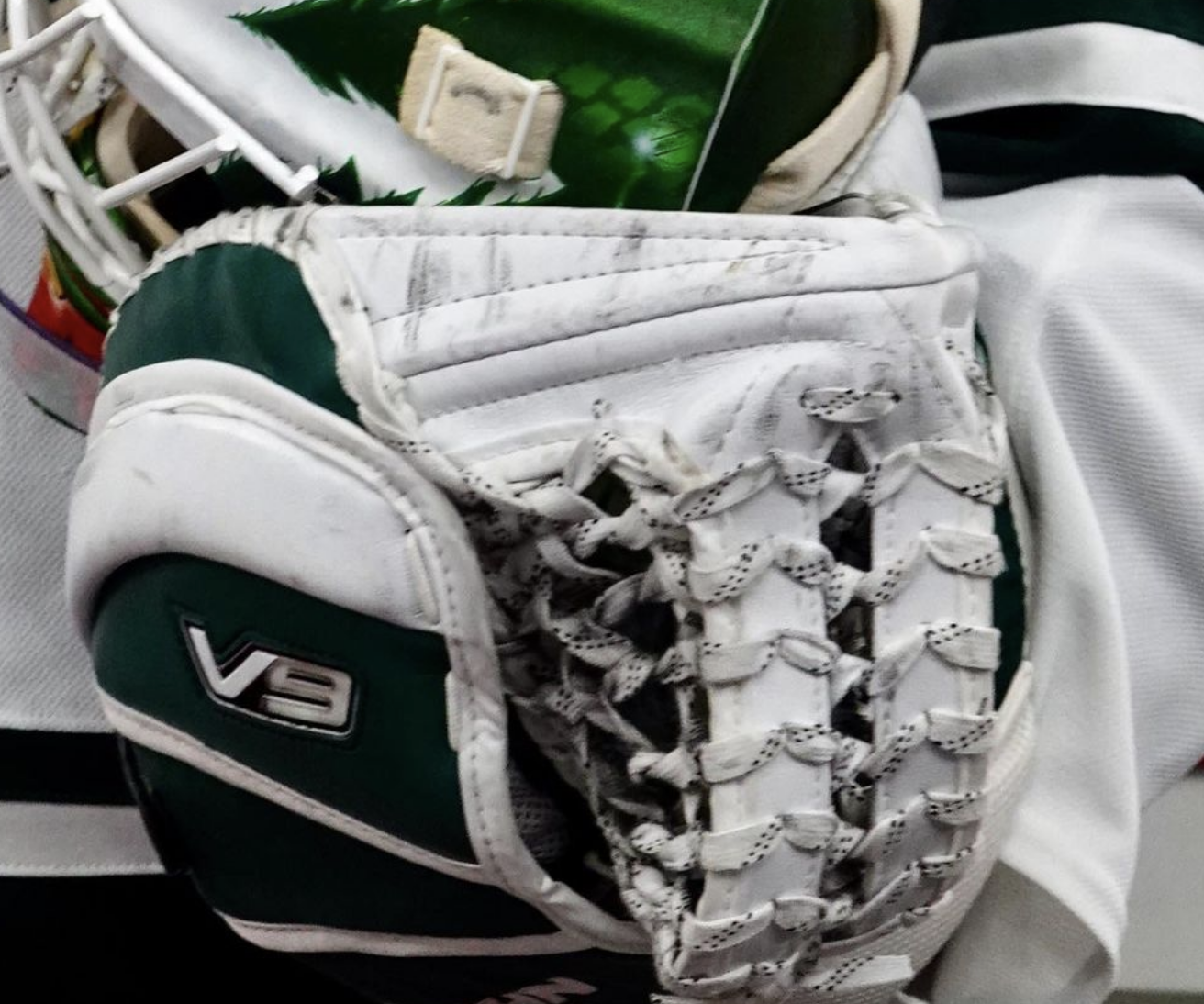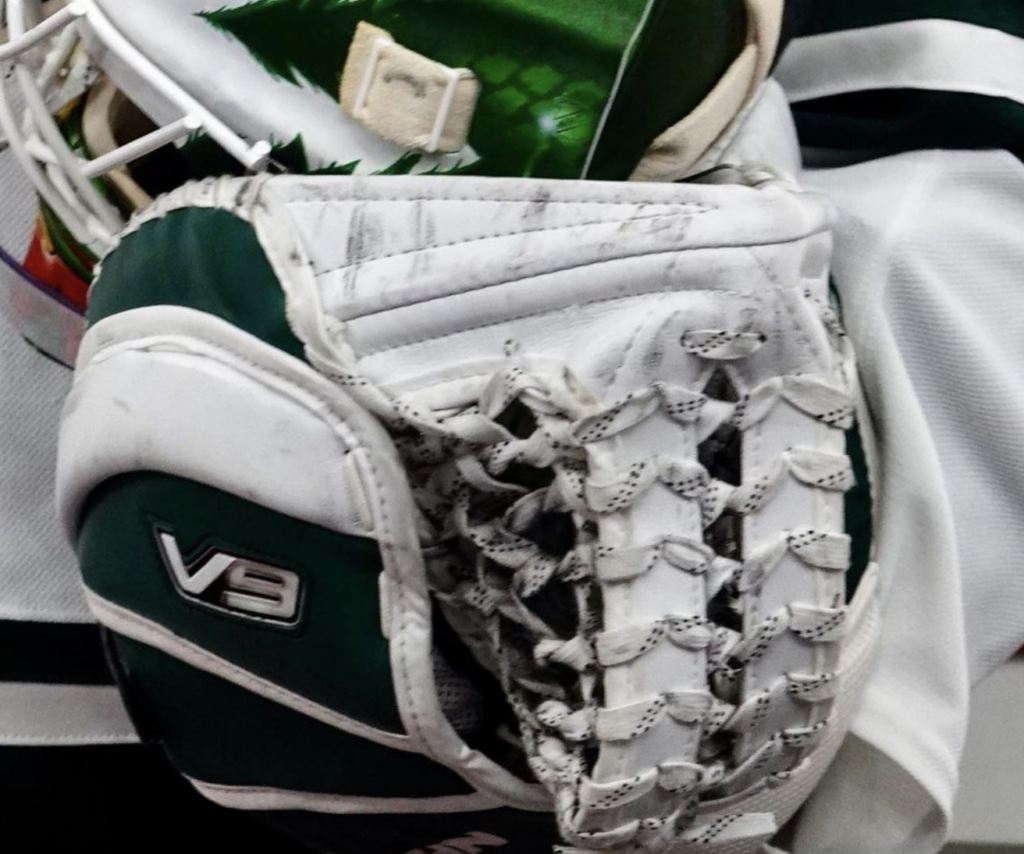 Blocker Modifications
The blocker is one of the most ignored pieces of goalie equipment. It's hard to modify and outside of removing padding, which isn't recommended, it's often kept stock.
Stick Modifications
The goalie stick is one of the easiest and most common pieces of equipment to modify as a goalie. There are generally three ways to modify a goalie stick.
Customizing how a goalie stick is taped
Cutting a goalie stick shorter
Cutting into the paddle grip section of a stick, to create a hand grip
Kaapo Kahkonen, goalie for the Minnesota Wild, uses a minimal paddle grip taped using what appears to be only hockey tape. 
Photo by @doncarlson4524