Toe Ties. Toe Ties are the system used by goalies to connect their goalie pads to the tip of their goalie skate. Toe ties relieve pressure on a goalies joints by providing a forgiving, stretchable system that keeps their pad in proper position on the foot.
Shockingly, one of the best innovations we've seen in goalie pads over the past 5 years has been in the toe ties. If you're not familiar with goalie toe ties, all they are is the toe straps used to attach goalie pads to the goalies skate. We've also heard them referred to as toe hooks. In fact, one of our favorite toe strap options on the market is called a toe hook. We'll get in to that.
Yes, goalie pad toe ties. Toe straps. Toe hooks. You get the point. The thing used to attach the goalie pad to the skate.
Previously, goalies used skate lace to attach their pads to the toe of their skates. However, with more and more attention on hip injuries in goalies, there has been a number of products released that are designed to be easier to attach and easier on the goalies hips and ankles. Gone are the days of using a skate lace to attach your goalie skates to your pad.
These are the best goalie toe ties on the market.
What are the best hockey goalie toe ties?
First things first, there are a lot of one-off companies that make toe ties due to their relatively low time and monetary investment. If you're not going to make toe ties yourself, buy them from either Goalie Monkey or Pure Goalie.
Why, though?
Because you'll get your product when you actually need it. Without mentioning specific company names, around 2018 and 2019, there was a smaller equipment manufacturer that sort of.. "messed things up" for the rest of small companies trying to make gear, especially things like toe ties.
So, just pick them up from either GM or PG. Well worth the peace of mind that you'll get your product on time.
The Original Toe Hook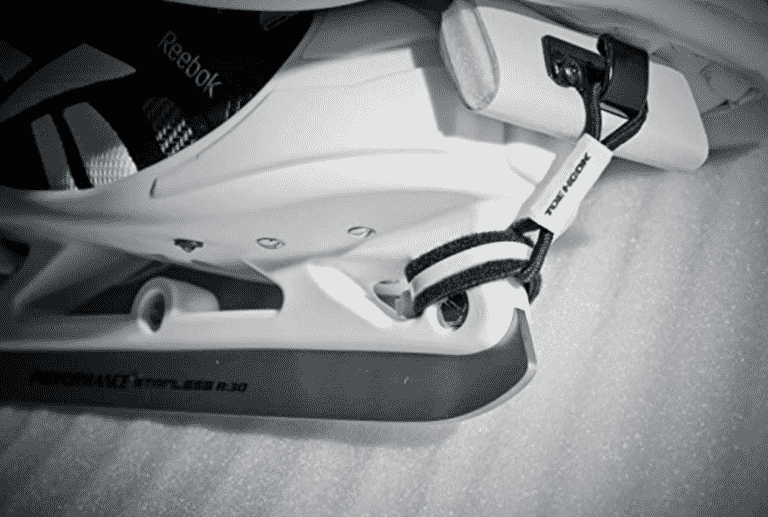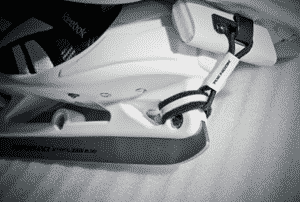 The Original Toe Hook is the single best option available for a number of reasons.  First off, each set comes with a replacement. If you buy the CCM Toe Ties or any other variation, chances are, it's not coming with replacements.
Reason #1 – they're the most durable
Reason #2 – they stay on better
Reason #3 – they come with replacements
If those three reasons aren't enough to convince you, consider getting the CCM Toe Ties, as they're the second most popular option available to goalies commercially.
Later on, we get into building your own DIY goalie toe straps. If you're going to build your own, you'll want to copy the design used by CCM.
Why The Original Toe Hook instead of CCM?
The biggest advantage offered by the Toe Hook we're talking about here is the fact that they're less likely to break during the course of a game or practice. The CCM model, or anything like it, is constantly rubbing against the ice, causing it to wear down.
Toe ties are like concrete, the only guarantee is that they'll break. Eventually. Buy some that send a backup set with it, trust us, you won't regret your decision.
CCM Toe Ties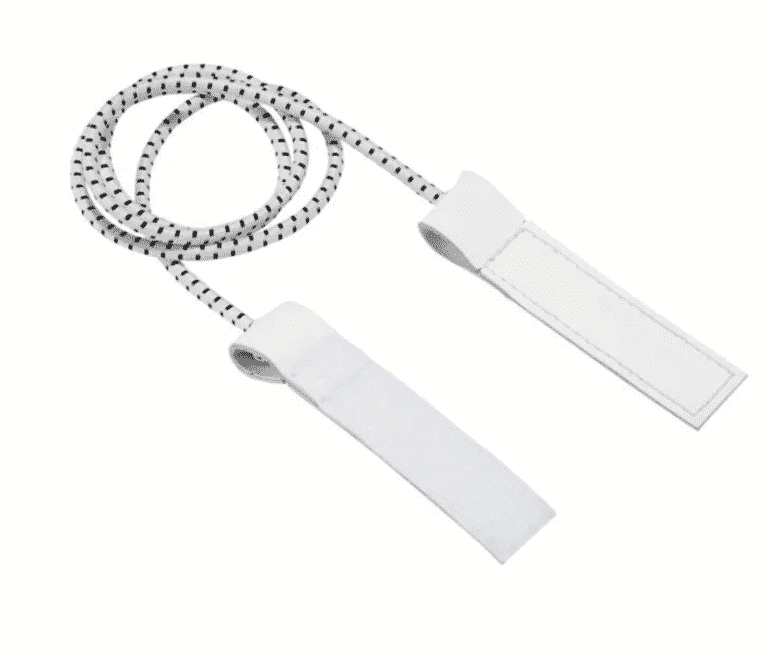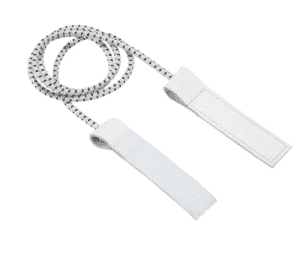 These are the most common type of goalie pad toe-tie you'll find today. They've got a stretch lace, with a few pieces of velcro attached to Jen-pro at the end of the tie. They strap up in less than a second and typically do not come undone the entire time you're on the ice.
These are the single best style of goalie pad toe strap for any goalie at any level, yet, many continue to buck the trend. Honestly, knock it off. Try them, if you hate them, contact us and we'll make it right for you. You, specifically your hips, will love you.
Do the stretchy elastic toe straps break easily? We've worked with goalies at pretty much every level of play, including the NHL (who use these), and honestly, these things actually last for quite some time. That is, unless, you take a skate blade to the skate the first time you get on the ice.
Buy CCM Toe Ties at Goalie Monkey
Brian's Smart Strap System
Ironically enough, if you're looking to buy Brian's Smart Strap system, it might be a matter of timing. For whatever reason, the Smart Strap setup isn't always listed on Goalie Monkey. It's rarely available on Pure Goalie, either.
The Smart Strap is great, but as the game or practice goes along, you'll notice the straps starting to build up snow and ice. It's our third recommendation for that reason. Many pro goalies often remove this for a Toe Hook, a Stretch Lace, or skate laces in general.
Bauer Stretch Lace 
Bauer Stretch Lace is the easiest form of toe ties. It doesn't include the velcro straps, you simply tie the tops above your skates and start playing.
While the stretch lace actually out peforms both The Original Toe Hook and the CCM Toe Ties in terms of durability, it's like a stretchy skate lace. We do see some goalies still wearing a lace system like this, but Bauer could do better and switch to a Toe Hook or Toe Tie system. In fact, on the Bauer 2X lineup, they've done just that.
Buy Bauer Stretch Lace at Goalie Monkey
Buy Bauer Stretch Lace at Pure Goalie
Stretchable Toe Ties vs Skate Lace Toe Ties
The main difference between stretchy toe ties and skate lace toe ties is the forgiveness allowed by toe ties that stretch. Stretchable toe ties made out of material that stretches are the superior choice used by goalies around the world and the majority of the NHL. If you're still using toe ties made out of skate lace, consider moving to a toe-tie system that stretches and relieves pressure on your joints.
How to make toe ties for goalies
Ok. The fun part.
If you're reading this far, you're like me. You think you can do everything better than the guys doing it for a living. Ok, ok, ok. I hear you.
If you're looking to make these things yourself, you need some 3/8″ stretch shock cord from Amazon, some velcro, something to attach the velcro to (in a perfect world, Jen-pro), and the capability to sew velcro to your jen-pro.
There's really no step by step needed as you simply sew the Jen-pro to the velcro and poke a tiny hole in it (to attach your shock cord).
You can buy both the Jen Pro and the Shock Cord on Amazon.
The video below is slow, but it does show you how to make a variation of the toe tie style toe strap. To be perfectly honest, the toe ties built using Jen Pro are a better option.