Year after year, the NHL continues to try to reduce the size of the goaltenders equipment. Most recently, we saw a reduction in the size of goalie pants, and this year we will see a smaller chest protector.
ESPN covered the latest changes to NHL goalie equipment in a recent article, well worth the read.
How will goalies cope with the smaller chest protectors this season? Time will tell, but for the time being it appears that an investment in a throat protector will not be a bad practice. For goalies below the NHL, stick to stock chest protectors.
New NHL Spec Chest Protectors for 2018 / 2019 Season: What are the changes?
A post shared below by @goaliegearnerd actually outlines everything perfectly. The photo will be reposted again below, because it's a good example of the new Vaughn C / A as well.
According to GGN, "The majority of the sizing restrictions are to the shoulder floaters and upper body area, while arm width restrictions are also possible". The comment also goes on to say that the user has not had any stingers in a high level skate.
In this post, we're going to feature a chest protector from each of the major pad manufacturing brands.
Bauer's 2018 / 19 NHL Spec Chest Protector 
Garret Sparks drops photos of the new streamlined Bauer Chest Protector on his Instagram story, which were then posted by Goalie Gear Nerd.
 Here's another, slightly closer look at the new chest unit. Peter Budaj originally posted a quick tour of the new chest and arm unit on Instagram, reposted by @goaliegearnerd.
The biggest change to note in the new chest protector guidelines is the shoulder floaters decreasing in width. Once we've got a better photo of just how much these have decreased in size, we'll attach it to each companies C / A. In our opinion, the actual floaters are using extra space. Some of the best chest protectors on the market have much less width from floater to floater edge, and it makes a huge difference as far as mobility is concerned.
Buy Bauer Chest Protectors on Pure Goalie. 
Next up, the Brian's Streamlined NHL Spec C / A
Brian's posted a photo of the new streamlined chest protector for 2018 / 19 and going forward to Instagram recently.
One of the first things that's easily notable is the shoulder floaters. They look a lot smaller and they ARE a lot smaller. Here's a comparison photo of a non NHL spec chest protector to a 2018/19 NHL spec chest protector for Brian's.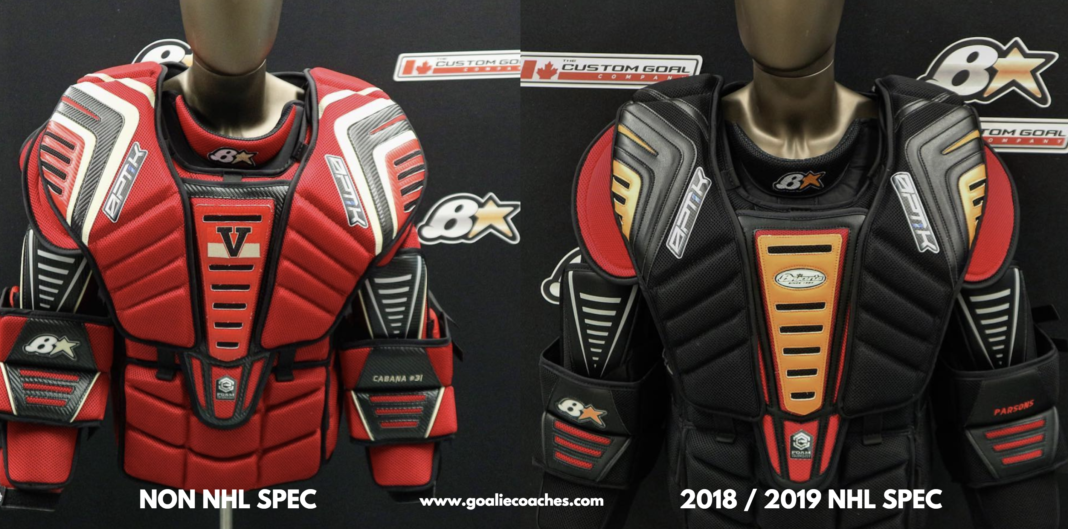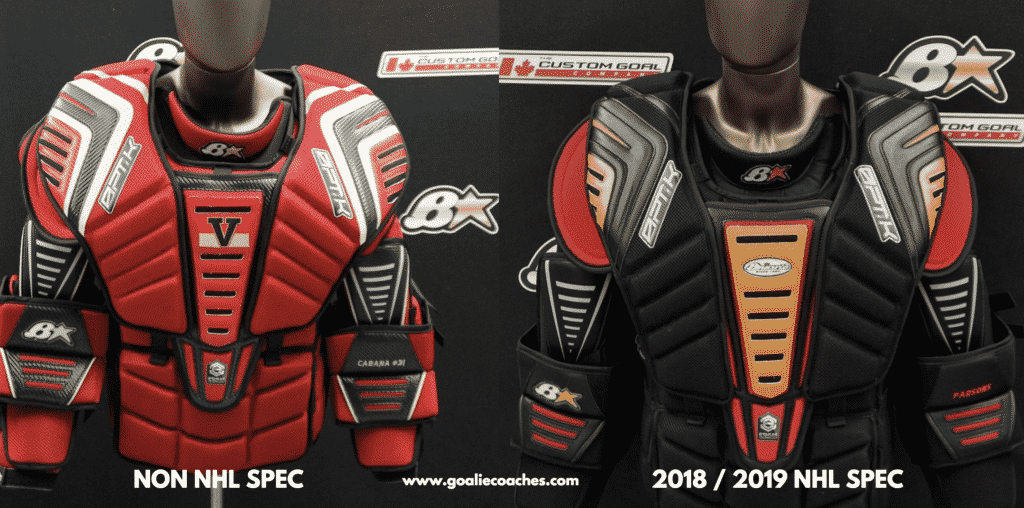 In addition to the smaller shoulder floaters, the elbow section appears to be tightened just a bit.
Buy Brian's Chest Protectors on Pure Goalie. 
CCM's new C / A
The CCM chest protector actually looks the bulkiest (a word you'll probably only ever hear goalies mention) of them all.
Curtis Mcelhinney shared a photo of his new gear, including the CCM E-Flex 4 goalie pads, on Instagram.
Here's a direct comparison of old vs. new. The screenshot at right is from Mcelhinney's post on Instagram.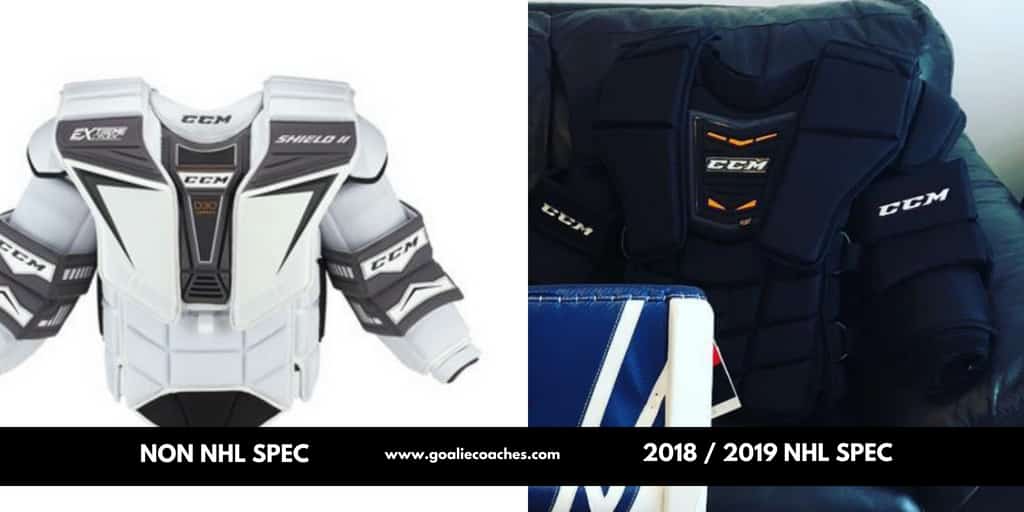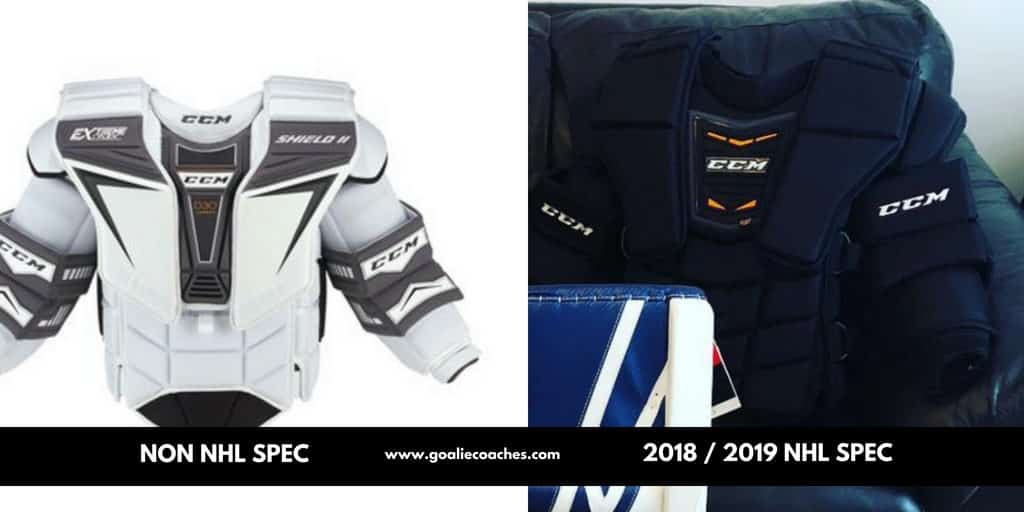 Buy CCM Chest Protectors on Pure Goalie. 
Vaughn's streamlined chest and arm unit
A repost of the photo from above.
 Here's a comparison photo of a non NHL spec chest protector and the new NHL spec chest protector. The screenshot used in the photo is from @goaliegearnerd.