Just 3-5 years ago, composite goalie sticks were almost unheard of in the NHL. Up until this point, goalies used wooden or foam core sticks. However, with the release of the Bauer 1S goalie stick (and for 2018, the Bauer 2S goalie stick), goalies started to break the trend.
During the 2017 / 2018 NHL season, we've started to see an unprecedented number of goalies using composite goalie sticks. For those that haven't completely made the switch, Warrior remains a popular brand, or the Bauer 1X stick.
The Warrior Ritual CR1 Goalie Stick Review 
The Warrior Ritual CR1 goalie stick has taken the NHL by storm during the 2017/18 season. First handling of the stick, it's well balanced and does feel light in the hand. One of the biggest differences between the Warrior stick and Bauer's 2S stick, is the weight. Bauer's feels a lot lighter side by side.
However, with that same thing being said, Warrior isn't trying to be Bauer with this stick. They've developed a composite stick that's far lighter than any other foam core stick on the market today and they're slowly gaining market share with this approach.
We recommend buying the Warrior CR1 Goalie Stick with Pure Goalie.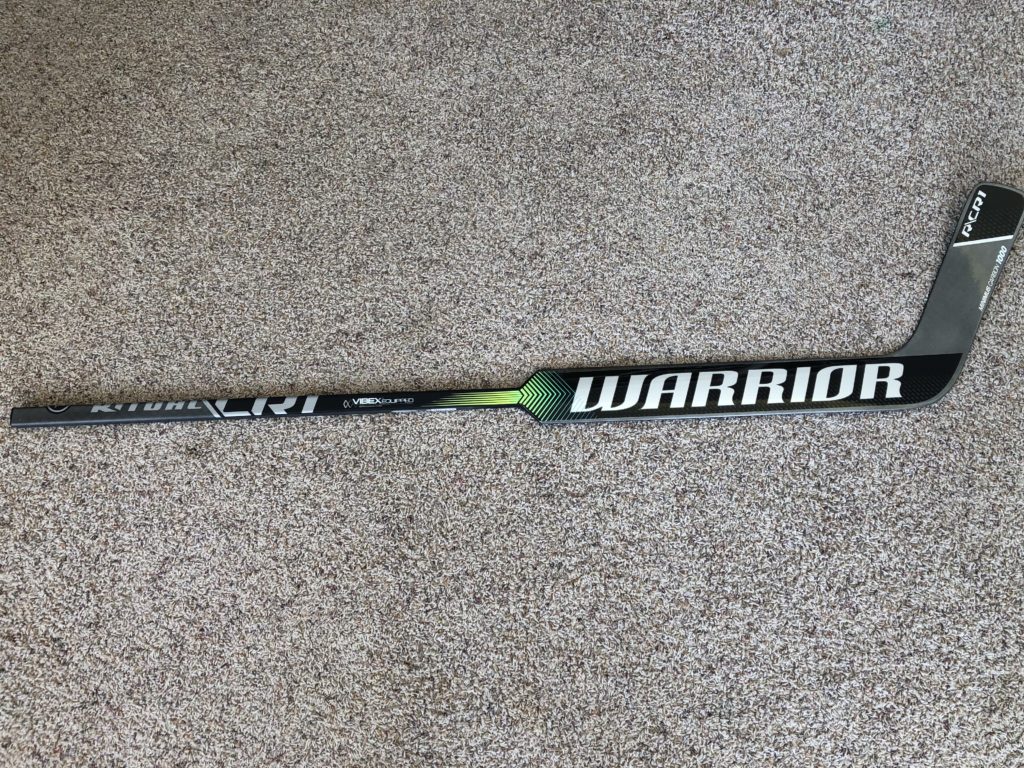 Features of the Warrior CR1 Goalie Stick
One of the biggest reasons the Warrior CR1 goalie stick has become so popular in the NHL this season (2017/2018) is due to the fact that it's very similar to a foam core stick many NHL goaltenders have previously used.
While the Bauer 1S stick has done really well at levels below the NHL, goalies in "the show" have been a little slower to make the transition. Changing gear can be challenging, especially with something as drastic a difference in weight. We anticipate the 2S making a big push during the 2018/2019 season with the summer to change over gear.
New SlideGrip technology – does exactly what it says. Let's the goalies hand slide down the stick more efficiently.
VibexLite – Vibration Reduction Technology
HiFused Construction – Super Light balanced feel
Minimus Carbon 1000
Clear gloss paddle
Impact Fiber Layer – Improved shaft durability
TwinSpar Paddle Reinforcement – Engineered to enhance shooting
CR1 Review Video
Look, we're in the business of posting goalie training drills on Instagram, so our reviews department has been a bit behind. On top of that, we believe that goalies should have multiple opinions when choosing gear, so we welcome an outside voice!
Here's a solid video that outlines every bit of the Warrior CR1 (with bits about the design process).
Curves on the Warrior CR1 
Warrior has 4 different curves available for the CR series of sticks (and warrior sticks in general).