Sense Arena, one of the worlds first virtual reality training systems for goalies, has taken the goaltending world by storm. In the sport of goaltending, there have been few improvements in technology and style of play that have the potential to change the way goalies play the game forever. Virtual Reality Goalie Training is one area of technology that could take goalie training into the living room and forever change the position of goaltending.
While there are folks that will hesitate to adopt the technology, there's no question that VR goalie training isn't going away anytime soon. Regardless of your stance on whether or not it's possible for goalies to train in VR, Virtual Reality is just beginning. We are quite literally on the forefront of the impact virtual reality will have on both goalies and the entire sport of hockey.
And now that you're here, you're not far behind.
Sense Arena is currently used by multiple NHL teams, including the Vegas Golden Knights, Arizona Coyotes, Los Angeles Kings, and the New Jersey Devils.
Editors Note: If you're considering purchasing the Sense Arena VR Training tool, use code "goaliecoaches50″ for $50 off your order. Purchase at SenseArena.com
Use Code "GoalieCoaches50"
Get $50 Off Sense Arena
For fans of Goalie Coaches, use the code "GoalieCoaches50" at Sense Arena for $50 off your purchase. This is BY FAR, one of the top training programs for goalies.
🔥 Get Sense Arena for Goalies
We appreciate your support! At no extra cost to you, we may earn a small commission if you purchase a product through GoalieCoaches.com.
The team at Goalie Coaches has now been using Sense Arena for goalie training for over two years. While it is expensive, it's a very valuable tool for goalies that lets them train really anywhere. You can train with Sense Arena both on the ice and off the ice. For on ice training, we highly suggest having a partner on the ice with you. Remember, you're wearing a VR headset and can't really find your way around.
What about safety when training with Sense Arena? 
For those who have never used the Meta Headset (we use the Meta Quest 2 – you can purchase the headset and buy Sense Arena later on), here's what you should know about safety while wearing one. Whenever you put your headset on, you'll be able to see through the headset to set your "safety area". Once your safety area is set, the headset will let you know when you're approaching a boundary. For the Sense Arena app, given the amount of movement you'll be doing, this is critical.
Warmup before using Sense Arena. If you're a goalie parent reading this and want to take the Sense Arena program for a spin, I highly recommend doing some sort of a warmup prior. We use it with our athletes after hockey practice, so they're already fairly loose. It's never a bad idea to warm up prior to doing any sort of physical exercise and the Sense Arena experience is no joke. You'll break a serious sweat no matter what age you are.
How much space do I need to use Sense Arena? 
You'll want a clutter free area of roughly 10 feet by 10 feet. While you can use it in a smaller space, to properly position yourself on the correct angles inside the crease, we've found that this seems to be the best amount of space for using the app. You'll also want good traction on whatever space you're training in. This means, if you're on carpet, consider going barefoot. If you're on a hardwood floor or concrete, shoes are a better option.
Which headsets is Sense Arena available on? 
Currently, you can use Sense Arena with the Meta Quest 2 (the headset we use), Meta Quest 3 and the Meta Quest Pro. If you buy the headset, you can simply sign up for a plan through Sense Arena (currently $59 a month or $29 a month if you pay for the year up front) and start training. While the attachments for the glove and blocker are not necessary, you can add those at checkout, usually for free. If you do the entire signup through Sense Arena, fire in the promo code "goaliecoaches50" and you'll save $50 on the total cost.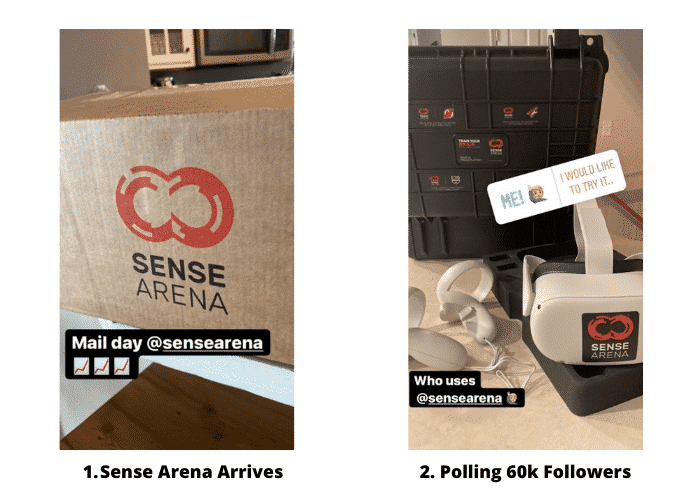 The Sense Arena finally arrived! These posts of the unboxing were on our Instagram @goaliecoaches
Sense Arena Review, Will It Work for Goalies?
The Sense Arena is not necessarily new in the goalie space, but questions do exist on how it actually impacts the on-ice results a goalie gets from their off-ice training. Inside our Goalie Parents Facebook group we've had quite literally, hundreds of questions on whether or not the Sense Arena is worth it. It only made sense (see what we did there) then, that we offered actual insight into the Sense Arena training system. Consider this our official Sense Arena Review. Just a heads up, if you're considering buying a Sense Arena system, do it.
Is Sense Arena Worth It?
Currently, Sense Arena is one of the only options for VR goalie training on the market. With the market cornered, highly realistic simulations, and (relatively) affordable price, Sense Arena is well worth the money if you're considering investing in a VR goalie training solution. On top of its obvious benefits, it's a ton of fun for both goalies and parents.
The Sense Arena VR training system brings a unique element to the world of goalie training, allowing goalies to train from virtually anywhere. With the cost to hire a good goalie coach in today's day and age, many parents will be able to justify the start up cost to training with Sense Arena. Of course, nothing will ever be able to replace the effects and benefits of training with a real hockey puck, taking real shots, on real ice, but as an added tool Sense Arena will likely find tremendous success in the training market.
After two plus years of using Sense Arena, here are the biggest advantages.
You can train anywhere. You do not need a team, it allows for individual goalie training from the comfort of your home (or rink, or anywhere, really). This is far and away the single biggest problem Sense Arena is solving.
It'll increase the goalies understanding on just how important their angles and crease depth is.
It forces goalies to think critically about developing plays, especially on some of the more advanced scenarios in the app.
You have the option to choose from a wide variety of drills and even training programs!
It's fun. With the recent update (see next headline), the Sense Arena platform has become more than just a training program, it's built to be an actual game while delivering real life benefits to goalie training.
The other thing we should note is that earlier in 2023, Sense Arena became The Official VR Training Tool of USA Hockey.  This means that the top USA Hockey player and goaltending development directors put the headset on, went through the Sense Arena drills, and approved many of their drills as aligning with USA Hockey methodology!
Sense Arena NHL Update
On November 1st of 2023, Sense Arena released an update to their app, announcing that it would now be called "NHL Sense Arena". The main reason for this to let users now be able to train in their favorite NHL jersey and experience NHL locker rooms and arenas. Sense Arena also offers a Tennis version of Sense Arena and this offers a little clarity to what you're getting, whereas before Sense Arena was simply created for hockey players (both goalies and skaters).
Major features of the new NHL Sense Arena Update:
If you were waiting to buy Sense Arena until they updated their app into both a training platform and a game, now is the time. This is a massive upgrade to Sense Arena platform, allowing users to actually play VR hockey. Sense Arena is the first if not the first to do this and with their collaboration from the NHL, this is going to be a massive hit.
Be A Pro Mode: allows users to select a team and train for the entire season. View virtual locker rooms for each team, etc.
NHL Season: this is an awesome update that I had long hoped for with Sense Arena. This allows users to play for their favorite NHL team all the way through playoffs. Prior to this, Sense Arena was built only for training. With this update, it combines both training and gamification of the platform to not only enhance the goalies abilities training wise but also to compete like you would on Madden or any other game.
Group Training and Multiplayer Mode: allows users to create a private or public group while training alongside their friends. Leaderboards track statistics and performance.
Improved App Interface: for those who have been training with Sense Arena for some time, the new NHL Sense Arena update rolls out some big changes to the overall user experience within the app. If you're like me and don't love it when apps make large changes, it may take some getting used to. With that being said, after updating our Sense Arena apps, I think the new design is pretty slick and the majority of users will likely agree.
What Do NHL Goalie Coaches Think About Sense Arena?
As of now, there is very much so a mixed, 50/50 opinion on Sense Arena at the NHL level, from my conversations with NHL goalie coaches. While several have been big supporters of it, I've also sensed a bit of hesitation around the new tool. Having talked with at least 6 coaches who are currently employed by, or were employed by, NHL teams, I think it's safe to say that the next several years of NHL and pro-adoption will be telling of how Sense Arena is used at this level.
While there certainly are NHL players using the Sense Arena platform currently, there are likely many more demonstrating the product behind the scenes.
If you're considering purchasing Sense Arena VR Training tool, use code "goaliecoaches50″ for $50 off your order. Purchase at SenseArena.com
NHL Goalies That Use Sense Arena
Devon Levi
Philipp Grubauer
Oscar Dansk
Keith Kinkaid
Mackenzie Blackwood
Matt Villalta
Elvis Merzlikins
Zach Fucale
Antoine Bibeau
Maxime Lagace
Scott Darling
Joey Daccord
David Rittich
Ian Scott
Philipp Grubauer training in Sense Arena.
Here is Los Angeles Kings prospect Matt Villalta using Sense Arena on ice.
If Sense Arena can get the on-ice game simulation part of their training system figured out, where it's set up perfect for the rink you're training on, this system has the potential to disrupt the entire goalie training industry as a whole. Of course, nothing will ever replace the feel of a real puck. However, adding an element like this gives kids with no access to a coach the chance to take their training on ice, literally, like never before.
How Much Does Sense Arena Cost?
Sense Arena requires you to have a Meta Quest VR headset.  Currently, the Meta Quest 2 is $299 and the newly released (October 2023) Meta Quest 3 is $499. You also need a Sense Arena subscription which is usually around $59 USD per month if you pay monthly or $39 USD per month if you pay annually.
Occasionally, Sense Arena runs promos where the price will decrease if you pay for the full year up front (current promo is only $29/month for the annual plan).
While it would be great to cross-examine the pricing structure between different VR training options for goalies, there isn't a competitor at this time that I feel compares to the training offered by Sense Arena. With their November 2023 update to what they're now calling NHL Sense Arena, this excellent training program made a huge jump, allowing goalies and players to play actual games within the application.
What Does Sense Arena Look Like?
If there's one knock on Sense Arena it's that you can tell this isn't a real arena you're training in. Ok, getting the obvious out of the way, here's what Sense Arena training environment looks like as well as a few clips from what you'll see when training with this tool.
Fake Shots while training with Sense Arena. 
This video demonstrates what the goalie sees inside Sense Arena training tool. As you can see, in this case, the shooter approaching the zone is an actual shooter. Once the shot is released, the puck enters Sense Arena device as a virtual puck. When you make the save, it does sound like a real save inside a real arena. Pretty cool!
3D Replay inside Sense Arena.
Benefits of Sense Arena for VR Goalie Training
Outside of the benefits we'll dive into below, one of the best parts about Sense Arena is that it gives parents who have never played goalie the chance to feel what it might be like to stop a puck. At the end of the day, there are only 64 goalie spots in the NHL at any given time and realistically, we're not all going to make it that far. So with that in mind, any chance us parents get to spend more time with our kids is an obvious win.
The price of Sense Arena has come down a lot over the last year or so, and I highly recommend it if not for the obvious training benefits, but for the fun that can be had by the entire family!
While I can only imagine the fun I'll have playing Fortnite with my kids in VR, Sense Arena is anything but a video game. Sense Arena is designed to be a realistic, very real training tool for elite hockey players up to the NHL level. As we mentioned above, Sense Arena is currently used by multiple NHL teams. As the platform grows and its development team continues to evolve, the software will likely become much more realistic.
Use Code "GoalieCoaches50"
Get $50 Off Sense Arena
For fans of Goalie Coaches, use the code "GoalieCoaches50" at Sense Arena for $50 off your purchase. This is BY FAR, one of the top training programs for goalies.
🔥 Get Sense Arena for Goalies
We appreciate your support! At no extra cost to you, we may earn a small commission if you purchase a product through GoalieCoaches.com.
Read The Release With Interactive Video Drills
We've put together a full page dedicated to Sense Arena Goalie Drills, so keep that in mind when going through the drills we'll cover here. That page will be continually updated with drills for goalies training with Sense Arena.
Read the release drills are designed to help goalies develop better puck tracking ability.
Increase Reaction Speed with Animated VR Goalie Drills
Sense Arena helps goalies increase their overall reaction speed with drills designed to improve reflexes, develop a better box control understanding, and help to predict plays better. On the topic of box control, we've got a library of box control goalie drills as well.
Screen Drills
Help Better Understand Box Control
Sense Arena has built in tools that will help goalies learn the concept of box control and build an understanding of how it helps their game. In reality, angles as a goalie are essentially box control. We've got a guide on it that we've linked up above, I highly recommend taking a look at that to help understand what it actually is and how it helps goalies on the ice.
Shot Replay
Upper Body Tracking
VR Goalie Training Plans
How To Use Sense Arena For Goalie Training
Sense Arena can be used for both on-ice goalie training as well as off-ice goalie training. In both situations, Sense Arena offers a realistic, VR training tool that simulates situations and different drills goalies can use to elevate their game.
Should I Invest In Sense Arena?
Whether or not you like the concept of VR goalie training, Sense Arena is here to stay. As is Virtual Reality. At this point, maintaining a stance that VR goes away would be like saying the internet is going away. It's not, so we'll either have the opportunity to embrace it and help make it better or to shun it. While there are obvious situations where VR cannot and will not replace the real experience of going onto actual ice and stopping an actual puck, it helps get kids in the game. It shows them that they can work on their game.
As far as Goalie Coaches as a whole is concerned, we wholeheartedly endorse this new training technology. Just remember, Rome wasn't built in a night. If we stopped innovating after the first set of goalie pads, can you imagine what the position would look like?
Sense Arena Review from Bonsey TV
For those of you interested in a full video review of Sense Arena, check out this video from BonseyTV. Bonsey is well known in the goalie space, especially over on Instagram.
Does it work for goalies?
We've been training with Sense Arena platform for over two years now and between our own experience, alongside that of professional goalies we've spoken with directly using this – we can confidently recommend the platform for goalies of all ages. While VR goalie training will never replace the on ice experience of training with pucks and real shooters, Sense Arena is far and away the top off ice training program for goalies.
If you're considering purchasing Sense Arena VR Training tool, use code "goaliecoaches50″ for $50 off your order. Purchase at SenseArena.com
Use Code "GoalieCoaches50"
Get $50 Off Sense Arena
For fans of Goalie Coaches, use the code "GoalieCoaches50" at Sense Arena for $50 off your purchase. This is BY FAR, one of the top training programs for goalies.
🔥 Get Sense Arena for Goalies
We appreciate your support! At no extra cost to you, we may earn a small commission if you purchase a product through GoalieCoaches.com.