Brian's OPTIK Goalie Gear Review: Everything We Know
Staff Update: as of the last update of this article, on July 2nd 2021, Brian's has since announced the release of their Brian's GNETikV goalie pads. The original Brian's OPTIK gear was released and followed by a second iteration of the pad, the Brian's OPTIK2.
Late in 2017, Brian's released a line of gear they branded "OPTIK". The line continues to push the envelope for goalie gear manufacturers around the world and we can assume their next creation will do the same.
The OPTIK line from Brian's features a re-engineered chassis to give multiple core options. 1, the FLX core (designed with 80 degree taper and curve shaped chassis and 2, the FLY core with a 90 degree taper and straight chassis.
A redesigned inner gusset that features a bindingless design, something we're seeing on the latest Bauer gear. On top of this, the sliding edge has been hardened and uses Brian's Primo material (a must have on this area, used to be only a custom option) for a better slide.
Bindingless thigh and new X-Smart Strap, new smart toe strapping, a lace less face (standard in Brian's for some time now), no knee roll design (again, nothing new here) and the pads use airknit and defender materials.
To design a pair of OPTIK pads and place a pre order, click the link below.
Design the latest OPTIK gear and pre-order on GoalieMonkey (Official Release November 1st, 2017)
April 11th, 2018: Custom OPTIK Gear Continues to Roll Out
One of the things Brian's Custom Sports does better than just about any other gear manufacturer in the world (Bauer is quickly becoming a major competitor with the Bauer 2S line and their digital printing), is make completely custom goalie gear.
It's been several months since Brian's released the OPTIK gear, so everything else you'll see on this page is slightly outdated. We'll come back with a full gear review in the coming months.
We're starting to see more and more custom gear roll off the production line and it only leaves us wondering: what will Brian's do next?
October 17th: Old Brian's OPTIK prototypes posted
This is cool. Brian's posted a photo of the first OPTIK prototypes. Did you know that the OPTIK line was nearly called Zenith? After consultation with goalies at the professional level, Brian's settled on OPTIK.
September 25th: Close up OPTIK Glove photos
The gloves have been posted time and time again, however, this is a great series of 3 photos that really shows them up close and in person.
It's worth noting that the new OPTIK trapper comes broken in with a 40 degree break. Users that already have this glove have said it's broken in quite well right out of the box.
August 25th: @goaliesonly announces BOA technology in the OPTIK gloves
In an Instagram post, the Brian's team announced a partnership with BOA as a technology upgrade in the way their gloves are built.
Personally, having rarely used traditional wrist straps in gloves, I am a fan of this upgrade. It's a great opportunity for Brian's to show how they innovate and it will actually help the goaltender quickly tighten their glove (to the perfect tightness) in quick game situations.
This is a unique upgrade to their latest gear, we should start to see much more this week.
August 24th: Letstalktendy gear posts Lehner strapping 
The strapping on the latest set of pads from Brian's appears to be very similar to what we've seen on their latest gear, with the EZ Strap system and one strap around the outer calf wall.
August 24th: Anderson posts in depth photo gallery
With the exception of a close up look at the internals of the latest pad series from Brian's, Craig Anderson (goalie for the Ottawa Senators) posted a series of photos yesterday that signal much more to come.
A couple items to note, this does appear to be the standard graphic on the pad. This was a point we had assumed a bit earlier in this article. Second, note the extremely thin outer roll. This was something we saw with the GN3TIK line last fall.
As you can see from the boot area of the pad, it's highly likely that Anderson has his own custom specs that will not be a stock option of the OPTIK series.
Lastly, Brian's logo for the gear, as is their tradition, replaces the "I" in OPTIK with "1". This does not come as a surprise, as they are shuttering their older SubZero line in favor of the OPT1K gear.
August 7th
The Instagram account @tendyswag dropped a photo of the OPTIK setup to be used by Dylan St. Cyr at Notre Dame during the upcoming season.
The photo is a standard Brian's pre-pad shipping photo, yet they did not post it on their official Instagram, so it's a little unclear where it came from.
A quick note, this is clearly a custom graphic built specifically for St. Cyr. Brian's typically does not offer the old school Brian's logo as a standard on their lines of equipment, as they opt for the newer "B Star" type logo.
Brian's did, however, post this photo of St. Cyr in action over the weekend, wearing their new OPTIK line.
August 4th (evening)
A few more photos of the Brian's OPTIK have dropped this afternoon, including University of Wisconsin Badgers Jack Berry.
Earlier today, Berry posted this photo (pictured below). For the most part, you can see the entire graphic. Assuming this is the stock graphic (it has to be), it appears as if there are a TON of color options and only time will tell..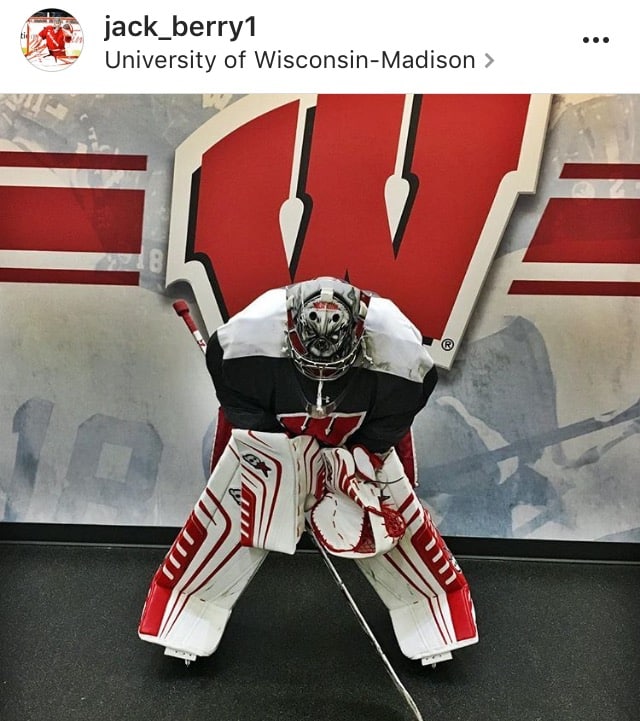 The part about this being the standard graphic for the gear is largely just an assumption, however, as seen in this video we reposted of Eddie Lack training in the gear you can clearly see the same graphic on his gloves.
Later in the evening, Goalie Gear Nerd dropped this photo of the backside of Steve Mason's (NHL, Jets) OPTIK trapper.
And then this photo of what we presume to be Jack Berry's gloves, given the post he released earlier in the day.
Exciting times, these are!
*UPDATE: August 7th, it appears as if Brian's contacted (assumption) Goalie Gear Nerd and asked the account to remove the photo of the OPTIK gloves. This is fairly common in the industry, gear photos are leaked all the time and then subsequently removed. If and when the photo of the gloves is re-posted we will update this article with the photo. 
This post was updated at 7:37 Friday, August 4th. We will continue to update with more photos / updates until the full lineup is released later this fall.
The OPTIK series of gear from Brian's will replace their SubZero line. We wrote more about this transition on Eddie Lack's 2017 gear post.
Update August 4th, 2017
Right now, just like the rest of the goaltending community, we know almost nothing.
The folks at GGSUnited appear to have seen the gear in person, quoting that it's the "most impressive pad we have held". If Brian's lives up to the name, the folks at GGSUnited are probably spot on.
We've had our eyes on these for a few months now, most impressive pad we have held @jozsports @goaliesonly https://t.co/s5QAWRSqrd

— GGSUnited (@GGSunited) August 2, 2017
August 2nd, 2017: Brian's Announces a new gear line, OPTIK
The gear is said to be replacing their SubZero line, which will have ended at the SubZero 3. We're currently working on a list of some of the best Brian's SubZero 3 designs of all time.
Secondly, if you're not following @goaliegearnerd on Instagram, it's a must do. They're one of the leaders in breaking new gear design and information and a must follow for Instagrammers.