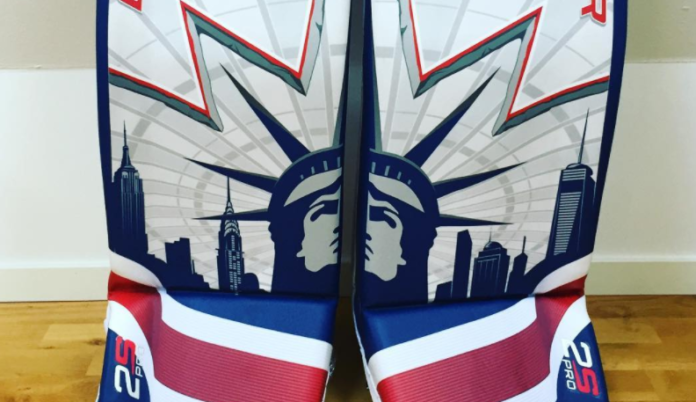 The latest Bauer ODIN 2S Gear is on the way: Live Blog
Along with Brian's (OPTIK), CCM and their new Premier II series of pads, this fall we'll see the latest and greatest Bauer gear. This is a continuation of the original 1S ODIN gear that featured technology never before seen in goalie gear.
The Bauer ODIN 1S gear was released just two years ago, it has been followed by Bauer's Vapor 1X line, and the 2S will be on the market soon.
We will continually update this blog as we know more (and more photos are released), however here's what we have so far.
August 17th, Frolunda HC Posts photos of Henrik Lundqvist training in his new Bauer 2S gear 
The first photo, below, shows off the knee cradle system that Henrik prefers. In addition, you can see the cool Henrik Lundqvist logo near the calf wrap portion of the pad. On Instagram, @goaliegearnerd pointed out that this "wide elastic at the knee strap and a thin nylon strap holds the knee block in place while scrambling." If you don't follow GGN, it's a must do.
And in the video they posted, Lundqvist can be seen training with Frolunda HC.
August 4th, Kane Van Gate takes Freddie Anderson photo
This isn't the first Frederik Anderson photo out there, but it's one of the best (shows the full graphic). Photo is by Kane Van Gate, a must follow on both YouTube and Instagram.
On top of this photo, here's one from Goalie Gear Nerd.
And lastly, a walk through of some of the inner workings on the new Bauer ODIN 2S pads, from the official Goalie Coaches Snapchat.. Love it!
One of the other things (and probably the most exciting) about the new Bauer ODIN 2S gear is the technology in which they print the graphic. Henrik Lundqvist posted a photo this week of his set, presumably for the upcoming season, with a custom graphic printed on the front.
Though I personally am not as big a fan of the graphic printed on these pads, it does get ones imagination going when thinking of the possibilities of this gear. Should something like this get down to the consumer level, and be halfway affordable.. we may see a mass exodus of kids from other brands heading to Bauer.